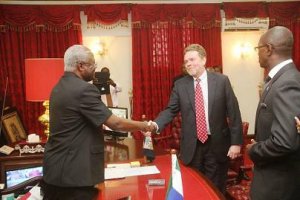 The outgoing United States Ambassador to Sierra Leone, Michael Owen has on Monday 30th September paid a farewell courtesy call on President Ernest Bai Koroma at State House, Freetown.
President Koroma described the occasion as an opportunity to thank the United States' Government for the great contribution to Sierra Leone's development strides. He said that owing to the good work the outgoing US diplomat has been doing in the country, ties between the two countries have become stronger than ever before.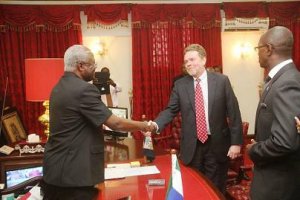 "We have had excellent relations over the period but your last three years of diplomatic service has taken us to a new level. A level that we can best describe as the strongest ever in our bilateral relations", said President Koroma.
This, the president said, is being manifested through the large presence of Peace Corps volunteers in the country, adding that their activities have impacted the lives of very many Sierra Leoneans. He also noted that since the return of Peace Corps in Sierra Leone both countries continue to strengthen bilateral ties.
According to the Chief Executive, Peace Corps are not only back in the country to continue where they left off, but are also working with training colleges and other higher institutions of learning. "They are everywhere in the country…driving along you can see them everywhere", he said.
President Koroma also acknowledged the role played by Ambassador Owen in capacitating the security sector, which now enables Sierra Leonean security personnel to take deployments in various peacekeeping missions in Africa, including Sudan and Somalia. He further mentioned the US' support in the surveillance and protection of the country's waters from illegal fishing, and the fight against drug trafficking in Sierra Leone.
"We have more engagements with the private sector with full view of the fact that the private sector should be given more space to operate. That's why government has given more opportunities to everybody to participate as there are very serious American companies working in the country", he noted.
President Koroma noted that the bourgeoning US private sector participation in Sierra Leone is an indication that the country is growing, and is very much transparent in all her dealings, saying; "I was one of four leaders invited by President Obama to the White House, and held fruitful discussions on how America can further engage Africa on good governance, democracy and human rights".
Presenting the former US envoy to President Koroma, Minister of Defence, who doubles as Acting Minister of Foreign Affairs and International Cooperation, Retired Major Alfred Paolo Conteh, said he was in attendance to formerly present the diplomat to take leave of President Koroma after a very successful completion of a three year tour of duty.
Outgoing US Ambassador Owen recalled that he arrived in Sierra Leone a little over three years ago, and had a lot of high hopes and expectations, which has led to further consolidation of bilateral ties between both countries.
He noted that most of his aspirations had been accomplished, as Sierra Leone and the United States are now much more closer as formidable partners, particularly in getting the Peace Corps back in the country. The envoy expressed his profound delight for accompanying President Koroma to meet President Obama in the US early this year, and assured that he will act as Ambassador for Sierra Leone in America by telling the story of