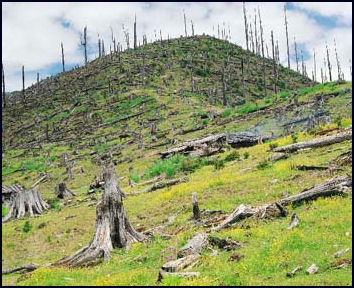 A Commentary By Ranger
Development that does not benefit the rural populations can only continue to contribute to the unhealthy urban-rural migration that took on unprecedented levels during and after the rebel war.
Much has been heard lately of the new government's determination to ensure good state governance without little or nothing heard about the destructive influence paramount chiefs have had for decades on deforestation, environmental degradation and rural underdevelopment, and what their roles and responsibilities should henceforth be in stopping and reversing this real threat to the survival of our rural communities.
Politically, economically and culturally, if Sierra Leone is to move forward rapidly, sustainably and robustly, there is the ned for the government and the Ministry of Local Government and Rural Development to take a radical new look at the role of the district councils, district officers and paramount chiefs as engines, vehicles and implementers of environmental protection and development.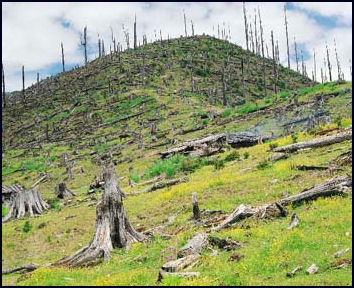 For example, all the mining communities in this country have very little to show for decades of exploitation of their God given resources by way of tarred roads, clean drinking water, good schools and health facilities, improved agriculture, not to talk of any basic industrial activities.
So far as can be seen, paramount chiefs and their agents have been the enemies of the people, whose economic and social rights they are supposed to protect and promote. MPs, the ministry of local government and the district officers who are supposed to be their monitors and supervisors seem to be busy with how to use their positions and powers to enrich themselves.
Talk of smuggling, illegal mining, illegal timber harvesting, these unproductive environmental activities take place under the eyes of the paramount chiefs and their subordinate chiefs, whose only interest is the payments that they receive. Show me any paramount chief or section chief who uses proceeds from the exploitation of the natural resources in their chiefdoms for any development project that benefits the people – Maybe just one or two.
If development is to be assured through the length and breadth of the country, it is high time that the entire institution of chieftaincy be reshaped and modernize to be in line with modern democratic norms and governance principles of transparency, accountability and inclusion of all stake holders in making decisions pertaining to the common good.
For the 'New Direction' to succeed requires new thinking and new ways of doing things at all the levels of state and rural governance.
During the last elections, as in all the previous ones, certain paramount chiefs intimidated, victimized and threatened their subjects so as to prevent them from voting for political parties that they do not favour. This unprogressive attitude has been the cause of a lot of division and animosity towards each other in the rural areas.
Another problematic area of maladministration by paramount chiefs and their subordinate chiefs is in the area of dispensation of justice.
New rules, regulations and guidelines that outlie clearly the role of paramount chiefs in governance and maintenance of law and order in their chiefdoms, need to be drawn up and monitored by the Ministry of Local Government.
For example, it is important that providers of education, health and other social welfare services at the rural levels give proper account of their activities to the government. Paramount chiefs are best placed to ensure that devolved central government functions are properly carried out in their chiefdoms.
Critically, it is important that the ministry of finance and the local government ministry, working in consonance with each district's council of paramount chiefs, consult and work hand in hand in drawing up the rural services budget and ensuring its implementation as a sure-fire means of taking development to the doorsteps of our long down-trodden rural masses.