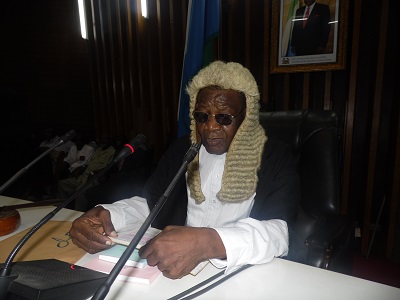 The Speaker of the House,  Hon. S. B. B DUMBUYA,  has suspended the first Parliamentary sitting of the 5th Parliament,  scheduled to take place Tomorrow Tuesday in the House,  until  Further notice .
Today's events show that the Sierra Leone Judiciary and Parliament are heading for a big showdown that will not augur well for our democracy.
Earlier today, it was  confirmed that the High Court of Sierra Leone presided over by Justices Alusine Sesay and Babatunde Edwards had slammed an injunction on 5 elected members of parliament of the now opposition All People's Congress ( APC ), viz :  Osman Timbo, Kadiatu Davies, Chernoh Bah ( Chericoco ) , Ahmed mansaray and Siraju Rowlings Kamara,   stopping them from taking part in the election of Speaker tomorrow.
Chernoh Maju Bah, former running mate of the APC in the just concluded election  confirmed that "It's true".
Other reports said it was in fact 11 APC MPs in all.
If the situation stands , the  people of constituencies represented by these MPs will be deprived from participating in such a process, which everybody says is  bad for our democracy.
But now, the Speaker has acted swiftly to postpone the first sitting of Parliament until further notice. But there are further reports that the Clerk of the House , Hon. Paran Tarawally of the ruling Sierra Leone People's Party ( SLPP )  has said that Parliament will meet tomorrow, unhindered.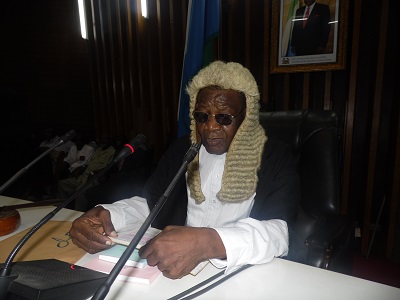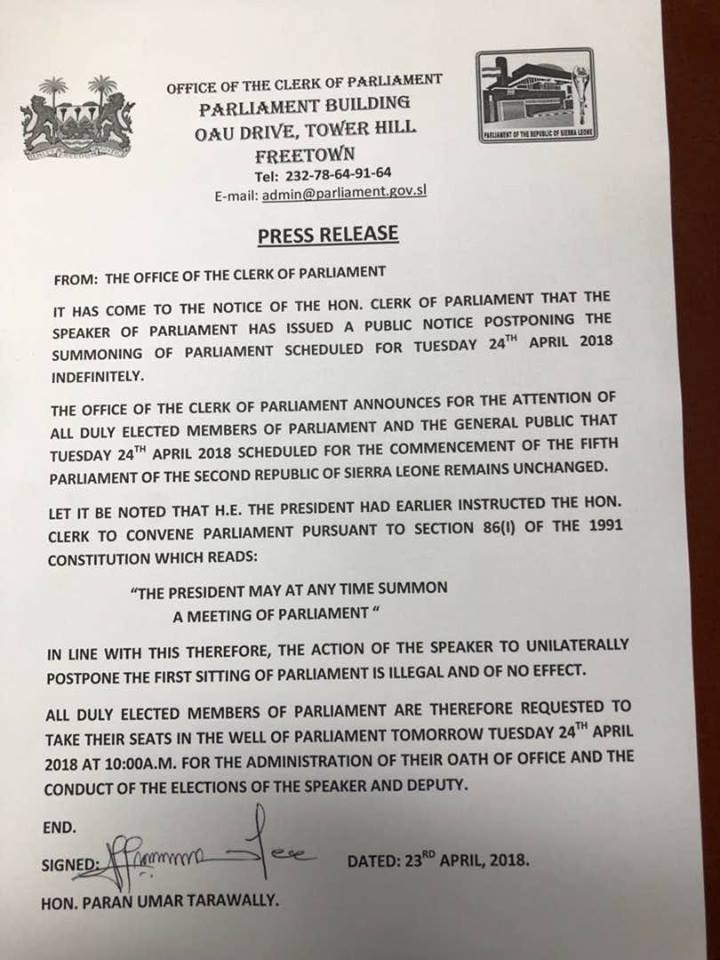 A major row has broken out over the election on Tuesday of a new Speaker and Deputy Speaker of the Sierra Leone Parliament. The outgoing Speaker SBB Dumbuya has told me that only he has the authority to convene the House and has therefore indefinitely deferred tomorrow's meeting and election in which he is standing. In a press release, the Clerk, Paran Tarawally says the session is going ahead as planned, stating he has been instructed by the President to do so. All of this follows the barring of 14 opposition APC MPs from taking part in Tuesday's proceedings after high courts across the country granted applications for an interim injunction against their participation while petitions against them were being looked into. The election of Speaker and Deputy Speaker is a close one because, for the first time in Sierra Leone, the president's party does not have the most seats in the House. That belongs to the opposition APC party with 68 seats. The ruling SLPP has 49 seats, while two other parties both have 12 seats, three independent MPs and 14 Paramount Chiefs. Critics say the injunction is a gimmick by the SLPP party to turn the vote for Speaker and Dep Speaker in their favour. An accusation they deny.