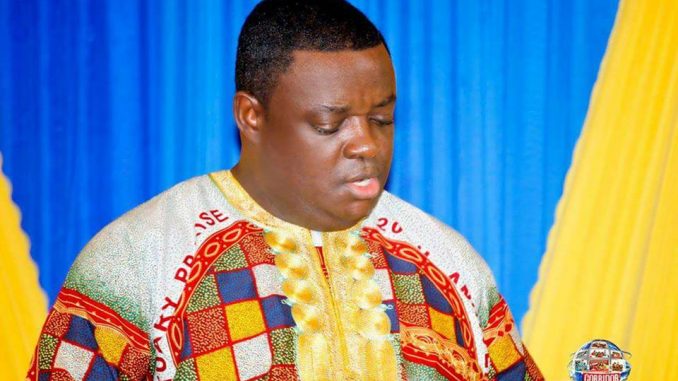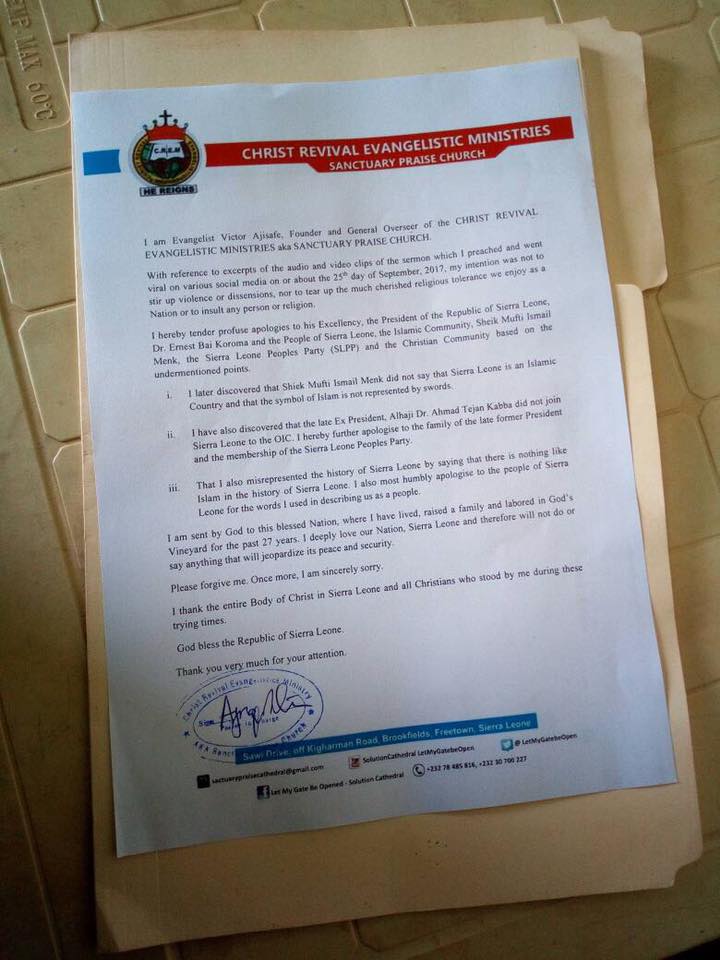 Pastor Victor Ajisafe's Video Apology
Dear All,
Accompanying this update is the video of Evangelist Victor Ajisafe apologising to Muslims of Islamic Community and all Sierra Leoneans for the sermon which he preached on or around 25th September 2017.
In that sermon, the Christian evangelist made untrue statements which he now deeply regrets. In the video, he further apologises to President Ernest Bai Koroma as well as to the memory of the late former President Ahmad Tejan Kabbah. He also retracts his false statement about Islamic Scholar Mufti Ismail Menk and apologises to Mufti Menk also.
As a mark of sincerity of his remorse, he voluntarily requested for this video to be recorded and has requested for it to be disseminated both nationally on TVs, Radios (audio version) and around the world through social media.
The Office of the President, with advice from the Attorney General and the National Security agencies, is meanwhile re-evaluating the situation with respect to security and legal issues amongst others. A decision will be announced in due course from the Office of the President.
It is worthy to note His Excellency President Koroma has been keenly following the developments and has closely been supervising the relevant MDAs since the situation unfolded last week.
The Government is also currently in talks with other pastors of the temporarily suspended Sanctuary Praise church including Pastor (Mrs.) Sia Ajisafe, the Sierra Leonean wife of Evangelist Ajisafe, so as to determine the best way forward and the conditions under which Government may restore the registration certificate of that church.
The audio clip of the apology is also available for distribution to Radio stations. Please freely distribute the video and audio apology to as wide an audience as possible. Evangelist Ajisafe wants everyone to know he is sincerely sorry and wants your forgiveness.
May the Almighty bless Sierra Leone, protect our religious tolerance, strengthen our levels of forgiveness of each other and bless every one of us all.
In the wake of the video by Pastor Ajisafe apologising to the Muslims of Sierra Leone and to Mufti Menk himself, the Mufti has immediately responded in a video release, according to the Foundation for Islamic Information in Sierra Leone (FOISIL): The Organisers of the recent Visit of Mufti Menk to Sierra Leone which prompted the Pastor's unnecessary islamic attack.
Dr. Sylvia Olayinka Blyden, the Minister of Social Welfare, Gender and Children's Affairs.