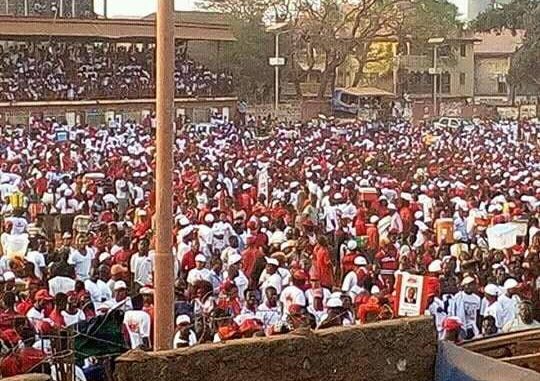 PC, 4 Chiefs Declare For APC In Kenema*
*_By_ _Ibrahim_ _Alieu_ _Kanu_*
As the transformative drive of the political landscape in Kenema District by Momoh Vandi continues to gain momentum, one Paramount Chief (PC) and four Section Chiefs in the Kandu-Leppiama Chiefdom have declared their support for the ball People's Congress (APC).
Making his statement the paramount Chief of Kandu-Leppiama Chiefdom, Madam Theresa Vibbie ,thank Mr Vandi for visiting her chiefdom. She said she was very grateful to President Ernest Koroma for crowning her Paramount Chief to govern her people, adding that she decided to openly declare her support and membership for the APC because what Mr Vandi was doing in Kenema District was unprecedented.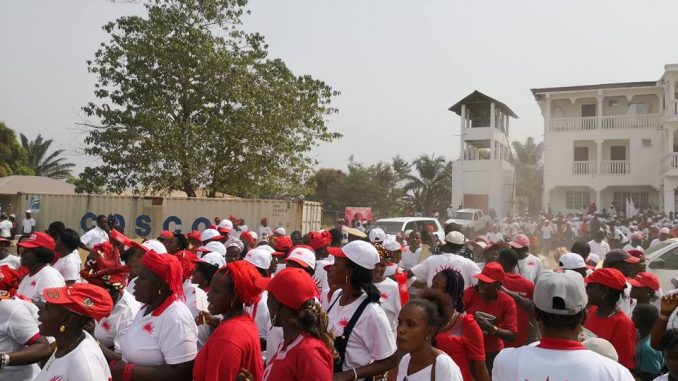 PC Theresa Vibbie reiterated that the Sierra Leone People's Party (SLPP) had been in Leadership position in Kenema District for a very long time with no tangible development done for the people there. She furthered that she would prevail on her people to vote in Dr Samura Kamara for continuation of President Koroma's development agendas.
Chief Ibrahim Shengbe Alieu of Borlley Section stated that he was not under any pressure to declare for the APC ,but was convinced by what Mr Vandi was doing towards changing the lives of people in Kenema District. He said the people of Kenema District were tired of the leadership of the SLPP, and that they wanted change in their lives. He added that Mr Vandi was serious in that direction and that was why they support the APC.
Chief Maada Jusu Songlor of Gboro Section, in Baoma Oil Mill ,stated that he was convinced by what Mr Vandi was doing in changing their lives, and also they were listening to their PC Madam Theresa Vibbie because she was the custodian of their conscience.
He continued that when their Paramount Chief was APC they had nothing to fear and that they would make sure they send the SLPP to permanent opposition because they were not compatible with development.
Chief Mohamed Shengbe of Sonnie Section, Diema town, thanked Mr Vandi for building their confidence to declare for the APC ,which he believed would take Sierra Leone to the company of elite nations in Africa. He said he was a staunch supporter of the SLPP but that he was tired with its leadership style of no development agenda and was pitching tent with the APC.
In his address to the people of Levuma Kandu the Court Barry, Mr Momoh Vandi thanked the Paramount Chief for welcoming him and his entourage in her chiefdom. He welcomed the Paramount Chief and the four Section Chiefs that declared their support for the APC into the APC family on behalf of the leadership of the party. He furthered that he was not into politics for self aggrandizement but for the betterment of his people in Kenema District and the country.
Momoh Vandi admonished the Paramount Chief and her four Section Chiefs of the party's support and allayed their fears that nothing would happen to their security . He cautioned the people not to listen to the deceptive messages of change being preached by fraudsters purporting to be politicians.
He used the opportunity to donate 60 bags cement, 20 bundles of corrugated iron sheets plus cash to Levuma Ketiama and Sembehun towns towards the construction of their society houses. He also donated 50 bags of cement, tons of iron rods plus another two million leones for the construction of a Mosque in Levuma Kandu town; and another 20 bags of cement, five bundles of corrugated iron sheets and one million leones cash for the rehabilitation of the Church.
Mr Vandi concluded by assuring the people of Kandu-Leppiama chiefdom of quality leadership under Dr Samura Kamara.