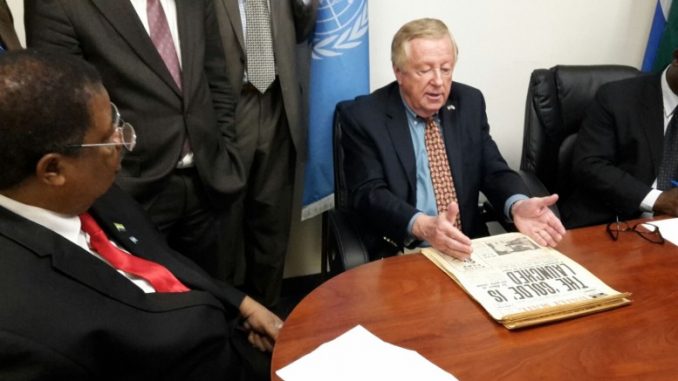 By KABS KANU :
Mr. Gary Schulze , the retired Peace Corps Volunteer who loves Sierra Leone with a passion and has done so much to get together valuable  historical materials about the country at his own expense , was a sad and disappointed man yesterday when calls started coming in from all walks of life that the opposition Sierra Leone People's Party ( SLPP )  online newspaper , THE SIERRA LEONE TELEGRAPH ,  had published a false, irresponsible ,  defamatory, erroneous and inaccurate news story  about him and your humble servant Kabs Kanu , titled : "Sierra Leone government minister plenipotentiary accused of corruption"  ( See it below ).
Sharing Mr. Schulze's disappointment and sadness were scores of Sierra Leoneans and some foreign diplomats who felt that the peace corps volunteer , not to mention your humble servant, had  been treated very  unfairly by the SIERRA LEONE TELEGRAPH, a newspaper that promotes SLPP Presidential hopefuls Kandeh Yumkella ,  Allie Kabbah and others  and has replaced the defunct NEW PEOPLE  as the media outlet  online for tarnishing the name of the ruling APC Government and spreading damaging stories about the government and the country .
They regard the erroneous  story from The Telegraph  as a kick in the face to a man who had spent a lot of money ( Thousands of dollars that he could use on his own affairs ) on a country he loves in a noble enterprise  to correct inaccurate historical perspectives about the country. To impute corruption to a man like Gary Schulze and your humble servant over a photo of Bai Bureh as  presented to me was reckless  and yellow journalism. When did it become corruption to be given the photocopy of an original picture of somebody else ?

ABDUL RASHID THOMAS ( ART ) : The Publisher of the Sierra Leone Telegraph : Guilty of not crosschecking his facts and perpetrating Yellow Journalism

Sierra Leoneans and diplomats who burnt my telephone lines last evening with persistent calls to complain about the article said they knew that Mr. Schulze was not really the target of the misleading report but UNDERSTANDABLY, the Minister Plenipotentiary , who is the whipping boy of all SLPP  supporters ,  anti- government activists and operators of pro-SLPP  news outlets , because of his unrelenting  and defiant determination under all odds to propagate and promote the achievements of the ruling All People's Congress ( APC ) Government. An SLPP newpaper picking a row with me at this  time when the SLPP  has broken apart and is on a spectacular meltdown —as being well covered by COCORIOKO–will surprise nobody, but in trying to hit KABS KANU,  the Sierra Leone Telegraph also impugned the integrity of an innocent retired peace corps volunteer, which is reckless and irresponsible.
My day yesterday started with a call from my buddy , Foday Mansaray , who said that Gary Schulze had just called him and he was sad and disappointed on the phone. Mr. Mansaray  said some erroneous story meant to defame me and Gary had just been published by one Telegraph online newspaper. The Telegraph had written that Mr. Schulze had donated to me the photo of Sierra Leone 's legendar warrior , Bai Bureh, worth $1 million and that  it was a corruption scandal . Then started the deluge of phone calls yesterday that overwhelmed me. Everybody wanted the story to be addressed speedily because it was patently and deliberately false, since what Gary Schulze had presented to me was the photocopy of the original photo of Bai Bureh he had bought at ebay.
I was appalled when I read the article. I thought Abdul Rashid Thomas  was a decent fellow, though I disagreed with his caustic views and slash-and-burn articles against the APC Government.
I do not know where to start to correct the inaccuracies in the article .
FIRST OF ALL, "a significant historical relic valued at $1 million belonging to the people of Sierra Leone, " as claimed by the newspaper,  was not presented to me. Mr. Abdul Rashid Thomas , the Editor and a man I had thought was level-headed , should have crosschecked such a fantastic and incredulous  story . In failing to do so,  he violated one of the cardinal principles of journalism : VERIFY  YOUR FACTS ( Especially when the facts tend to be so sensational ) . The truth is that what was presented to me by Mr. Gary Schulze was the same thing that he presented to President Koroma, the Monuments & Relics Commission, Former President Kabbah, Fourah Bay College, and other institutions—- the original picture of Bai Bureh in photo copy .  My report referred to the photo as  "original"  due to  the fact that what had for almost a century  passed for a picture of Bai Bureh "was a painting, showing him sitting in a dejected mood on a bench, wearing a traditional Ronko dress with a long beard. "Original did not actually refer to  the very historical relic itself ,which  is still with Mr. Gary Schulze. According to him, "Its safe-guarded in a safety deposit box here in NYC and will eventually be bequeathed to Sierra Leone." It was idiotic  to assume that it was this historic relic lodged in a safety deposit box that was given to me .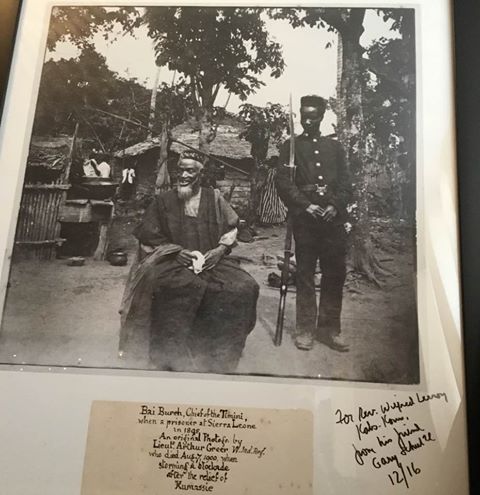 THE COPY OF THE ORIGINAL BAI BUREH PHOTO AUTOGRAPHED AND PRESENTED TO ME BY GARY SCHULZE
SECONDLY , the photo does not belong to the people of Sierra Leone, as asserted by the article . Journalists, even if they have not gone to law school, should understand the basic framework of the law to guide them in their profession. The historical relic and the copies of them belong to Mr.Schulze. He has been clearly explaining  for years that he bought the relic at ebay. He spent his own money, not the money of the people of Sierra Leone.  For the benefit of the Telegraph newspaper, Gary continues to explain that "The Bai Bureh photograph was purchased by me on Ebay in 2013 for $ 11,000. I was up against another serious bidder and only went that high (a great deal of money for me) because I wanted to make sure the image went to Sierra Leone. If the other bidder had won it the picture might have disappeared and never seen the light of day in Sierra Leone. I had a number of enlargements made and framed at my own expense and carried them to Sierra Leone where I presented them to President Koroma, the Monuments & Relics Commission, Former President Kabbah, Fourah Bay College, and other institutions. I paid to have a giant copy made which has been on permanent exhibition at the Sierra Leone Museum for the past three years." Mr. Schulze, being the rightful owner of the relic, has the right to distribute copies to whom he pleases. In fact, he was only doing the people of Sierra Leone a favour by sharing it. He could have kept it to himself.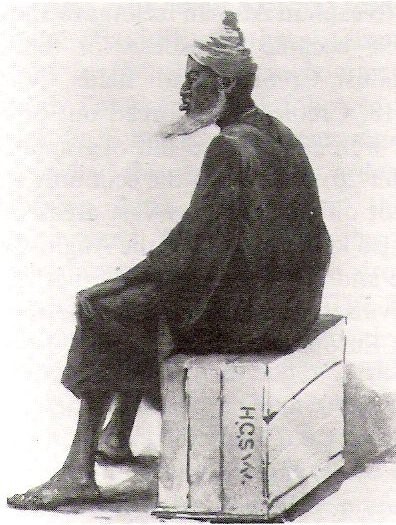 THIS IS THE PAINTING MEANT TO REPRESENT THE IMAGE OF BAI BUREH THAT HAS BEEN IN USE FOR ALMOST A CENTURY  BEFORE MR. GARY SCHULZE PAID $ 11, 000 OF HIS OWN MONEY TO BUY THE ORIGINAL AT EBAY
THIRDLY,  the picture presented to me by Mr.Schulze was not given for me to gain any pecuniary benefits from it. It was ordinary ink and paper, with no monetary value. Is Mr. Thomas so dim -witted that he could not recognize hyperbole in a news report ? To say the picture and the gesture to present it were worth a million dollars was just hyperbole at work. For Thomas to take it literally demonstrates the depth of his ignorance of LITERARY TERMS. He certainly did not study Literature. If I told my wife, "Your love is worth a million dollars ", it is just a necessary exaggeration to demonstrate the depth of my evaluation  of her love . It is not at all placing a marketable value on her love or monetary value that I stand to get if I sold her love in the market place.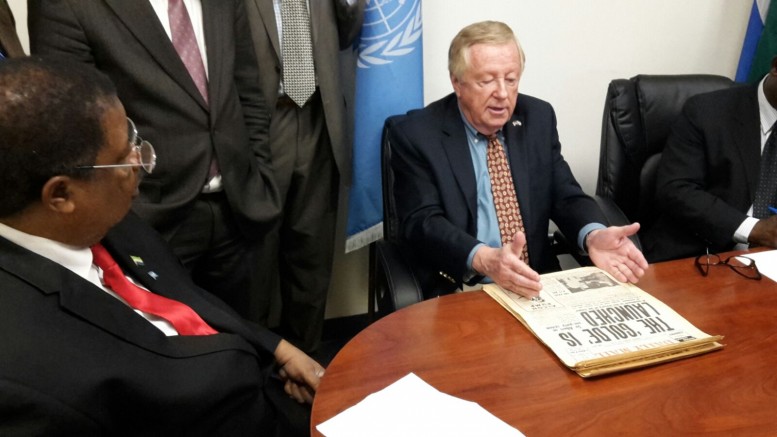 GARY SCHULZE PRESENTING ME WITH OLD COPIES OF THE 1966 EDITION OF THE SIERRA LEONE DAILY MAIL AT THE SIERRA LEONE MISSION TO THE UN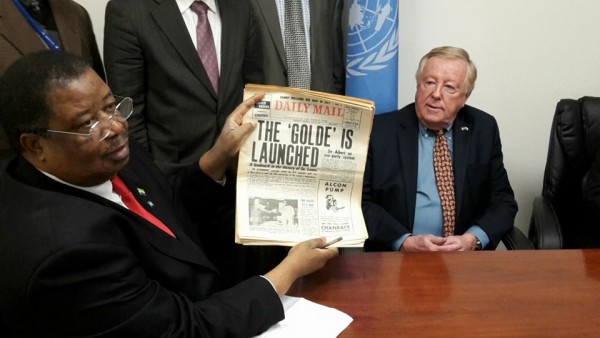 GARY JUST LOVES TO COLLECT AND SHARE FREE OF COSTS HISTORICAL RELICS OF SIERRA LEONE

If as the Sierra Leone Telegraph reported , some people were accusing me of corruption for receiving the photo and asking for it to be returned, a journalist determined to clarify issues and place them in their correct perspectives , would have taken the necessary steps to call either Mr. Gary  Schulze or me or both of us to get to the bottom of the story. Mind you, this is not an opinion piece.  Even though the article is  heavily editorialized, it is a NEWS STORY. Mr. Thomas would argue that he was only reporting on complaints he had heard , but since it was meant to be a straight news story , he should have tried to maintain  the journalistic principles of FAIRNESS and ACCURACY by crosschecking the facts   to ensure that the accusations were  justified. Journalists are here to enlighten and educate the public , not promote and propagate  their lunacy,  ignorance, idiocy and eccentricities .
CONCLUSION :  The allegations against me and Mr. Gary Schulze are false , malicious and libelous and the news report is redolent of the irresponsible journalism that is making our journalists not to be taken seriously.
I know that because of the very important position I hold in the government —A minister at the UN—  many of my countrymen and women and their lackeys are very envious and jealous of me and I am not really bothered by the unfair and malicious attacks I receive day by day in Sierra Leone online forums, news outlets and social media. It comes with the job when you are a Sierra Leonean.  We Sierra Leoneans do not celebrate one another  and whoever accepts a top government position must brace him/herself for hostility and defamation especially in this day and age of mushrooming online outlets, forums and the social media  , but where the issue involves a  national of another country (who has a proven record of helping our country sacrificially } and is honest in his dealings , the Telegraph should have tried to be fair to him , at least , by getting his own side before going to print ( If he did not to cast me in good light, understandably ).
I have also conducted my life with honesty and integrity , but when you become a Sierra Leone public official, you are game for malicious allegations and character -assassination . I am comfortable with that.
_____________________________________________
sierra Leone government minister plenipotentiary accused of corruption