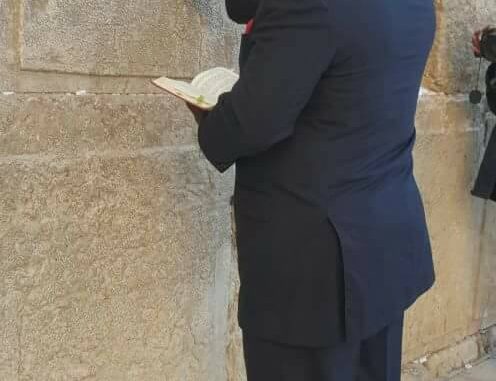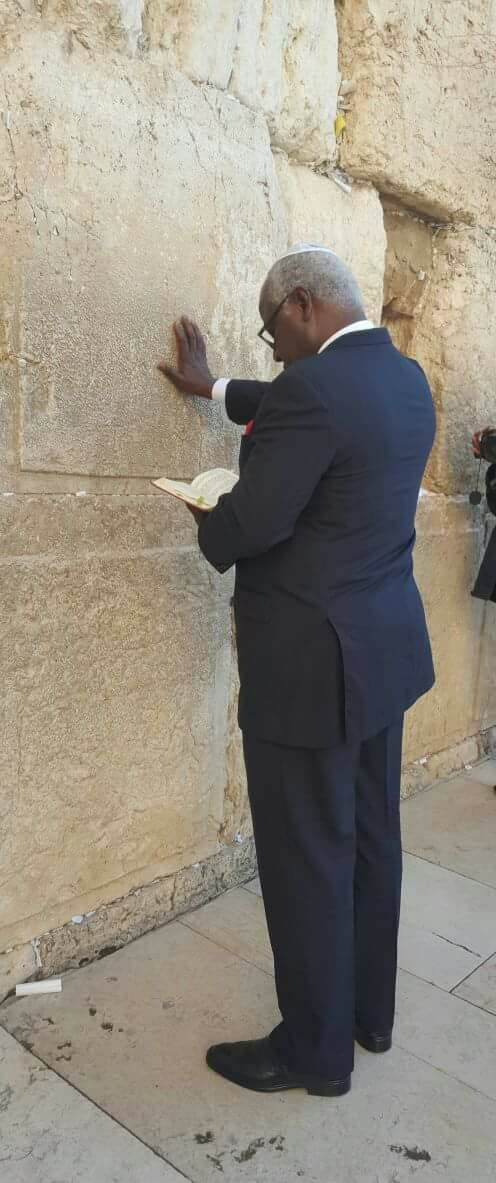 President Koroma at the Holy Land of Israel. where he received a tantalizing welcome, prays for the nation.
And let me tell you something, one of the best persons that can pray for you is the President. Because of the fact that leadership is from God and God looks at leaders like his appointed shepherds over his people, their prayers for us avail much..
When your President prays fervently for you, it is like a Shepherd fervently praying for his sheep. Those prayers are very powerful. You can see that in the Old Testament and Jesus said he did not come to change the old law but to fulfill it , so this prayer going on here is very powerful and it is going to avail much.
NOT AN ORDINARY PLACE . PRESIDENT KOROMA IS STANDING CLOSEST TO THE HOLY OF HOLIES: THE SPIRITUAL IMPORTANCE OF THIS PHOTO AND THE SIGNIFICANCE OF PRAYING AT THIS HOLY WALL IN ISRAEL
By KABS KANU
Many Sierra Leoneans do not know the absolute value of this picture. It is a very valuable and significant picture .Nobody even tried to know why the President went nowhere else to pray but at this wall. Some people are too busy with their usual sarcasm and negativity to really find out.
THIS PICTURE IS VERY, VERY VALUABLE.
Why is this ?
The reason is that PRESIDENT ERNEST KOROMA is praying at a place closest to the holy of holies, variously called the Wailing Wall and the Western Wall. When you visit Israel, you want to pray here. Somebody wants you to go there with a prayer request for you written on a paper which he  will leave in a crack there.
According to AISH. COM, "The Western Wall is a surviving remnant of the Temple Mount in Jerusalem, which was destroyed by the Romans in 70 CE. The Temple was the center of the spiritual world, the main conduit for the flow of Godliness. When the Temple stood, the world was filled with awe of God and appreciation for the genius of the Torah."
"Jewish tradition teaches that all of creation began in Jerusalem. The epicenter is Mount Moriah, known by mystics as "the watering stone." The name "Moriah" is actually a play on words: "Moriah is the place from which Torah instruction (horah) goes forth; from where fear of heaven (yirah) goes forth; from where light (orah) goes forth."
"It is here, on Mount Moriah, that Isaac was bound for sacrifice. And it is here that his son Jacob dreamed of the ladder ascending to heaven."
"Although other parts of the Temple Mount retaining wall remain standing, the Western Wall is especially dear, as it is the spot closest to the Holy of Holies, the central focus of the Temple."
"The Sages prophesied that even after the Temple's destruction, the Divine Presence would never leave the Western Wall, and that the Wall will never be destroyed. The Wall is endowed with everlasting sanctity, as the Talmud says: "And I will make your sanctuaries desolate" (Leviticus 26:31) – this means that the sanctuaries retain their sanctity even when they are desolate."
"Jerusalem was destroyed and rebuilt nine times. And through it all, one symbol remained intact: the Western Wall."
"In establishing the eternal covenant with Abraham, God promised that the Jewish people will never be destroyed (Genesis 17:7). In this way, the Wall is a symbol of the Jewish people: Just as there have been many efforts to destroy the Wall and yet it remains eternal, so too the Jewish people have outlived its enemies and remain eternal. The Wall thus became the symbol of both devastation and of hope."
According to ON FAITH .COM, "It's not just a place of prayer for Jews."
"There's a beautiful tradition at the Western Wall, and here's how it works: write a prayer on a piece of paper and stuff it in a crack in the wall. Every few days, a caretaker collects all the prayers and buries them on the Mount of Olives in a 2,000-year-old cemetery. "
"Every written prayer at the Wall becomes an 'eternal prayer.' It's a beautiful tradition, and even Pope John Paul II has placed a prayer in the cracks. "
l