By Pasco Temple and Kabs Kanu :
BREAKING NEWS : Hundred tons of Ebola emergency relief supplies for Sierra Leone and Liberia  are airborne to Sierra Leone  onboard a Korean 747 , Kalitta Airlines,   from the JFK International Airport in New York. The plane is expected to land at the Lungi International Airport in Freetown tomorrow morning.
The relief supplies were provided by different organizations, including the Clinton Initiative and international NGOs. The initiative is coordinated by Direct Relief. Org.
Sierra Leone's Ambassador to the United States, H.E. Bockarie Stevens was at JFK Airport with a contingent o officials from the Embassy to facilitate the transfer of the supplies. Also present at the occasion was the Permanent Representative to the UN, Ambassador Vandy Minah .  A Liberian delegation comprising the Foreign Minister , Hon . Augustine Kpehe Ngafuan and the country's Ambassador to the U.S, H.E. Jeremiah Sulunteh,  were also present.
WE WILL BRING YOU FULL COVERAGE LATER .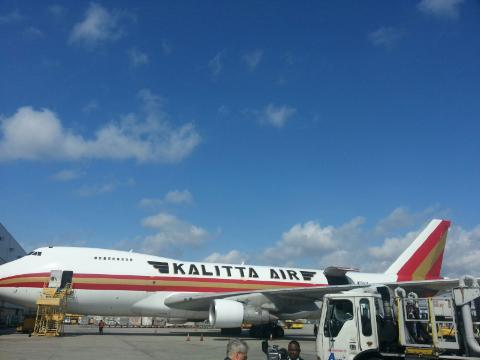 THE SUPPLIES BEING LOADED INTO THE PLANE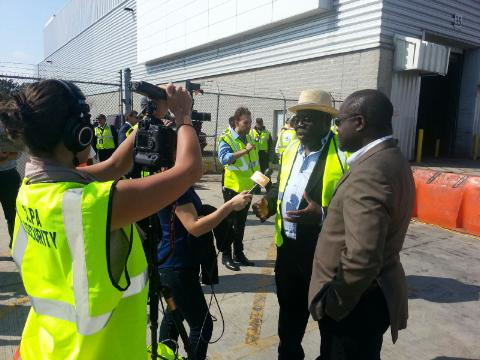 AMBASSADOR STEVENS ( IN HAT ) IS SEEN HERE BEING INTERVIEWED BY THE INTERNATIONAL MEDIA. ON THE RIGHT IS MR. VANDI MINAH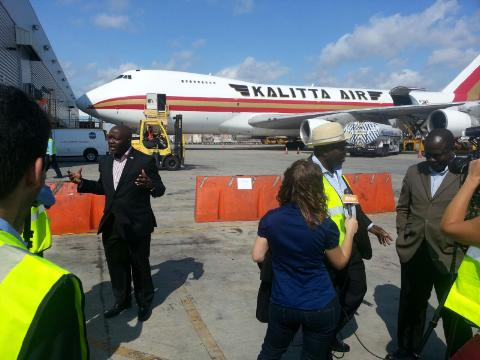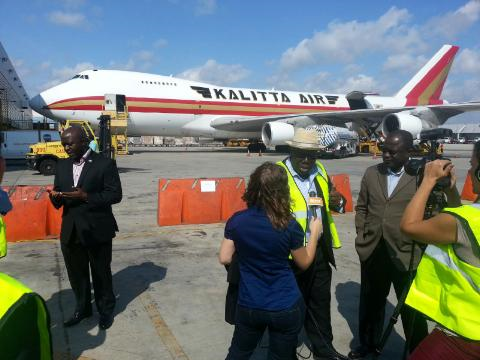 The Liberian Foreign Minister Hon. Ngafuan being interviewed by the international media on the right while Ambassador Stevens is interviewed on the right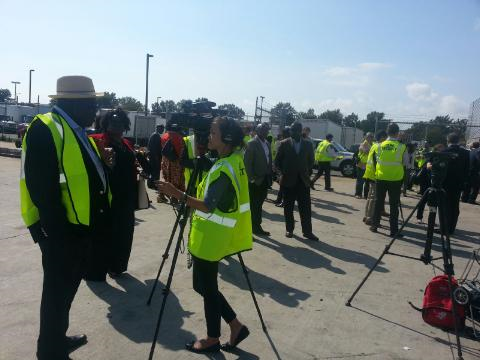 ANOTHER SET OF INTERNATIONAL MEDIA INTERVIEWING AMBASSADOR STEVENS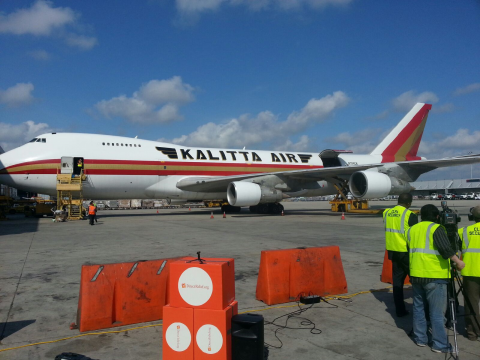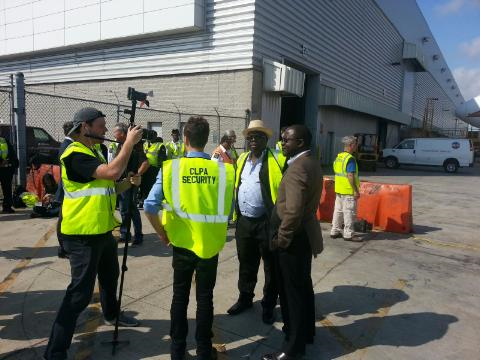 ANOTHER GROUP OF INTERNATIONAL MEDIA INTERVIEWING AMBASSADOR STEVENS