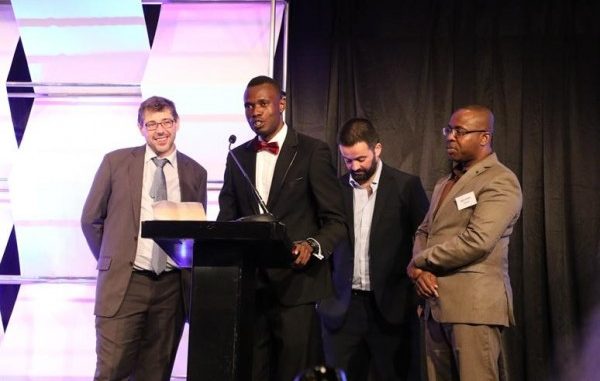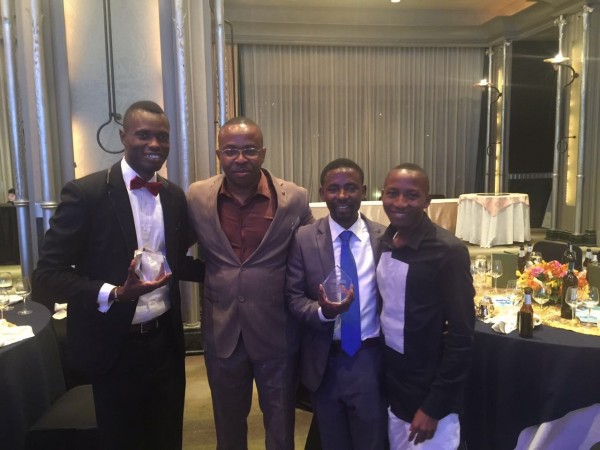 L-R-The Plan International Sierra Leone team, Ansu Karim( Business Development Manager), Casely
Ato Coleman( Country Director), Timothy Sam( Youth Engagement Advisor) and Kamanda
Kamara( Member of the Global Youth Advisory Panel) show awards won in Bangkok, Thailand
As Plan International Sierra Leone starts its 40th year anniversary celebrations this year, the reward
for hard work and long years of commitment to the wellbeing of children is granted the organisation!
On April 28, 2016, a team from Plan International Sierra Leone (Plan) received 3 out of 9 Global
awards in an exciting awards ceremony held at the Global Leadership Conference in Bangkok,
Thailand.The Global Awards, which began in 2010, brings together the entire Plan International to
recognise outstanding talent, dedication and commitment within the organisation.
Plan International Sierra Leone was awarded in 3 categories: Individual employee of the year (for hard
work and commitment during the ebola response), Most Innovative Use of Technology or Social
Media (Youth Feedback mechanisms around Ebola –where young people played a leading role in the
Ebola disaster response through communications and advocacy) as well as the One Plan Award (joint
ebola response work in the West Africa Regional Office and 3 Ebola affected countries).
Casely Ato Coleman( Country Director Plan International Sierra Leone), Ansu Karim( Business
Development Manager and former Programme Unit Manager who led the response in Port Loko and
Kambia), and Timothy Sam( Youth Engagement Advisor) attended the Global Awards ceremony in
Bangkok and proudly brought home the 3 enviable awards.
Ansu Karim won the Individual Employee of the year award. He felt very humbled and commended
the leadership and staff support which contributed immensely to the ebola response).Ansu dedicated
the award to ebola survivors.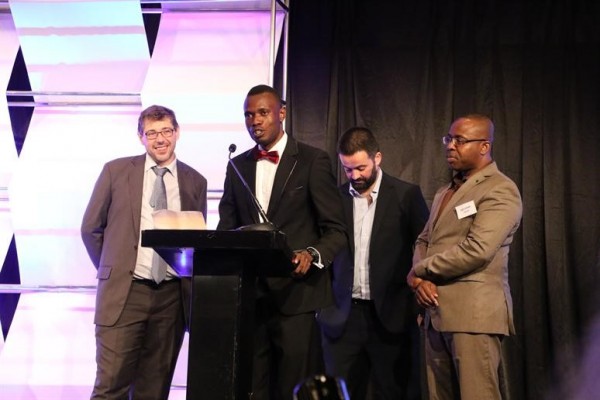 Ansu Karim receiving the Individual employee of the year award, flanked by Casely Ato Coleman
Casely Ato Coleman( Country Director) joined the Regional Team to receive the  One Plan award, on
behalf of the West Africa Regional ebola response team.  Adama Coulibaly (West and Central Africa
Regional Director), applauded the country Directors of Liberia, Guinea and Sierra Leone. He said
"we moved fast – very very fast and were able to save lives to contribute towards the eradication of
the disease".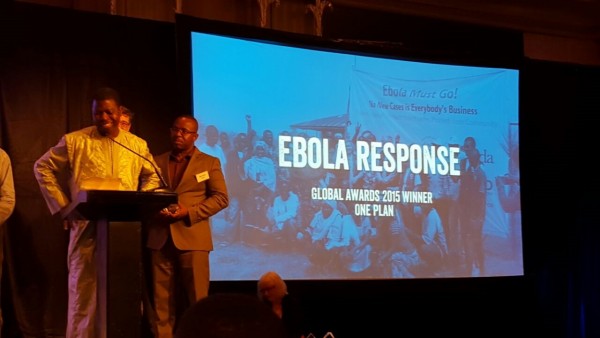 West and Central Africa Regional Director, Adama Coulibaly,and Casely on stage for the ebola response award
Timothy, Casely and Kamanda pose with the Youth feedback mechanism / social media award, with Josh Liswood, Chairman of Plan International Board
Timothy Sam and Kamanda Kamara ( member of the Plan Global Youth Advisory Panel-GYAP)
received the Most Innovative Use of Technology and Social Media award "We needed someone to
take that drive." Said Timothy, and GYAP member Kamanda Kamara said the award is an inspiration
to himself and the other young people from Sierra Leone to continue their hard work. "We had to find
a way to raise our voice", he said.
Sierra Leone award team with Anne-Birgitte Albrectsen, CEO Plan International
Plan International Sierra leone will continue its hard work to change the lives of children and families in communities and provide the necessary environment in collaboration with Government and other partners to ensure girls and boys claim their rights in just societies.
Plan International Sierra Leone wins UK Business Charity Awards 2016
The CBRE and Plan International UKL team visits Harford School for Girls( A GEC project beneficiary school in Moyamba) in March 2016
In the month of April 2016, Plan International won another award called the UK Business Charity
Awards 2016: Project of the Year, through the Girls' Education Challenge ( GEC) project,
Sierra Leone, supported by the Real estate services and investment firm, Coldwell Banker Richard
Ellis, Europe, Middle East, and Africa (CBRE EMEA) and Plan International UK. CBRE joined
forces with Plan International to become the lead corporate partner in the Girls' Education Challenge
(GEC )project 3 years ago. The initiative was established to help provide education to 21,600 children,
particularly in Sierra Leone. According to Casely Coleman, Country Director, the GEC project is a
consortium led by Plan International Sierra Leone since 2013, and made up of four organizations,
International Rescue Committee (IRC), Handicap International (HI), Open University (UK based) and
Forum for African Women Educationists (FAWE), who are in close collaboration with the Ministry
of Education, Science and Technology (MEST). It is the biggest girls' education project in the Country
and so when the Ebola virus struck Sierra Leone and schools were closed in 2014, CBRE and Plan
adapted their approach to help ensure the pupils continued to get an education. This included helping
to raise money for and distribute 22,500 solar-powered radios so pupils could listen to the national
radio lessons. The partnership also helped to distribute 12,521 bursary packs to assist pupils with home
learning and delivered 1,203 hand-washing units to help contain the spread of the disease.
Girls in Moyamba listen to the national radio teaching program during a school lesson
A visitor from UK talks to a GEC beneficiary in Port Loko