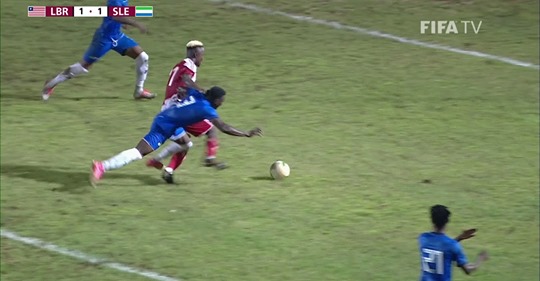 By Kabs Kanu ( Veteran Sports Analyst and Promoter )
Yesterday, Sierra Leoneans got a massive disappointment when their national team—LEONE STARS–were defeated 3-1 by Liberia in the preliminary series of the 2023 World Cup.at the Samuel. K. Doe Sports Stadium in Monrovia.
Shortly after the game, many Sierra Leoneans took to social media to blame the Beniniose referee who awarded Liberia two penalties in the 18th and 82nd minutes while others taunted the Leone Stars for never doing well in international competitions.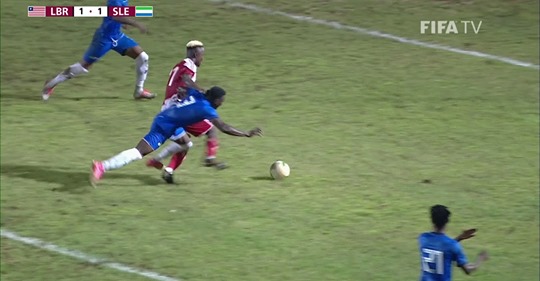 After carefully watching the game on video, I do not think that poor refereeing caused the Leone Stars' defeat in Liberia. To me, these are the reasons that Liberia beat Sierra Leone yesterday .
1.DEFENSIVE ERRORS
Leone Stars had some bright moments when they dominated possession as reported even by the Sports Editor of the Liberian BUSH CHICKEN Newspaper J. Klah Wesley , but to me defensive errors played a dominant rile in the defeat. The 3-1 scoreline is flattering to Liberia because they did not deserve it. They did not outplay Sierra Leone. Without the two penalties and the horror show in the 89th minute by the defender and goalkeeper, the result would have been different.
In a match of such magnitude and given that they were playing away, the Leone Stars defence should have been compact enough to ensure that opposing players do not dribble inside the box and provide the tendency for diving to y players looking for penalty kicks. And Leone Stars crowned their defensive frailties in the 89th minute with that horrible blunder by both defender Mustapha Dumbuya and Goalkeeper Solomon Morris who could not communicate well enough with each other and allowed the big Liberian Centre Forward Sam Johnson to rob both of them in the air and then steer the ball into an empty net. Such terrible blunders should not be part of any team that wants the laurels in such big international matches . The Liberians would have got away with a very narrow 2-1 victory but that blunder ended giving them a two-goal advantage , which is unforgivable.
2. LEONE STARS LACKED COHESION AND DID NOT PLAY AS A TEAM
Another factor that caused their defeat was lack of cohesion and coordination by the Leone Stars who did not play as a team. Assembling  players together without proper training will definitely yield such outcomes and for this, I blame the Football Association. Some of us had started complaining as late as July that the big fixture was looming and nothing had been done to call players, put them together and start training them in preparation for the match. I wonder what the Sierra Leone soccer authorities were thinking when up until mid-July, no serious preparations had started for such a huge World Cup game.
In the past, players were invited about two months before a match, and camped , then trained for international assignments. This time, the players were called late and started training only a week or two before the match. The professional players abroad came in late and many of them did not train with the team. How did we expect any understanding between the players when they did not train together ?
These are the two main reasons that Leone Stars lost the match. It was not because Liberia are a better team to Sierra Leone as one Liberian sports reporter suggested. As a matter of fact, both the Lone Star and Leone Stars performed poorly , justifying their low ranking in African football. The scores were level with less than 10 minutes to go and play was evenly balanced but then came the 82nd minute penalty and the masterpiece blunder in the 69th minute.
THE WAY FORWARD
However, all is not lost for Sierra Leone. They still have a chance to win the second leg to be played in Freetown on Sunday at the Siaka Stevens Stadium. A 2-0 win can see them through, thanks to that vital away goal they scored. in Monrovia. Though it looks late, Ghanaian Coach Sellas Tetteh must work seriously on tightening the defence and creating some form of coordination between the players.
Judging from the run of play yesterday, Sierra Leone can still overturn the Liberian two-goal advantage. But our boys will have to put up a good fight to achieve that. Some of the players were sloppy in possession and professional star, Kei Kamara must up his game and avoid missing golden opportunities to score as he did in the 47th minute when all he needed was an easy tap-in , right in front of goal., but deflected the ball wide.   He can do better than that.
Leone Stars must win  and eliminate Liberia on Sunday. Our national pride is riding on it.