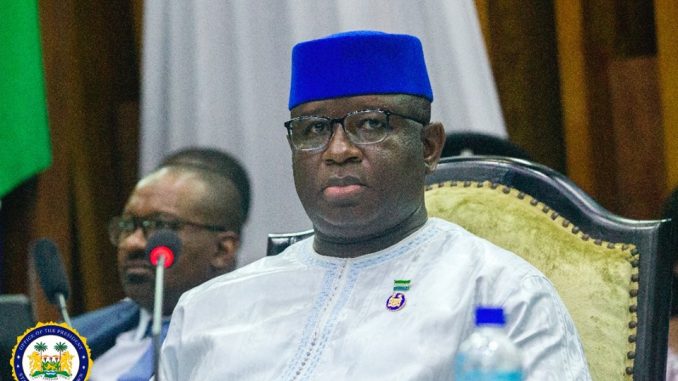 PRESIDENT MAADA BIO  has apologized for the action taken by the Anti-Corruption Commission to publicly humiliate teachers suspected of exams fraud.
In a televised statement today, President Bio described the action of the ACC as wrong.
The President's action has been widely commended, even by opponents of his government, in the social media.
President Bio apologises for the jungle justice meted out to teachers yesterday by the ACC. We appreciate that. We Thank Mr. President. But the president has been silent on so many other wrongs in the past 16 months. What else would you like President Bio to apologize for?
President Julius Maada Bio tenders in apology.
On 09.09.2019, the Anti-Corruption Commission Sierra Leone_Official displayed placards on a school principal and teachers, arrested on the weekend over alleged examinations' malpractices.
Although they are yet to be tried and convicted in a court of law, they were made to pose with the placards at the Cotton Tree, the symbolic centre of Freetown; where thousands of citizens and others witnessed this first-of-its-kind action.
Human Rights advocates, lawyers and observers say the action violated the Constitution.
The President says the dramatic spectacle was wrong.
In his own words:
"I must use this opportunity to say, I didn't like what happened yesterday … that's wrong. None of us can say we have not done wrong in order to correct things. This was in pubic … So what happened yesterday definitely was wrong, but there are times when as human beings, your emotions, your passion, overtakes what is accepted as the general line. And that is why, without interpreting the Commission, I will apologise on their behalf". ̶ President Julius Maada Woonie Bio on International Literacy Day.
I have to give President Bio a pass on this one. Leadership is taking the right actions even at the displeasure of your ardent political cronies and supporters.
However I will implore that we all now use the same voice that made the President apologised to also call on the judiciary to do a speedy trial on these accused persons.
Presumably, in law, it is clear that "an accused must not benefit from his crime." The fact that we opposed the process used by the ACC, especially in the area of presumption of innocence, does not mean that the act the teachers were involved in is a legal act. It is completely criminal!!
Examination Malpractice is killing the fabric of our educational credentials in Sierra Leone. Just last week, over 65 students were rusticated from the University of Sierra Leone and 9 expelled for acts of examination malpractice.

This has the propensity of discrediting our college's certificates. We need to be steadfast in upholding the virtues of our educational system.
FB Kaifala is a Patriots. Let's join the fight against examination malpractice. This is killing our educational system in Sierra Leone.
Alleged criminals must never benefit from their crimes.