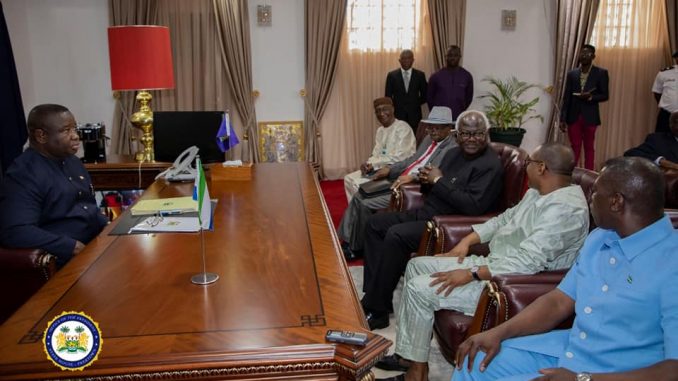 By KABS KANU :
PRESIDENT MAADA BIO  had a meeting at State House this morning with former President and Chairman of the opposition All People's Congress ( APC ) , Dr. Ernest Bai Koroma .
The news about the meeting was only revealed late yesterday when the APC National Publicity Secretariat released the following statement at the social media . The message read :
________________________________________
The National Advisory Committee (NAC) of the All Peoples Congress (APC) met this evening to discuss a request by State House for a possible meeting to be held tomorrow, 12th September 2019 at State House, between H.E. President Julius Maada Bio and Former President of Sierra Leone, Chairman and Leader of the APC, Dr Ernest Bai Koroma to address Human Rights Issues, Rule of Law, Good Governance, Democracy, National Cohesion and Peace.
©APC National Publicity Secretariat
___________________________________________________
The statement stunned lots of Sierra Leoneans, especially supporters of the APC and even SLPP  fanatics. Suspicions quickly surrounded the reasons for the meeting as APC  supporters suggested that with only over a week for the UN General Assembly, President Bio was calling the meeting as a last-minute diplomatic ploy to create the impression , which he would then carry to the UN, that he was seriously working towards peace and national cohesion in the country, in the face of probable diplomatic community discontent about the chaos and human rights abuses permeating the nation since he came to power last year.
Many Sierra Leoneans thought that it was just a publicity stunt by President Bio to enable him to front a different face about himself to the UN and the international community when he addresses the UN General Assembly on September 26 and later meet with investors and stakeholders. "Why only now , on the eve of the UN General Assembly ?"  Everybody seemed to ask.
Some Sierra Leoneans said that President Bio and  government had done nothing to show their commitment to human rights, good governance, rule of law , national cohesion and peace. Only last Sunday, two female journalists were beaten and injured by President Bio's close-circuit security and the government has said nothing , let alone take action against the security officers .  Colleagues and families of the handcuffed teachers humiliated in public with derogatory placards hung around their necks after being suspected of exams fraud are still reeling. There are numerous other unresolved cases of blatant human rights violations and abuses of power by the government still pending. How can President Bio call ex-President Koroma and leader of the APC  to talk about good governance and human rights when the government had not done the first things first ?
The COCORIOKO  newspaper said on Facebook : "We hope the APC does not allow itself to be used as a pawn in somebody's chessboard of diplomatic deceit.
APC is a mass national party . Should not the vanguard be involved too in decision- making involving such a major shift ? Why so close to the UN General Assembly ? So they can lie to the international community that they are seriously seeking peace and national cohesion ? APC  should try to be smart ".
Some APC  supporters were also worried about why only a few bunch of people should have agreed for the APC  to honor such a dubious invitation for a State House meeting, knowing that the intentions were not genuine and it was just an alibi by President Bio to come and give the UN  false impressions about his commitment for national cohesion.
However, despite the reservations expressed by APC  supporters and Sierra Leoneans , the State House meeting went on as planned. Read the report sent out by State House. The report mentioned nothing about what ex-President Koroma said at the meeting . Indeed, the report only prefaced what President Bio said. The meeting was indeed all about President Bio.
STATE HOUSE NEWS REPORT :
President Bio engages opposition APC leadership on peace and national cohesion
State House, Freetown, Thursday 12 September 2019 – His Excellency President Dr Julius Maada Bio has welcomed at State House the opposition All People's Congress, APC, led by its chairman and leader and former President of Sierra Leone, Dr Ernest Bai Koroma, to discuss strengthening peace and national cohesion.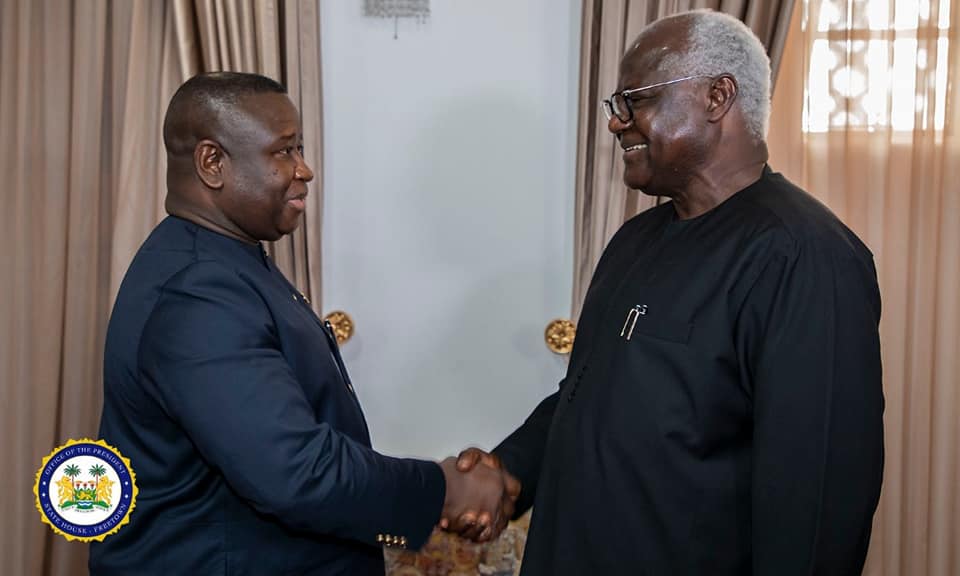 PRESIDENT BIO RECEIVES EX-PRESIDENT KOROMA AT STATE HOUSE
After a warm handshake with the visiting team, President Bio started off by saying that he was happy to receive the former President and his delegation. He emphasised that Sierra Leone was home and as political leaders, they owed a lot to the nation and to keep it happy, irrespective of their different political parties, regions or tribes.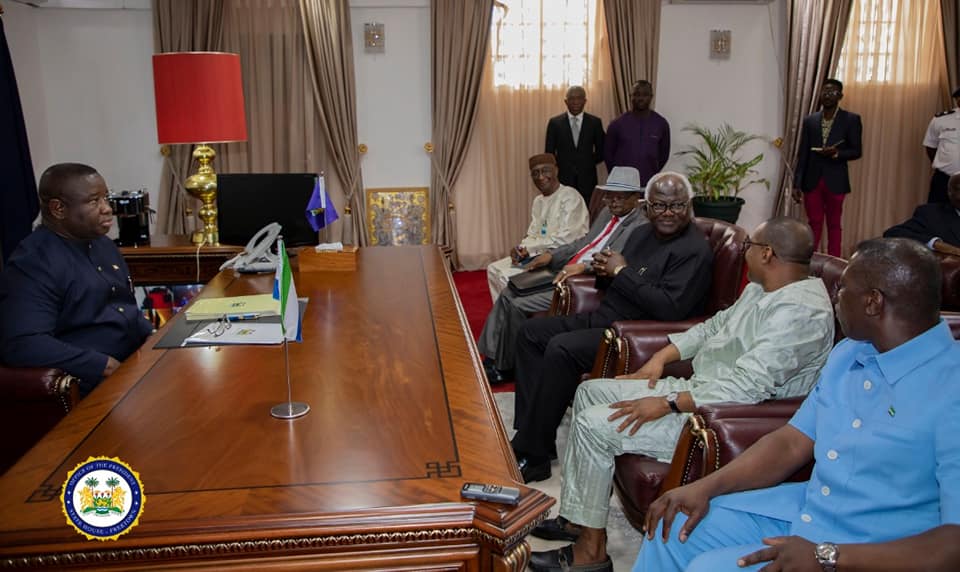 He stated that he was meeting the former President and Leader of the APC to discuss issues of concern, particularly relating to national unity and peace and how to deepen the relations and strengthen the necessary dialogue that would keep the country peaceful and united. He also assured that he would continue the political dialogue in the best interest of the nation.
It could be noted that in the recent past His Excellency Dr Julius Maada Bio, as President of the Republic of Sierra Leone, Supreme Head of State and Grand Commander of the Order of the Republic and Fountain Head of Unity, Honour, Freedom, and Justice, also held similar engagements with other political leaders as part of a wider approach to uniting the country.
For More Enquiries:
State House Media and Communications Unit
+23276758764/+23288269282