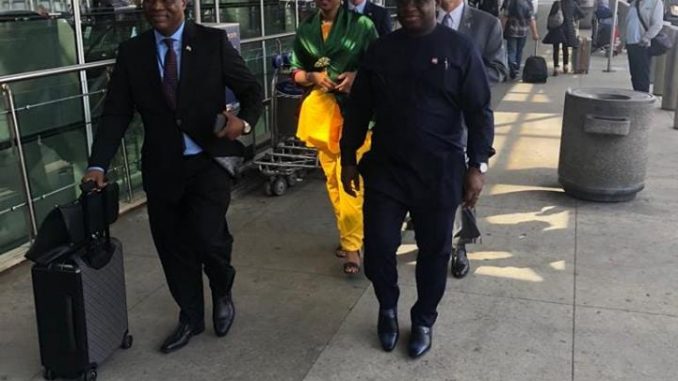 Sierra Leone's President, His Excellency Julius Maada Bio , arrived in the United States of America yesterday to attend the United Nations General Assembly .
The President, who has problems with the U.S .State Department ( By his own confession during last year's electioneering campaign ) and is forbidden from state and private visits , was given an enthusiastic welcome by supporters of his Sierra Leone People's Party ( SLPP) at the JFK International Airport in New York.
However, President Bio was apparently not given  the traditional arrival diplomatic protocols granted foreign heads of state or government and  left the airport through the public exit , with Permanent Representative to the UN, Ambassador Francis Kai-Kai wheeling his luggage and only hs wife, Mrs. Fatima Bio  and two Secret Service officers in tow. It means that the president was not even given the courtesy of having greeters , except the Permanent Representative.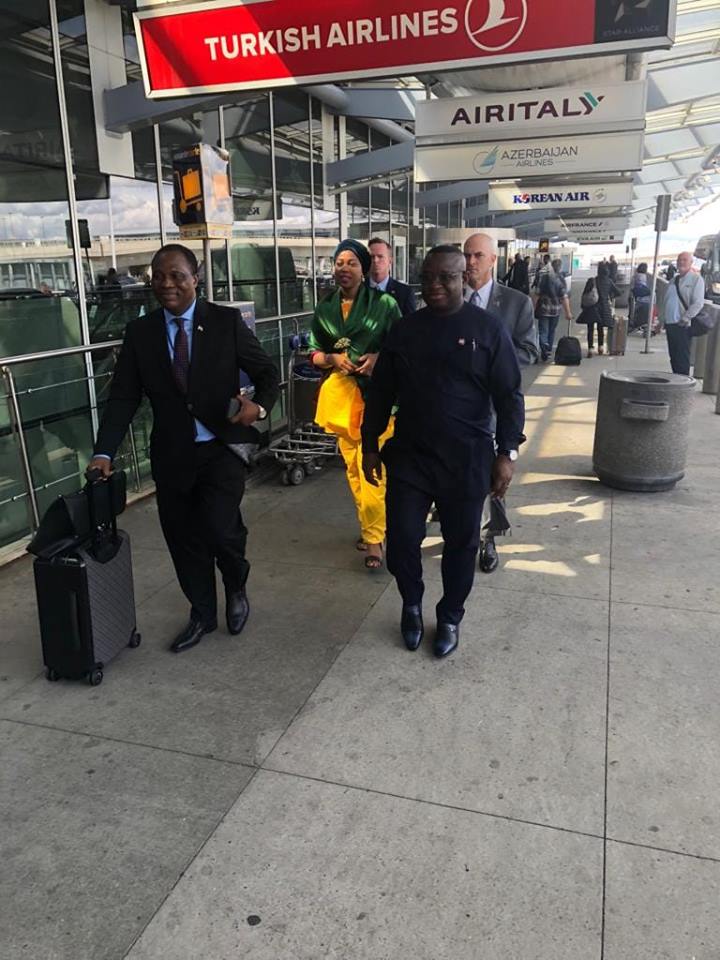 PRESIDENT BIO OUTSIDE THE PUBLIC EXIT AREA OF THE AIRPORT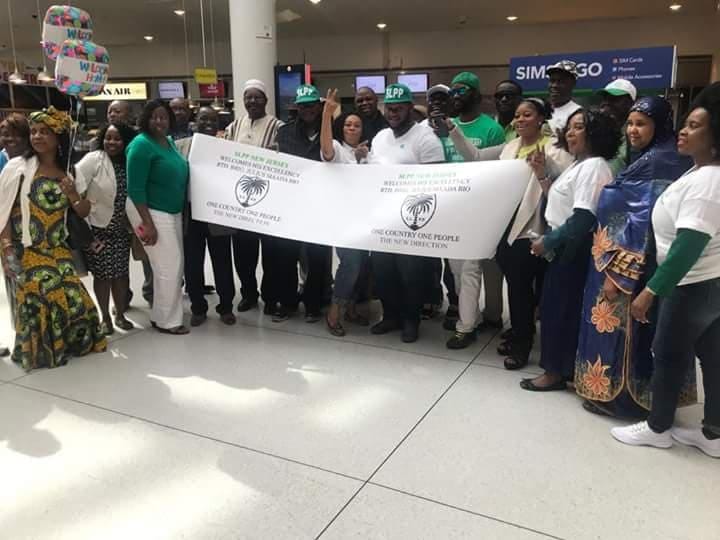 THE WELCOMING PARTY : EVEN THAT WAS NOT LARGE, GIVEN ALL THE NOISE.
It is quite unusual, undiplomatic and unsafe  for a visiting head of state/government to leave  the airport through a public exit like a common,  ordinary passenger as President Bio was seen doing . The usual protocol is that after being greeted by a minimum of 6 guests ( If he arrived by private plane and 2  if by a commercial jet, according to guidelines set by the State Department Office of Protocol  ), the head of state is then led to the VIP Lounge from where he exits downstairs  at the VIP parking precincts and he is usually met at the door by members of his welcoming party ,with his State Department-monitored limousine and other vehicles that will be in his convoy.
The reason given by the authorities concerned was that President Bio was approval only to attend the UN Summit and that the President is not a guest of the United State Government during this visit.
The reception given President Bio is a big blow to the prestige of the president, his supporters and the nation and the story has gone viral in the social media.
 Sierra Leone news updates
PRESIDENT BIO RECEIVED WITH A COLD RECEPTION FROM THE U.S AUTHORITIES
This should be a strong message Sierra Leoneans must learn from as president BIO was received in the USA like a cow boy with no special official or state protocols by the United States authorities and by not even allowed to use the VIP Lounge.
While the most obedient and patriotic former star footballer now president of LIBERIA HE George WEAH was received with accolade and magnanimity.
President BIO will be treated like any Global black sheep with unlimited restrictions during his stay in AMERICA.
I STRONGLY SALUTE THE PEOPLE AND GOVERNMENT OF THE UNITED STATES FOR THEIR STANCE TO PROTECT DEMOCRACY AND HUMAN RIGHTS IN TGE THE WORLD.
May God bless Sierra Leone