By Idrissa Conteh
Pathetic!
Abass Bundu still owes the people of Sierra Leone over $500,000 he defrauded the state in the illigal sale of our national passports to the Hong Kong Chinese.
Dr. Bundu issued a bounced cheque for $250,000 following his prosecution in connection with the fraud scandal.
Though Dr. Bundu pleaded guilty to the charges and accepted to refund the full amount, he never paid a penny.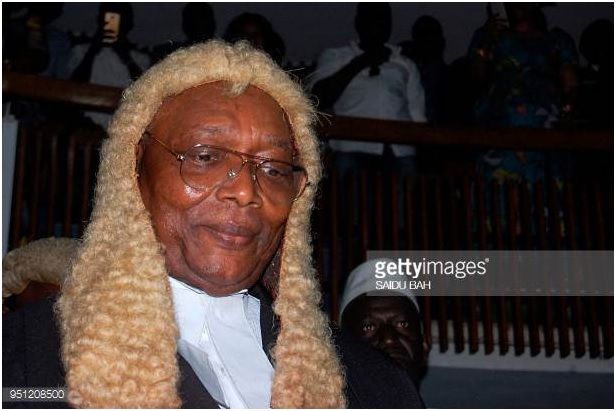 It was this same Abass Bundu that a young Guinean girl disgraced in a guesthouse in a pornographic video clip which was enough for him to resign if he had any sense of shame.
Abass Bundu is a disgrace to the people of Sierra Leone and his appointment as Speaker of the House is an insult to the people of Sierra Leone and to the integrity of the House of Parliament.
Abass Bundu is indeed a fountain of honour and Commander of the Order of Sierra Leone.
If we were a normal country, Abass Bundu would be languishing behind bars! But o ya, the law in Sierra Leone is applied only to the poor and the vulnerable who steal peanuts.
We sorry oh.
Bah Abdul
That's Sierra Leone for us. Nothing works normal. That's why we are backward.
Politicians who rubbed Sierra Leoneans their livelihoods and dignity are been defended and celebrated by the people who are suffering the effects of the actions of those criminals and looters.
Thats Sierra Leone. Those who steal a peanut languish in prison while those who emptied the coffers of the nation are honoured and celebrated. It's a sick natio
Ghassan Ibn Margai 

A peanut theft is a disgrace in Sierra Leone while politicians found guilty of stealing from the national treasury is a pride. Salone we sorry!

Unique Limba Man 

Like Maada Bio, like Abass Bundu. They're birds of the same feathers .

Theresa Turay 

SIERRA LEONE IS A SICK STATE MY BROTHER,EVERYTHING IS UPSIDE DOWN.

Ousman Barry 

Does he even know what makes someone deserves an award?This is the worst ever awards by a failed president.what a shame. What has a bass nunu done to merit an award?

David-kanyon Conteh 

This is really sad and a serious issue I hope God intervene now before we face another terrible problem

Sam Jay 

You're so clueless. Ibrahim Misheal Kallon. You blind with party politics rather than patriotism to your country. If there's anyone to defend Dr Absss Bundu, it's me Sam Jay, but I'm not. I choose Sierra Leone first over any individual. So take ur coconut head and get out of here.

Sam Jay 

Guys politics aside. This is a disgrace to us as Sierra Leoneans for the likes of Dr. Absss Bundu as speaker of the house and moreover given a honour from no other person but our president. What a shame? The gods of bintumani, the great scaresis, mountain wararah, are not happy with us.