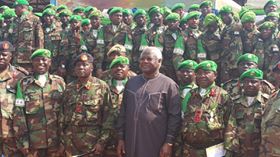 STATEMENT BY HIS EXCELLENCY
DR. ERNEST BAI KOROMA
AT THE WELCOME CEREMONY OF LEOBATT 1
30 January 2015
The Chief of Defence Staff,Senior Officers, Officers, Men and Women of the RSLAF,Ladies and Gentlemen.
Twenty-two months ago on 25th March 2013, I bade you farewell as you left our shores to join AMISOM in Somalia. Today I am here again welcoming you back to our beloved country Sierra Leone. I indicated in my address then that you were embarking on a journey of charitable gallantry, a journey to showcase how a transformed nation and its transformed military could be a force for democracy, peace and healing.
I want to reaffirm that you have shown the world that you are a transformed military capable of contributing to world peace and security. You are indeed the pride of our nation.
We are aware of the challenges you faced in Somalia. But those challenges were neither the making of the RSLAF nor my government. We prepared LEOBATT 2 to replace you in record time but the sudden outbreak of the Ebola Virus Disease forestalled that plan.
As your Commander-In-Chief, I personally empathized with you. I therefore wrote letters to the African Union, the United States of America and United Kingdom Governments to do everything humanly possible to bring you home.
Fortunately you are back home but unfortunately LEOBATT 2 would not replace you because of the Ebola outbreak. But victory against this evil disease is in sight; and the RSLAF has been very integral to this coming victory. This is why I want to use this moment to salute the RSLAF. You are brave warriors, and with you by our side we shall always be assured of victory, peace, security and healing. On behalf of the nation, and in my own name, I thank you, I salute you, I honor you.
We remain committed and united in the fight against terrorism of human terrorists and viral terrorists like Ebola. And we will win; we will emerge victorious and sustain ourselves as symbols of global peace, recovery, and growth.
You have contributed immensely to the promotion of peace in Somalia. We know that the country still has numerous security challenges, but you have been central to the peace enjoyed today in most of Somalia. We will stay true to the memory of your gallant contribution by continuing to support the African Mission in Somalia (AMISOM) and United Nations Support Office to AMISOM (UNSOA) for peace to take its firm root in that country.
I salute you, my gallant soldiers, ensuring peace and healing have always been huge challenges, but this country shall always honor your selfless dedication and devotion to duty. We shall honor your loyalty to the democratic order, for all over the world today the celebrated soldier is one who is loyal to the democratic government of the people. You are celebrated today because you have shown that fidelity, and your commitment.
As disciplined and seasoned fighters, you have indeed come to face another war, which I think is fiercer than the one you experienced in Somalia. RSLAF, particularly LEOBATT 2, National Ebola Response Centre (NERC), British Forces (BRITFOR), United Nations Mission for Emergency Ebola Response (UNMEER), China, the United States of America, ECOWAS, the African Union, your sister security forces and other international bodies have done very well and are very committed to breaking the chain of further spread of the Ebola Virus disease. Let me at this point extend my deepest appreciation to the United Kingdom, the United States, China, Nigeria, ECOWAS, the African Union, United Nations, and other International partners for their invaluable support in the fight against the dreaded Ebola virus.
Victory against this evil disease is in sight, and as your Commander-in-Chief, I shall continue to lead this fight until we kick the last of this evil virus out of our country. I am energized because I know my gallant soldiers are with me; I salute you again, I salute our brave and committed health workers.I should reiterate that LEOBATT 2 has done very well by exhibiting professionalism in fighting the Ebola Virus Disease. They have shown great resilience, and I will do everything possible to ensure that they go on Peace Support Operations. They will surely make us proud again if given the opportunity.
RSLAF is professional and becoming very capable by the day. You are making this nation proud. That is why I will continue to support you and improve your welfare. I remain committed to providing decent accommodation that befits your status. The Gondama Barracks in Bo is almost complete. Wilberforce project is far advanced whilst the procurement process for Kambia Barracks is at the concluding stages and the contractor will be announced shortly. As your Commander-In-Chief, I will ensure sustainable terms and Conditions of Service.
Concluding, let me announce to all Sierra Leone, to all the world, that LEOBATT 1 are men of genius and honour. You deserve the honour and respect of the people of this country, you are great, you are loyal, you are gallant.
God Bless You, God Bless Sierra Leone.
©SHCU 2015