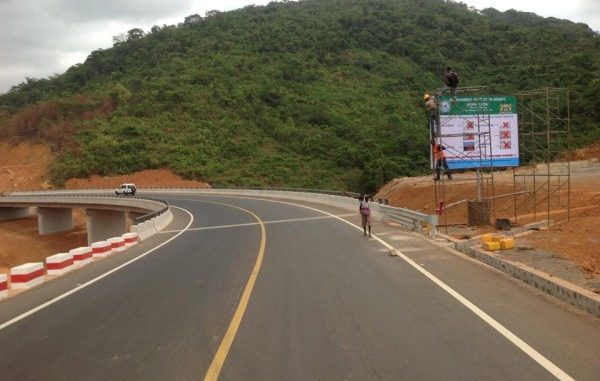 B y KABS KANU :
NEVER  before in the history of Sierra Leone has any President constructed so many state-of-the art  edifices and highways as President Ernest Bai Koroma has done in only 7 years of leadership.
The late President Ahmad Tejan Kabbah spent 11 years in power but you cannot pinpoint any noticeable infrastructural projects undertaken by his government. If there are any other fascinating infrastructure in Sierra Leone, they were constructed by the late President Siaka Stevens ( The Congo Cross Bridge, National stadium, Youyi Building, the Bumbuna Hydroelectricity Dam, the OAU Village, the Kambia Bridge, the Beethoven female's hostel at FBC, the Makeni – Lunsar and Bo-Kenema highways etc.etc ).
Media events reporting the construction and commissioning of modern and impressive infrastructure in Sierra Leone are becoming a regular occurrence during the stewardship of President Ernest Bai Koroma. Even our foreign residents and international partners-in-progress are watching with excitement the steady pace at which President Koroma is changing the face of the once stone-aged Sierra Leone. Only the most dishonest person will fail to see the magnificent infrastructural developments being carried out in Sierra Leone by President Ernest Koroma .
The pace of infrastructural development in Sierra Leone at the moment is unprecedented in West Africa. We are indeed the most fastly developing nation in West Africa. No wonder the U.S Secretary of State , Mr.John Kerry, in wishing Sierra Leone happy 53rd Independence Anniversary pointedly emphasized that  "Sierra Leone is becoming one of Africa's greatest success stories. " This statement by the U.S.Secretary of State is a glorious reinforcement of   the entrenched impressive international stature of President Koroma.
During the past months, we have been highlighting these marvelous infrastructural developments going on in all parts of the country, from ongoing  moden highway projects in the opposition Sierra Leone Party ( SLPP )  strongholds of Kailahun, Kono , Kenema, Bo ,Pujehun and Moyamba to the commissioning of the modern stadium in Bo and the 5-star intercontinental superstructure in Freetown.  We also highlighted the reconstructed Lungi International Airport , the Makeni and Kenema malls , the 4-lane boulevard at Wilkinson Road , etc. President Koroma has written in gold an enduring legacy of national development that will be hard to beat.
Last Saturday, on the eve of Sierra Leone's 53rd Independence Anniversary, President Koroma was at it again : He was commissioning yet another grandiose infrastructural project–The Regent /Grafton Superhighway , which will not only ease the traffic jams in the city but will go a long way to enhance the beauty of Freetown. While his opponents are busy misbehaving themselves and showing the whole world their rudeness and "unbrought-up" character on FACEBOOK and online forums  , President Koroma is busy turning Sierra Leone into a modern nation that everybody is proud of.
WE BRING YOU A PICTORIAL DISPLAY OF THE GRAFTON-REGENT HIGHWAY COMMISSIONING PROGRAM ( PHOTOS BY JOSEPH KAMANDA ) :
PRESIDENT KOROMA WITH THE CHINESE WHO CONSTRUCTED THE HIGHWAY
MOTOR DRIVERS IN SIERRA LEONE ARE DELIGHTED WITH THE ARCHITECT AND FATHER OF MODERN SIERRA LEONE, PRESIDENT ERNEST BAI KOROMA
SIERRA LEONEANS ARE EXCITED WITH THE PROGRESS GOING ON IN THEIR COUNTRY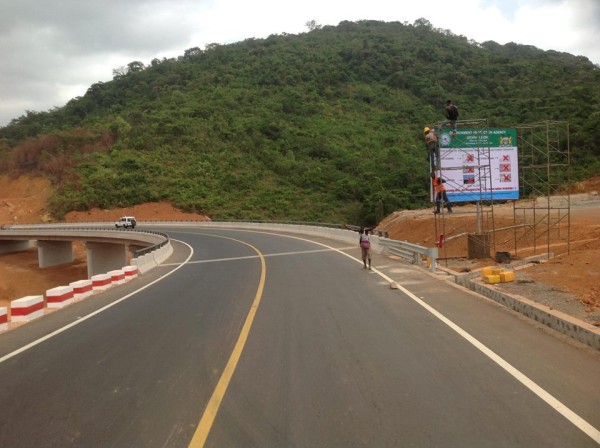 THIS PHOTO IS CREDITED TO ISMAEL KINDAMA DUMBUYA