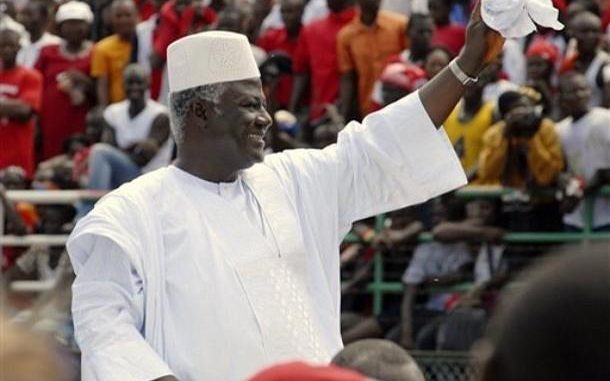 By KABS KANU :
Sierra Leone's President Dr. Ernest Bai Koroma was a very delighted man in New York last evening as his  flagship Mamamah International Airport Project is destined to be continued after all.
In a historic bilateral meeting between President Koroma and China's President Xi Jingping, held on the margins of the 70th Session of the United Nations General Assembly at the UN Headquarters yesterday ,   the Chinese Leader promised his Sierra Leonean counterpart that his country will ensure that the airport project is continued . The Sierra Leonean Government had faced difficulties that would have jettisoned the project.
In the bilateral meeting , President Koroma made a strong appeal  to the Chinese President for help in keeping the project from collapse. He told President Jinping that Sierra Leoneans had waited for the project for over 50 years since Independence and they would be very disappointed if it was not completed after all the publicity it had received and the excitement it had generated among the people. The  Chinese leader responded with  a firm assurance  that his nation will do everything to help  Sierra Leone  continue the project , which drew  a big  applause from the Sierra Leone delegates.
At his hotel in Manhattan, COCORIOKO asked President Koroma how he would characterize his feelings about the announcement. Obviously in jolly mood and smiling from ear to ear , President Koroma responded that  he was very delighted and that  it was a tremendous relief, because the Mamamah International Airport Project has the potential to unlock the prosperity of the country.
The Sierra Leonean Head of State said that when the airport project is completed , it will attract a huge volume of visitors which will boost tourism and trade. "You cannot measure the success the project will bring", he emphasized .
The President said that the new airport will bring abundant economic opportunities to the citizens of the country. That was why he told the Chinese President that for Sierra Leone the result of the bilateral meeting was the highest point in this year's UN General Assembly.
Evaluating where Sierra Leone was at the moment, President Koroma said it was a win-win situation . "The IMF and the MCC ( Millennium Challenge Corporation ) are on board to help us . And now, the Chinese .So it is a big relief" , the President revealed.
President Koroma renewed his commitment to continue to bring sustainable socio-economic and political developments to Sierra Leone.
The airport will add to the magnificent legacy of national developments that President Koroma will leave Sierra Leone when his term expires.