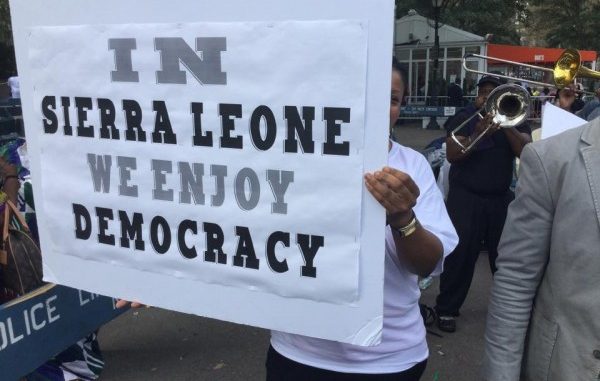 By KABS KANU :
During a jampacked meeting he had with the cadre of the ruling All People's Congress ( APC ) -USA at the Three Top Hotel in New York on Tuesday, President Ernest Bai Koroma showed that he is indeed a true man of democracy.
While thanking the Sierra Leoneans For Peace ( SLFP ) and the APC-USA for the successful rally in his favour , President Koroma said he was also happy to learn that an opposition group was also present at the plaza.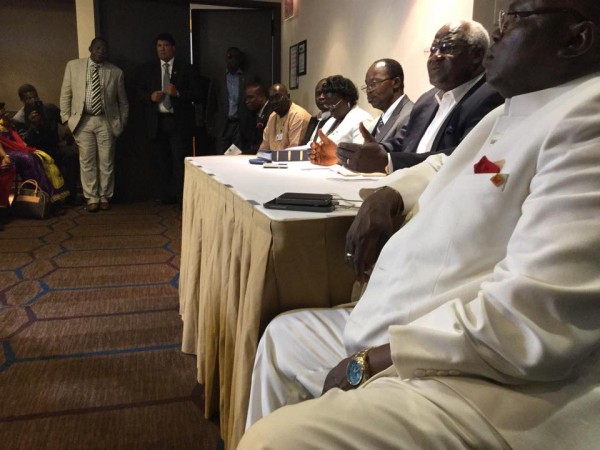 PRESIDENT KOROMA ADDRESSING THE APC -USA BRANCH 
Without mentioning the group by name, President Koroma acknowledged that the presence of the opposition  was a manifestation of the spirit of democracy that prevails among Sierra Leoneans. He told his supporters to expect such a scenerio because Sierra Leone is a democratic country under his leadership .He mocked his detractors by asking them to tell him where was the  dictatorship.
 A COMPOSITE VIEW OF APC STALWARTS AT THE MEETING
"Where is the dictatorship ?"  The President asked ,  when the government allows everybody to write and say what they want , without reprisals. He boasted about his democratic credentials that under his rule no publisher or opposition member has ever been jailed for their views.
President Koroma said that the opposition is trying to change history because they have no story to tell .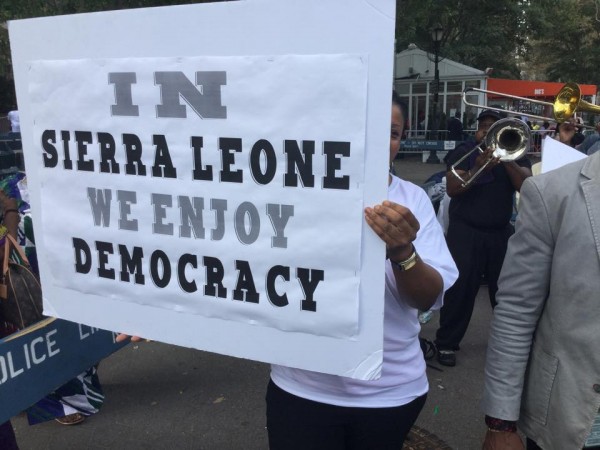 ONE OF THE MANY BANNERS DISPLAYED AT THE RALLY ON TUESDAY
President Koroma did not give much attention to the opposition in his speech. Rather, he dwelt on his primary concern, which is the welfare of the Sierra Leonean people. Amidst cheers, he said that his government has started a process to evacuate people living in the flood-prone zones, starting with Kroo Bay "We are also fighting to stop environmental degradation and environmental disasters ".
President Koroma lightened the hearts of the crowd when he told them that Ebola would soon be a thing of the past in Sierra Leone.  Sierra Leone, he noted, had restarted counting the number of ebola-free days and if there is no new case after 42 days Sierra Leone will be declared ebola-free as earlier as November . President Koroma said Ebola took everybody by surprise and even the World Health Organization ( WHO ) is still learning from Ebola.
President Koroma also told his supporters that because of good governance his government enjoys the goodwill of the international community which was manifested by the fact that Sierra Leone is back on the Millennium Challenge Corporation ( MCC ) agenda , and the Government of the People's Republic of China has pledged to build the Mamamah International Airport, one of his flagship projects.