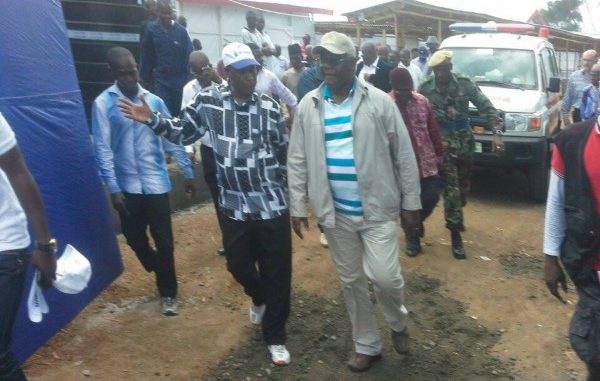 According to reports filed in by Messrs Septimus Kanu , Hassan Bruz and Alhaji Amani, PORT LOKO in Sierra Leone has inaugurated an Ebola Holding and Treatment centre in the Northern Province , constructed by the hardworking Minister of Information and Communications, Alhaji Alpha Kanu.
In fact, President Ernest Bai Koroma, continuing his hands-on approach to the Ebola outbreak, was in Port Loko last Saturday to do the inauguration himself.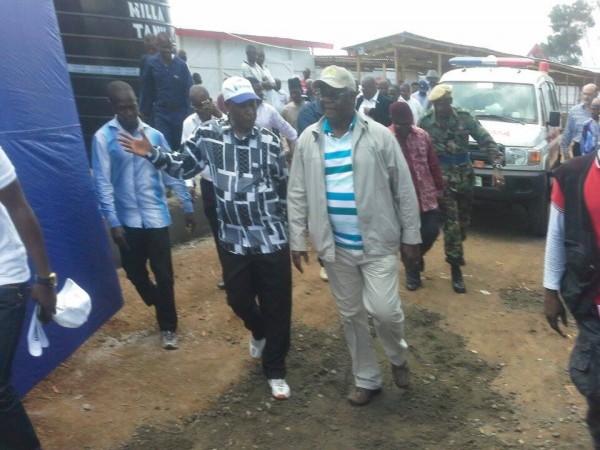 Another treatment and holding centre would also soon come up in Romende Buya Chiefdom.
During the visit, President Koroma demonstrated a no-nonsense approach, according to the reports, telling chiefs and traditional leaders to become more proactive in the Ebola fight or face some kind of action that would see their staffs being withdrawn temporarily.
Many people interviewed by COCORIOKO said that President Koroma was right to issue a strong message to the chiefs that his government was determined to eradicate Ebola in Sierra Leone and everybody must put their hands on deck and a lackadaisical attitude will not be tolerated from leaders , especially the Chiefs who control their communities and should lead the fight from the front, as President Koroma himself has been doing. It is alleged that under the watch of some of the chiefs, people were still engaged in traditional practices that help to spread the Ebola virus. Some chiefs have not been proactive in sensitizing their people about the "does and donts " of Ebola , hence the strong warning from the President.
Here are excepts from the reports filed by Septimus Kanu and Alhaji Amani. We are also publishing photos produced by the men. :
The vision , passion ,and will of strength ,displayed by the minister of Information and Communications The Hon Alhaji Alpha Kanu , paid off by an important working visit from his Boss,His Excellency Dr Ernest Bai Koroma, to inaugurate the newly rehabilitation Ebola Treatment & Holding Centre in Port Loko District.
Last Saturday morning October 25, 2014 , the President, HE Dr. Ernest Bai Koroma inaugurated the Rehabilitation Center in Port Loko.
During the visit , the President was very straightforward with the paramount chiefs and religious leaders,with regard to their contributions in halting the spread of the Ebola virus..
Hon. Alhaji Alpha Kanu, is busy constructing another treatment and holding centres in Port Loko Town, (Foredugu in the BUYA ROMENDE Chiefdom) as he has just concluded the one in Maforki Chiefdom treatment and holding centre.This is a spectacular example of Leadership and heartfelt concern for the people of Sierra Leone. This presuppose to mean that there is hope and light at the end of the tunnel. Bravo, Hon Alpha Kanu for being a patriot, loyalist, philanthropist and an ardent believer in the vision of President Koroma.
PHOTOS : INFORMATION MINISTER ALPHA KANU TAKES PRESIDENT KOROMA ON A CONDUCTED TOUR. SECOND PHOTO : THE EBOLA TREATMENT AND HOLDING CENTRE,