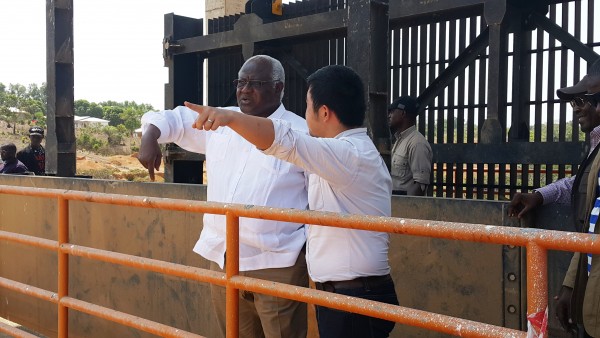 By State House Communication Unit
President Dr Ernest Bai Koroma Thursday 28 April 2016 paid a visit to the construction sites of both the Bankasoka dam as well as the Port Loko community mini-stadium.The hydro, according to the Chinese translator at the site Mr. Zhang, will be providing 2.2 megawatts which is equivalent to 2,200 kilowatts.
Mr. Zhang reported that physical construction work on the Bankasoka dam started in November 2013 but came to a halt in 2014 as a result of the Ebola outbreak.  He said work recommenced in September 2015, with 70% completion, assuring that the dam will be fully completed in September this year.
President Koroma also made a similar inspection stopover at the construction site of the unfinished Port Loko community mini-stadium on Songo Road in Old Port Loko Town. The project is a government funded programme that was halted by the Ebola outbreak.
He directed the Ministry of Finance and Economic Development, through the Minister of State, Mr Patrick Saidu Conteh and the development team to draw a budget plan for the completion of the project.