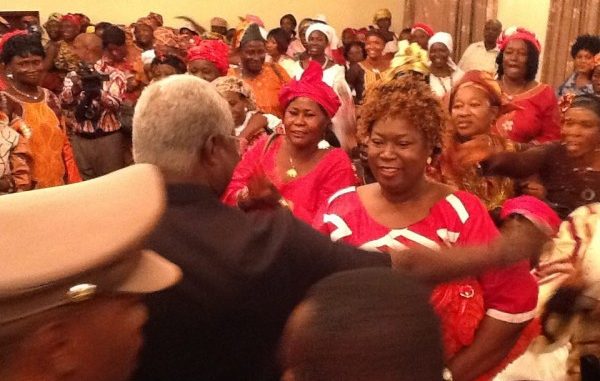 By KABS KANU :
Sierra Leone is presently taking part in the ongoing 24th Summit of the African Union , which is being held  in Addis Ababa, the capital of Ethiopia. We will be publishing a full  list of the delegates who represented our country at this conference because it looks like the picture posted on FACEBOOK  showing the delegation did not reflect Sierra Leone's full representation .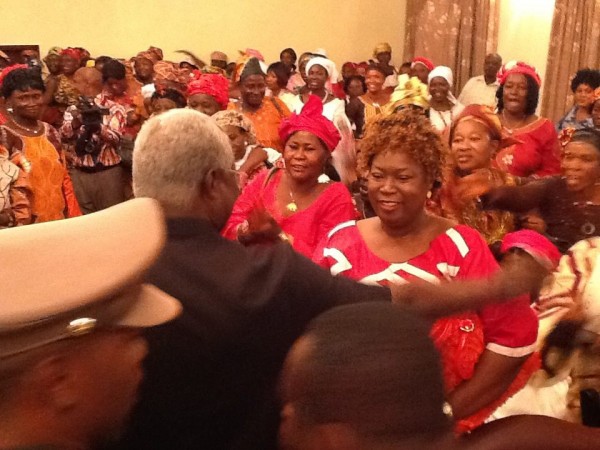 WHO LOVES TO EMPOWER WOMEN MORE THAN PRESIDENT KOROMA ? 
But even if it turns out that only one woman attended the conference, President Ernest Koroma and the ruling All People's Congress ( APC ) Government did not deserve  the recent flash fire of blame for the situation. I will demonstrate my point by looking at the full  theme of the conference , how these meetings are usually set, civil service protocol ( which the government cannot breach ) and the reason that there are few trained women experts to take part in conferences abroad.  .
It must firstly be noted that the AU Conference going on in Addis  is not all about Women's Empowerment. We need to get this clear because it must have  spurred the misconception that Sierra Leone sent only one woman and many men to a conference being held  on Women. Critics would have had a point if the conference had been solely devoted to women's issues.
Whenever the AU meets, except it is an extraordinary summit summoned to handle  one specific issue like security threats or an emergency in a member -nation , the conference usually  deals with several themes at the same time . This present Summit, for instance, is being held under the theme "Women's Empowerment Year and Africa Development for the concretisation of Agenda 2063"
According to the AU Agenda 2063 framework document "the Agenda 2063 is a continuation of the Pan-African drive, over centuries, for self-determination, freedom, progress and collective prosperity. Agenda 2063 represents the aspirations of Africans for a better future, anchored in achievements, objective assessments of obstacles and lessons learned over the past half century."
There are usually also other sub- themes held on the sidelines of these conferences. For instance, whenever the AU meets, another agenda that is addressed is the United Nations Security Council Reform.  A report is presented to the AU Heads of State on the status of the negotiations so far, in which Africa is being represented by the Committee of 10 , headed by Sierra Leone's President , Dr. Ernest Bai Koroma , a committee of which I am the Coordinator in New York, with responsibility to report directly to the  President . The Heads of State consider the report, adopt it  and provide more guidelines for the C-10 team to follow in the deliberations in New York .
It is a known fact  that delegations to these conferences are often lead by the President ,or the Foreign Minister or a delegated government official, if the Foreign Minister is not available. This year, because of ebola, Sierra Leone's delegation is headed by Foreign Minister, Dr. Samura Kamara . The rest of the members of the delegation are not selected randomly but representatives consist of experts from the various ministries, agencies and departments (MDAs) dealing with the topics and themes being addressed at the conference. These experts do not go on joy rides but have specific roles to play . Mrs.Naasu Fofanah, the woman shown in the photo with the  men,  is there because she is Gender Adviser to President Ernest Koroma. She is representing women in the segment of the conference on women's empowerment . It is as yet unknown whether there are other women in the delegation, because the posted photo is incomplete.
If there is any discrepancy in the ratio of women in the delegation, as against the number of men, President Ernest Koroma is not the one to blame. It is a manifestation of a bigger problem that existed in Sierra Leone before this President came to power.  It reflects the status quo that had existed even before this government came to power in 2007 where women were shortchanged in appointments and promotions. If more women had been t appointed, trained  and promoted in the Sierra Leone Civil Service and the MDAs by previous governments, they would have by now risen through the ranks to become experts in the various fields or been predominant enough to constitute a big number in the membership  of delegations at these conferences. However much this government may want more women to attend conferences abroad, it cannot arbitrarily circumvent civil service and departmental or Agency protocols by superimposing women over experts specifically trained to handle these conferences (Unless people want the President to become a dictator or non-respecter of civil service and departmental protocols .)
While sharing some of the concerns held by gender advocates , it must be noted that the problems with gender disparity in Sierra Leone's representation at overseas conferences go much deeper than President Koroma's tenure . Women had been marginalized for long in Sierra Leone, but the roots of this problem were planted during colonial times and during the tenure of previous governments. Our male-dominated system since colonial days  recruited and trained more men in the civil service and MDAs than women .  Instead of blaming this government unfairly, we all need to advocate for the age-old problem to be fixed at its roots—The Civil Service and the MDAs . This is what President Ernest Bai Koroma has embarked on with his women's empowerment drive, by appointing lots of women to key positions and providing many more with scholarships to study. The fruits of the seeds President Koroma is sowing on women empowerment and promotion  will take years to start manifesting when the women being presently trained or appointed in the civil service and the MDAs would have risen through the ranks or solidified themselves to replace the men dominating these positions.
Secondly, delegations are chosen based on the availability of funds. The Government is presently faced with mounting economic problems  due to the ebola outbreak and global economic trends and thus even if it had wanted to add more women on the delegation just to buttress its position on women empowerment, that would  not have been economically  prudent, because funds are inadequate, especially  if the women have no specific roles to go and play. I am , for instance, the Coordinator of C-10, reporting directly to  the Chairman of C-10, President Ernest Koroma. However, due to lack of funds, representation from the Sierra Leone UN Mission in New York is restricted to only two delegates–The Permanent Representative , who is also a member of C-10 (As a matter of fact, another Coordinator ) and the expert who works with other experts from the various UN Missions in C-10 to produce the C-10 Report and Statements to be delivered at the conference. The Deputy Permanent Representative (Political ) , who is also a C-10 member, is also supposed to be at the meeting , but  funds were only sent for two representatives . The Government , unlike what its detractors feel, strictly tries to control its spending. Therefore, unless an official has a specific role to play at these conferences, whether male or female, he/she cannot make the trip. If the government had flooded the delegation with women who have no roles to play, people would have still blamed President Koroma for alleged waste of government funds. It is very hard to please human beings.
However, where there had been conferences based solely on women's issues , the President Ernest Koroma Government had stepped up the plate to ensure that many women attend to play a variety of roles during the conferences. Those who have been reading our reports from the UN Mission in New York and the Sierra Leone Embassy in Washington DC HAD NOTICED THAT WOMEN MADE UP THE MAJORITY OF THE DELEGATIONS at conferences devoted solely to women's issues . I will demonstrate by posting previous articles and photos on these conferences , especially the meetings of the Committee on the Status of Women ( CSW ),  often held at the UN.
Nobody has done more to promote women's rights and empowerment in Sierra Leone than President Ernest Koroma .When he came to power in 2007, he realized the problem and he has been doing a good job to address it. He cannot tackle the problem in one fell swoop. A journey of a thousand miles starts with one step. It is a process and  if other Presidents coming after him take off from where he will leave the women's empowerment agenda, the problem will eventually be solved . Countries where women fairly outnumber men or share the same ratio in the number of participants at conferences took time to get there. It did not happen overnight.
Press Attache, John Baimba Sesay has colorfully demonstrated that point in his brilliant treatise : PRESIDENT KOROMA HAS STAUNCHLY UPHELD WOMEN'S EMPOWERMENT IN POST-WAR SIERRA LEONE. http://cocorioko.net/?p=16899.
Baimba Sesay brilliantly demonstrated how President Koroma has been empowering women in Sierra Leone : "In reality, since he assumed office, we have been seeing more women in state governance under his administration as compared to other political administrations in Sierra Leone. As part of his commitment to the promotion of women issues, President Koroma's government could be credited for appointing a number of women to leadership positions as in the case of the first female Chief Justice in the country (Umu T. Jalloh), the female Solicitor- General (Martina Koroma), the first female Commissioner of the revenue generating agency, the National Revenue Authority (Haja Kallah-Kamara), first female head of the Sierra Leone Road Transport Authority (Sarah Bendu), Administrator & Registrar General (Mariama Seray Kallay), and the first female head of EPA-Environmental Protection Agency (Madam Jatou Jalloh). There are also women in ministerial positions as in Trade and Local Government Ministries, (Mabinty Daramy and Diana Konomani respectively) as well as the first female Brigadier-General in the person of Kestoria Kabia, a woman to first occupy the position of Special Executive Assistant (Sylvia Blyden Dr.). At the diplomatic level, we have also seen women occupying leadership positions as in the current and probably the first Deputy Ambassador to the People's Republic of China, (Madam Kumba Alice Momoh), female Ambassador to Senegal (H.E Khadijatu Bassur,) and the first State Chief of Protocol, (Madam Rasie Kargbo), amongst others. "
Baimba in fact left out many names of women holding key positions in the President Koroma government : Head of Chancery, Sierra Leone Embassy to the UN, Mrs Isha Sillah; Head of Chancery in the Sierra Leone Mission in Brussels, Mrs. Fatmata Bah; Head of the Open Government Initiative, Ms. Khadija Sesay. Mr. Thulla Wise, writing in the social media , contributed the following : "Furthermore, the former minister of Health and Sanitation Miatta Kargbo, the soon to be retired Chief Justice Umu Hawa Tejan Jalloh is the first woman to occupy the office. Justice Vivian Solomon Supreme Court Judge, Nanette Thomas of Attitudinal and Behavioural Change Secretariat, Madam Yabom Sesay is Health Advisor to the president, AIG Elizabeth Turay, Deputy Commissioner National Youth Commission Aminata Sillah, Jeneba Sesay Trade Commissioner ECOWAS, Deputy Ambassador China Alice Kumba Momoh, Sierratel Board Chair Alice Onomake, Head of Open Government Initiative Khadija Sesay, Ambassador to Senegal Kadie Bassur, Deputy High Commissioner to The Gambia Saidata Sesay, Mayor of Makeni City Sunkarie Kabba-Kamara, Deputy Mayor of Freetown City Council Mrs. Hannah Mary Jaiah…the list is really ENDLESS…."
My Literature teachers at various stages of my schooling taught me that there are three ways to judge a character : What the character says , what people say about him and what he does. I will demonstrate how much President Koroma has empowered women in Sierra Leone by posting previous articles  which have statements and actions demonstrating President Koroma's outstanding work with women's empowerment and promotion of women's goals, agendas and issues in Sierra Leone . SEE OTHER COLUMNS.
In conclusion, President Koroma is a champion of women's empowerment and women's rights .We only need to see his accomplishments in this regard to realize that he has done well and deserves commendation. Much more needs to be done and President Koroma will certainly do so after the ebola outbreak  because he loves to empower women and because he wants it to be  one of his enduring legacies.