President Ernest Bai Koroma yesterday unveiled  another milestone in Sierra Leone as he launched  the National Youth Development Programme . In another celebrated master-plan to bring more  socio-economic and political developments to Siera Leone, President Koroma said that the Youth Development  document  he unveiled " is the Blue Print for Youth Development in the country" and  "the guideline for deepening youth integration in our Agenda for Prosperity" . READ THE FULL PRESIDENTIAL SPEECH   delivered during the launching at the Miatta Conference Centre , Brookfields , Freetown :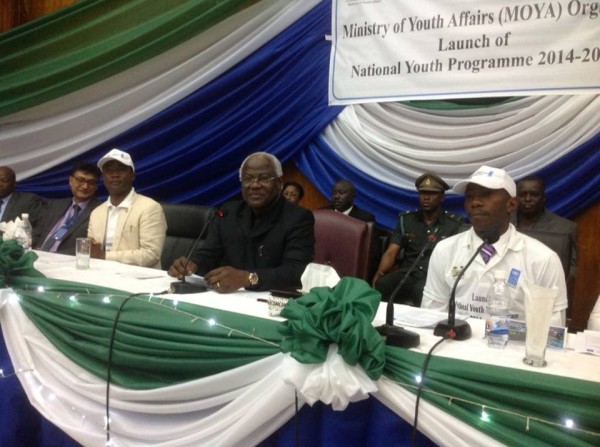 PHOTO BY JARAH KAWUSU-KONTE
Mr. Chairman,
Distinguished Youths
Cabinet Ministers,
Members of Parliament,
Members of the Diplomatic and Consular Corps
Heads of Commissions and Agencies
Distinguished Ladies and Gentlemen.
In my State Opening of Parliament in 2012, I made known to all Sierra Leoneans that our nation can only move forward when its youth step forward.
The launch of the National Youth Development Programme document today is another milestone action in the firming up of my Government's commitment to stepping forward with the youth.
This document is the Blue Print for Youth Development in the country; it is the guideline for deepening youth integration in our Agenda for Prosperity; it is the blueprint for the development of the most energetic, the most creative and most dedicated section of our society. When the youths say yes, no other section of our nation can stop them. We are a democracy because the youths are saying yes to democracy; we are at peace because the youths are saying yes to peace; we are constructing roads because the energy and talents of the youths are behind it; the majority of our teachers, nurses, construction workers, mine workers and farmers are youths. We have developed this document because my government wants to do more with the youth; we want to face up to our challenges through pro-youth private sector development and youth friendly agencies and services; we want to ensure more skills training for the youth, more education, more employment, and more participation.
With the dedication and support of young people, we have come a long way since 2007. With the support and dedication of young people we implemented the Agenda for Change; with the support and dedication of young people we transformed the country's infrastructure; turned around energy, enhanced agricultural productivity and improved our health and other human development indicators. We still face challenges, but I challenge everyone to show me any government in this country that has done more to increase job opportunities for youths than my government. From mining to agriculture to road construction, my government has created thousands of job opportunities; more young people now have jobs in road construction in all districts; more young people now have well paying jobs in the mining sector; and we have recruited more young people into the Police, the Armed Forces, the Fire Force, the Civil Service and in other governance structures.
Mr. Chairman, Cabinet Ministers, Distinguished Youth, Ladies and Gentlemen, Let me at this moment emphasize a very important section of the youth population often neglected in youth programs, that is the female youth. Without the participation of the female youth in our youth programs, we cannot truly talk about a national youth program. Female youths are very active whereever you go: they are traders, farmers, police officers, nurses, teachers, lawyers and many more. And in most of these professions they show greater commitment and greater dedication. I salute the female youths of this country; I salute you for being caring mothers; for being productive farmers; for being committed teachers and for your immense contribution to the development of this country. But there is no better way of appreciating your valuable contribution than working to address the great challenges that face you. That is why I believe that development should also have a female face; that is why we must all ensure that the implementation of this document has a female face; and that our actions are informed by the specific challenges faced by female youths.
My Government has started the ball rolling. Our country's biggest social program, the free health care initiative is mainly about female youths; our community banks and micro schemes are mainly about improving women's financial inclusion; our recent gender laws are about protecting women and promoting their welfare; we are paying tuition fees for all women studying the sciences in tertiary institutions; we have almost ensured parity for enrollment of girls in schools and we are committed to addressing the challenging transition rates of female students. We are committed to doing more for female youths, and that is why we appointed female youths to leadership position in both the Ministry of Youths and the National Youth Commission. Male and female youths must work side by side to achieve the goals set in this document. This must be emphasized in all actions with, for and by the youths.
Mr. Chairman, Distinguished Youth, Ladies and Gentlemen, this document of the product of cooperation by international and local consultants and a wide range of stakeholders including MDAs, Donors, NGOs, and higher educational institutions. Its implementation must likewise be a cooperative effort; that is the only way to empower young people and integrate them as useful, responsible and productive law abiding citizens.
I am heartened by the fact that the Ministry of Youth Affairs in collaboration with the National Youth Commission and other stakeholders have reviewed the National Youth Policy of 2003 to address the current demands and challenges facing the Youth in the nation. The Ministry of Youth Affairs has also ensured the Ratification by Parliament of the African Youth Charter which is a cardinal and continental policy framework for African Youth development. The National Youth Service framework has also been developed to further ensure that the youths acquire experiences in jobs, bridge cultural barriers and promote social cohesion.
There is no turning back on our actions for stepping forward with the youths of this country. Youths must be champions of development and I hereby call upon all the youths , all MDAs, Youth Serving Organizations and our valued development partners to join me in the partnership of Champions for the successful implementation of the National Youth Programme.
It is now my singular honor to launch the THE NATIONAL YOUTH PROGRAMME (2014-2018)