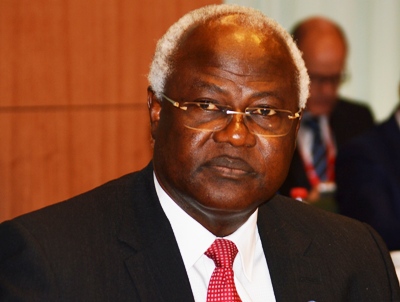 By KABS KANU :
Addressing the nation on December 9 last year on the International Anti-Corruption Day, Sierra Leone's President Ernest Bai Koroma told his country that  " The fight against corruption is a fundamental component of Pillar 7 in that road map that will take the country to middle income status in twenty two years."
It is  just as well that President's national development blueprint known as The Agenda For Prosperity has the war against corruption as one of the components of  pillar 7   because President Koroma is aware that there is no way that his country can engage in effective human resource development, natural resource mobilization and provide employment, international competitiveness and social protection if the hydra-headed monster, corruption, is not given a fatal blow.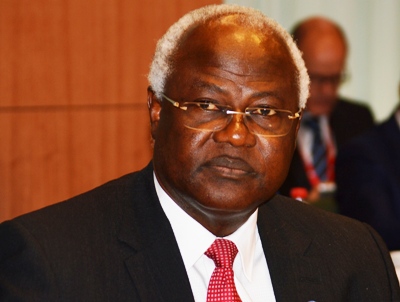 PRESIDENT ERNEST KOROMA : HE HAS INTENSIFIED HIS  CRUSADE AGAINST CORRUPTION 
Because   his government considers the fight against graft  very serious and has waged a war on it , President Koroma has achieved many gains . He himself elucidated the achievements :  " At the international level, we have recently been reviewed on our country's compliance with the implementation of the United Nations Convention against Corruption and scored significant progress on Criminalization and International Cooperation. We have also been rated favourably in most indices released on governance and control of corruption by international bodies."  These achievements are worthy of commendation in a country that once had no mechanism in place to combat corruption. Since President Koroma came to power, there are visible signs that the abhorrent demon of corruption is now being confronted through both anti-corruption efforts and sensitization and education of the people.
President Koroma went on the highlight more of the achievements he has garnered since he came to power in 2007 :  "My government has put in place robust mechanisms to fight the scourge ; our anti corruption laws are stronger now than at anytime in the country's history; my government has recovered stolen funds than at anytime in the nation's history; the office of the Auditor General now has greater latitude to do its work and publish its findings in record time than at any time in the nation's history; we have ensured prosecution and conviction for corruption than at anytime in the nation's history. We know more still has to be done, but my government has achieved more in the fight against corruption than any other government in the history of this nation. My Government is on record for suspending Public Officials prosecuted by the Anti-Corruption Commission and has also taken steps to dismiss those found guilty of corruption offences. "
As we have always said, the reason that it appears like corruption is rampant  is that President Koroma's mechanisms have created a greater awareness of the scourge of corruption and in addition given  reporting authorities the  latitude to expose graft that once remained hidden.  Newspapers and other media are enjoying unprecedented freedom and so everyday we read screaming headlines about corruption. In the past when democracy was not working in the country, editors and reporters were afraid to tread on the once-sacred ground of corruption.
When the government's detractors capitalize every year on the reports from the Auditor General, they fail to realize that the lady is not working in a vacuum or at cross-purposes with the Ernest Koroma Government but is in fact fulfilling the mandate she has received from President Koroma. She is doing what President Koroma has asked her to do–provide transparent record and reporting about how government money is being spent.
Sierra Leone has a far better, functional and more robust Anti-Corruption Commission  than most countries in Africa and the President Ernest Koroma Government has done far more in fighting corruption than some of the countries that passed the Millennium Challenge Corporation ( MCC ) Compact Award. The evidence to authenticate these  facts  is glaring.
But the Government has vowed to continue its war on corruption. And no less a person than President Koroma himself admitted that it is not an easy fight . To warn his nation that corruption is not a easy demon to slay, the President noted  : "In spite of these achievements, the challenges still lie ahead. "   President Koroma  is right. There will always be unscrupulous public officials who give cause to the media to  accuse them of  dipping their hands in public coffers and also  constructing mansions whose costs far exceed  their emoluments and salaries, with the attendant complaints about  arrogance, pomposity and pride of life. But the President , who cares for the nation, prescribed an antidote to these problems :  " … Overcoming these challenges require the efforts of every one of us." The Government alone cannot fight corruption. Even in the highly industrialized nations with more technology and sophisticated mechanisms to fight corruption, the hard-to-beat monster still has chance to flourish. The U.S. and U.K.  encounter high levels of corruption in their societies.
Yes, the Sierra Leonean people have to become part and parcel of President Koroma's war on corruption. They cannot sit on the fence complaining. We cannot leave the fight in the hands of the Government alone. Members of the public, journalists and civil society organizations should complement President Koroma's efforts not by making wild and unsubstantiated allegations, but by engaging in efficient investigative journalism and crusades to expose those involved in corruption. We cannot sit down and just be complaining. We must all become watchdogs for the Government.
We must also support President Ernest Koroma's  "Pay No Bribe"  Campaign in Sierra Leone. We cannot be condemning corruption when we are the ones enabling corruption. When we give or receive bribes, we are hindering the work of President Koroma and the Anti-Corruption Commission.
President Koroma on February 20  this year upped his war on corruption when he launched the  PAY NO BRIBE campaign mentioned above , promising the nation that this  Campaign would make possible service charters for key institutions and agencies nation-wide which would be  printed and disseminated .Also, "Each Service Charter shall have the ACC hotline numbers to report incidences of corruption and administrative decadence/bottlenecks. " These measures clearly show that President Koroma is against corruption in Sierra Leone.
President Koroma has laid the marker. The nation must  now rise up and support him.
President  Koroma must be helped by all of us  to win this fight against corruption. After all, private citizens cannot exonerate themselves from involvement in corruption. We all have a part to play to make Sierra Leone corruption-free.
It is a very difficult but winnable crusade. We must defeat corruption and continue to  move the nation forward.