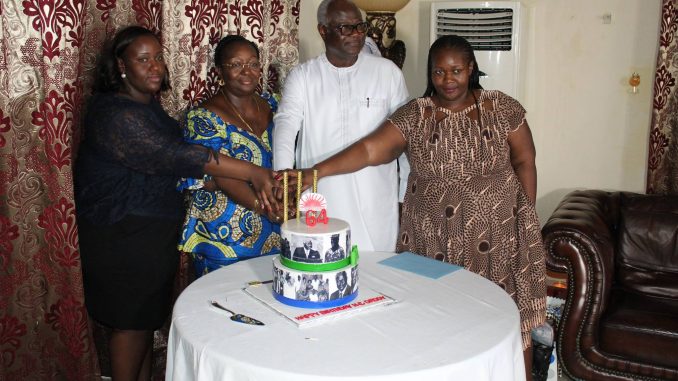 By State House Communication Unit
Friends and family members, well-wishers, the Clergy, Abacha Street Traders and the All People's Congress (APC) on Monday 2 October joined His Excellency Dr Ernest Bai Koroma at his Presidential Lodge at Hill Station to celebrate his 64th birthday.
First Lady Mrs. Sia Nyama Koroma on behalf of the family welcomed all to her husband's 64th birthday and thanked God for the glory of being a wife of President Koroma. She described her husband as an earthly protector and wished him a happy birthday as well as prayed for God's richest blessings and continued guidance.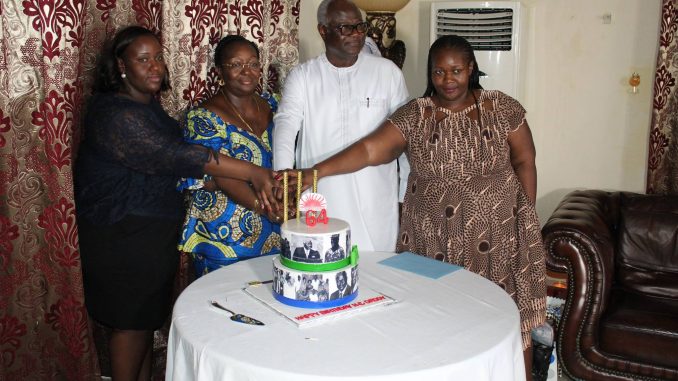 Wishing his boss, a special happy birthday, the Secretary to the President Mr Emmanuel B. Osho Coker said President Koroma has always provided a friendly working environment for staffers, saying that the president is a leader who does not have an "intimidating presence". He commended the First Lady Madam Sia Nyama Koroma for being there for the president at all times.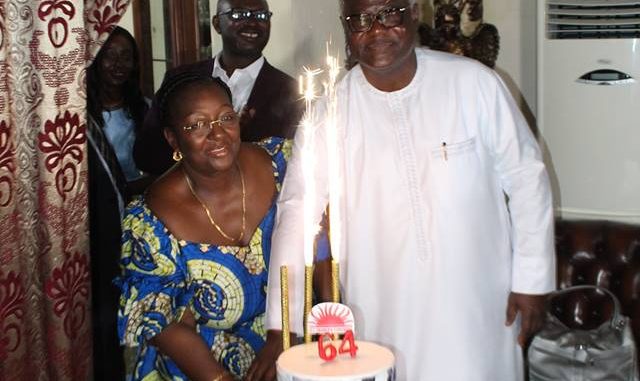 On behalf of close friends, Alhaji Dr Alpha Kanu and former Attorney General and Minister of Justice, Franklyn Bai Kargbo, narrated fond memories of their friendship and thanked President Koroma for the good work he has done for the people of Sierra Leone. They both prayed for his wellbeing, long life, good health and God's continued guidance and protection.
Madam Admire Sesay on behalf of the Koroma Family thanked all for gracing her brother's 64th birthday and glorified God Almighty for the life of President Koroma.
Vice President Ambassador Dr Victor Bockarie Foh said the APC never made a mistake in identifying and electing President Koroma as their leader back in 2002. He described the president as a true democrat. "Our President is going but will continue to be our Chairman and Leader for life, as there is nobody that can fit into his shoes." According to the VP, members of the great APC are brothers and sisters and assured the Koroma family of the party's continued support at all times. "We are solidly behind you Mr President," he said.
Bishop Abu Koroma said President Koroma has been a blessing to Sierra Leone and the nation will not forget him in a hurry, especially for the transformative development of the country.
Birthday celebrant and Fountain of Honour of the Republic said the event was for him an opportunity to thank everyone for a job well done. He vividly reflected on difficulties he encountered in his first few months in governance, from the commodity crisis, the 2014 deadly Ebola epidemic. He praised Almighty God for making it possible for him to govern as he called on well-wishers to sing "Have Faith in God", a song he said he had sung so many times in church.
He thanked God for the family with special acknowledgment of his wife, First Lady Madam Sia Nyama Koroma, daughters Alice and Dankay.
The president also thanked his cabinet and State House staffers for their contributions in the smooth running of his administration, adding that the APC has supported him for seventeen years as Chairman and Leader. He prayed that peace and unity continue in the party, and announced that in a few day's time the party will elect or select a flag bearer, and also prayed for a smooth transition.