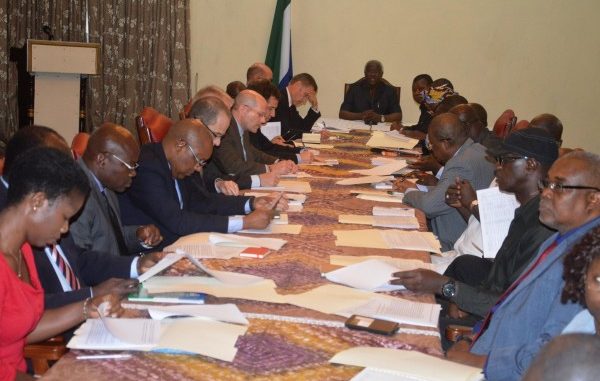 By Sate House Communications Unit :
President Ernest Bai Koroma Monday 2 February chaired a high level consultative meeting with key-players in the fight against the deadly Ebola virus, including National Ebola Response Center (NERC) and the Ministry of Education, Science and Technology (MEST) to chart the way forward for the resumption of educational activities come March.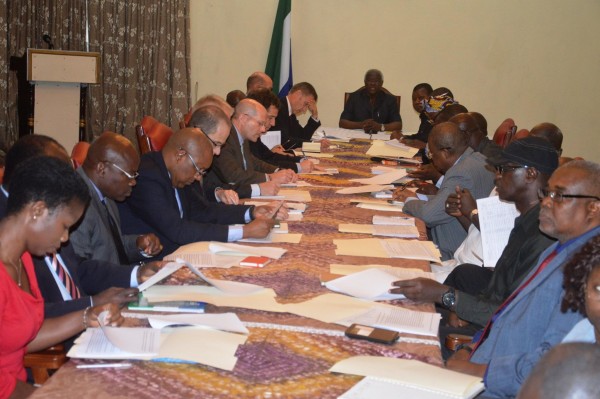 Addressing the meeting at State House, President Koroma declared that the reopening of schools has a prerequisite and such prerequisite, he said, has to be observed before the reopening.
He urged the Ministry of Education, Science and Technology to put every modality in place to reopen schools in March. "We cannot put on hold the reopening of schools," he emphasized, adding however that infected communities should have to wait until the rate of infection is curbed or completely eradicated.
The president further urged infected communities to intensify efforts in the fight against the virus in order for them to return to normalcy.
Minister of Education, Science and Technology Dr Minkailu Bah disclosed that his ministry has prioritized what is required for the reopening of schools and colleges, and therefore pleaded with the president for his nod to rollout plans for the resumption of school activities.
Dr. Bah acknowledged that government is well aware what local and international Non-governmental Organizations are doing in the field in the implementation of government projects, disclosing that the Islamic Development Fund has pledged to support the construction of bore holes/wells in all schools.
He called for the installation of solar lights in rural schools to provide regular power supply to prepare for any eventuality wherein teaching periods will be extended from 6:00 to 7:00 pm.
Making a power point presentation on behalf of the MEST, Head of Change Unit, Dr Chuku Dupigny observed that learning institutions had over the past couple of months been deprived of education, due to the Ebola outbreak and many teachers might have passed away, while a good number of school girls have been impregnated by their colleagues.
He disclosed plans by the ministry for the decongestion of classrooms to avoid bodily contacts by pupils/students amidst the dangerous outbreak, adding that they have also developed safety guidelines to minimize health hazards in all schools and colleges across the country.
Dr Dupigny told the meeting that an assessment has been made on the nationwide media education being provided by the ministry, along with sensitization on the reopening of schools and colleges.
He therefore called for the approval of the president, noting that some schools have been used as treatment and holding centers, which are now to be disinfected before they can start using them again as teaching and learning environments, adding that there will be six thermometers per institution to test the temperature of students.
The Head of Change Unit further informed the meeting that the ministry has also put in place modalities for the creation of isolation centers in every school to deal with any sudden attack in record time before referring it to a treatment centre for proper medication, and all primary school pupils will be dewormed.
Whilst waiting for presidential approval for resumption of educational activities nationwide, Dr Dupigny said that they are also expecting a statement from NERC to provide the necessary guidelines, with regard safe pipe borne water, sanitation and VIP toilets, expected to be replicated nationwide.
He also said when government gives the go ahead NERC will provide a clear reference through the line ministries to maximize teacher and student contact hours, so that students and pupils can be well prepared.
Dr Dupigny pointed out that government will be paying all public examination fees for both private and government schools whilst calling for the intensification of social mobilization and sensitization of communities on the reopening of schools.