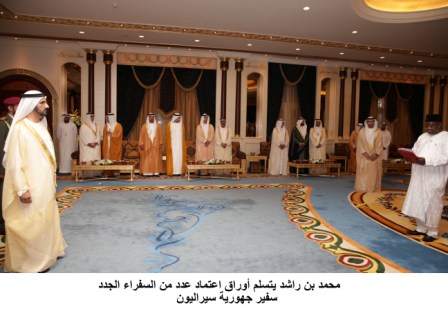 By Alhaji M.B. Jalloh, Press Attaché, Saudi Arabia and the Gulf States
Sierra Leone has confirmed its official participation in Expo 2020, Dubai as one of the first African countries joining more than 180 nations in one of the greatest global exhibitions.
His Highness Sheikh Mohammed bin Rashid Al Maktoum, Vice President and Prime Minister of the United Arab Emirates (UAE) and Ruler of Dubai had officially written to Sierra Leone's President, His Excellency, Dr. Ernest Koroma a couple of weeks ago, inviting Sierra Leone to participate in Expo 2020, which will take place from 20th October, 2020 to 10th April, 2021.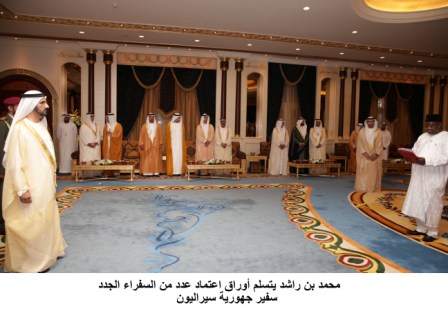 In a recent letter addressed to His Highness Sheikh Mohammed bin Rashid Al Maktoum, His Excellency, Dr. Ernest Koroma wrote: "We anticipate that this remarkable event will provide a platform for forging strategic alliances that will help us to move our country from fragility to lay development and lay the foundations for prosperity."
Confirming Sierra Leone's participation, President Koroma further wrote: "Let me take this opportunity to confirm Sierra Leone's avowed interest to participate in Expo 2020, and to express the hope that we will receive the necessary support to enable us do so efficiently and effectively."
The President also informed His Highness that : " My trusted Envoy to the United Arab Emirates, Ambassador Siray Alpha Timbo has been appointed "Commissioner – General of Sierra Leone" to Expo 2020 with all rights and privileges appertaining thereto."
Welcoming Sierra Leone's participation in Expo 2020 Dubai, a senior official in the office of the Prime Minister says, "The UAE is delighted that Sierra Leone has confirmed its participation in Expo 2020 Dubai, four years ahead of the mega-event."
"We look forward to Sierra Leone's participation as the UAE hosts the region's first mega event, which will bring nations together to build a better future, and a lasting legacy, for the region and the world," the official added.
Accepting his appointment as Commissioner General, Ambassador Timbo expressed profound gratitude to His Excellency the President for the confidence reposed in him and assured to serve the nation's interest diligently in that new capacity.
The Ambassador further said that: "Dubai's role as a global hub is widely recognised and it is firmly in the mind of many nations that are looking to make valuable connections, in line with the mega-event's theme.
The Envoy also reiterated Sierra Leone's "Agenda for Prosperity" which he said, resonates with the "EXPO 2020" phenomenal theme: "Connecting Minds, Creating the Future", which structured around 'Opportunity', 'Mobility' and 'Sustainability.' He opined that such phenomenal thinking was in tandem with His President's Agenda for Prosperity with the view of creating a better life for its citizens.
In another development, Secretary to the President, Mr. E.B. Osho Coker has officially confirmed that the Sierra Leone Investment and Export Agency (SLIEPA) "has been identified as a suitable focal point for Sierra Leone's participation in the Expo 2020, Dubai."