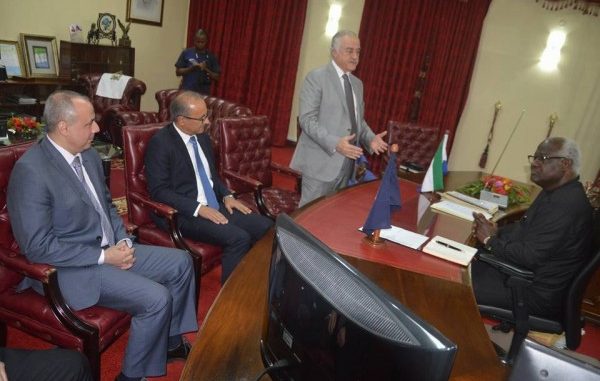 By State House Communication Unit
President Dr Ernest Bai Koroma Friday 14 October 2016 called on the World Bank to step up its support for the implementation of the newly approved energy project being funded by the Bank.
The president made the statement at State House in Freetown during a courtesy call on him by the Executive Vice-President of Khatib and Alami Consolidated Engineering Company, Mr Faisal Alami and delegation.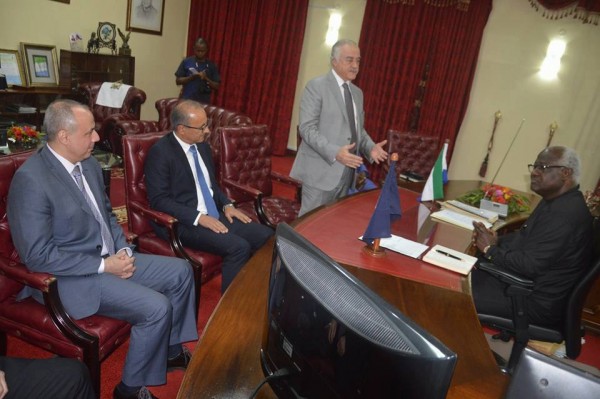 Khatib and Alami Consolidated Engineering Company, is the winner of the World Bank competitive bidding for the improvement of Electricity Distribution and Supply Authority (EDSA) networks in the Western Area and its environs. It is expected to work with the incoming management of EDSA in the implementation of this very important energy project.
But there appears to be some seroius concerns by some local contract management professionals and some officials of the Ministry of Finance regarding the not so satisfactory role of the World Bank in the implementation of previous projects especially in the energy sector. There is clear unease about the "sometimes unnecessary delays in disbursements and the high cost of fees and other expenditure on 'experts'". These concerns appear to have been accentuated by what some public officials describe as the rather lucklustre and irregular supervision missions led from Washington rather than by the World Bank Country Office personnel.
It's apparently against this background that President Koroma cautions that "project implementation and monitoring should be a joint task by both the Government and World Bank" and if the World Bank neglects their part of the implementation agreement they should be prepared to take responsibilty.
President Koroma went on to say that although EDSA is new, management of contractors is not new. He said in no uncertain terms that "Contractors had come and gone but the sector had been left with little or no impact; this cannot continue" the president stated.
He went further to emphasise on the importance of energy to national economic development. "Access to reliable and affordable energy is critical in stimulating the economy given its multiplier effects in generating economic activities in other sectors. Without energy there will be no transformation", President Koroma maintained.
Congratulating the company for winning the contract, President Koroma assured Mr. Alami and delegation of government's unwavering support, adding that he expects that their new partnership with the World Bank will make the energy sector more viable, effective and efficient.
The Minister of Energy, Ambassador Henry Macauley, informed that the company has expressed willingness to work with the incoming General Manager of EDSA for three years to turn around the energy sector in Sierra Leone.
Khatib and Alami Consolidated Engineering Company Executive Vice-President, Mr Faisal Alami expressed delight about the opportunity given to his company by the Government to work alongside EDSA to improve the network in the Western Area. He promised to deliver better and improved energy utility.
http://www.statehouse.gov.sl/…/1639-president-koroma-demand…