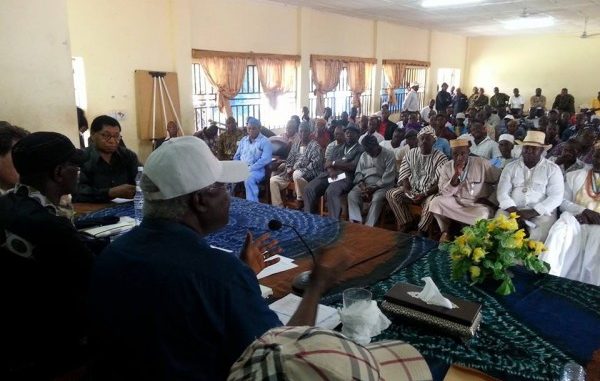 President Koroma engaging paramount chiefs, religious leaders and stakeholders in Tonkolili district to redouble their efforts toward the fight against Ebola.
The program  commenced at the Tonkolili District Council Hall where President Koroma is engaging traditional and religious leaders after the expiration of the 21-day ultimatum given by him to ensure stakeholders intensify their efforts toward the fight against Ebola in the district.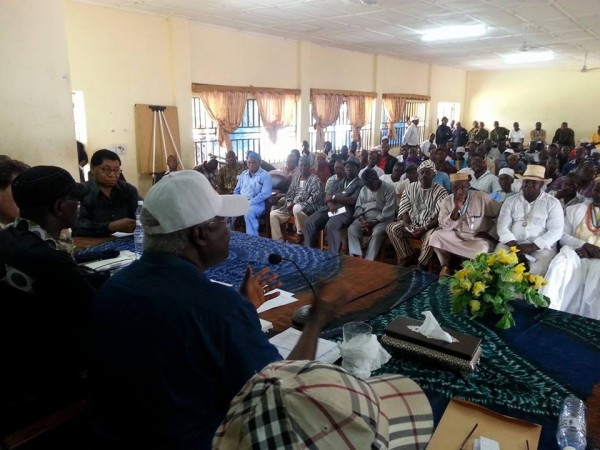 Chief Bai Kuru is now introducing the president and entourage, including the British High Commissioner Peter West, UNMEER Crisis Manager Amadu Kamara, Professor Monty Jones, NERC CEO Major (Rtd) Alfred Paolo Conteh, the State House Chief of Staff Saidu Conton Sesay, Minister of Education, Science and Technology Dr Minkailu Bah, Presidential Adviser Alhaji IB Kargbo, Personal Assistant to the president Brian Gilpin and a host of others.
President Koroma noted during his address that the people of Tonkolili should endeavour to eschew the habit of touching and washing corpses and bring forth the sick to the holding and treatment centers.
He furthered that even with the most sophisticated treatment centers unless the habits of washing corpses are abandoned nothing would be achieved.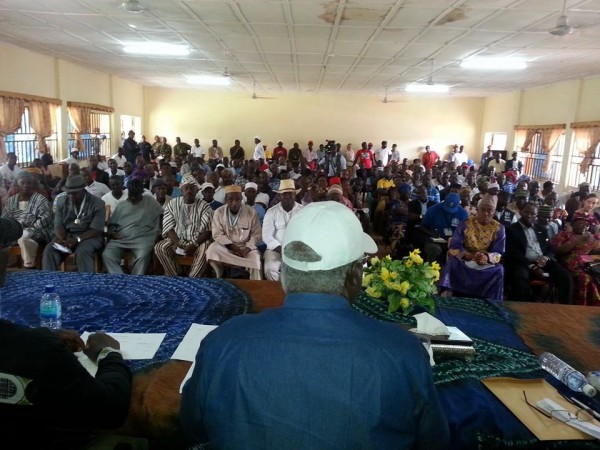 The president said that the town hall meeting will help to address the challenges in a frank way to stop the spreading virus. "We would like to know what the challenges are because you all have a responsibility to protect your people…Please don't try to impress me as it's your people's lives that's at stake. I will withdraw the staff of anyone who has not taken the necessary action to protect his people insofar as the Ebola outbreak is concerned."
The District Medical Officer Dr Osaio Kamara who gave an update or Sitrep of Ebola in Tonkolili, noted that there are only two hot spots (Konikeh and Kolifa Rowala) in the district.
Quizzed by President Koroma as to the reason why those two areas are hot spots, the DMO said the main problem in these two areas is that of burial practices and denials among the people.
President Koroma urged the Chiefs to take this outbreak seriously because if the chain of transmission is not cut down drastically, the virus would continue to claim more lives. He mentioned the stories of Bonthe and Pujehun the districts where the authorities had taken serious measures to help stop the transmission of the disease. In Pujehun the authorities banned all gathering in mosques and churches since the first case was reported there. Neighborhood monitoring in Mattru Jong and Pujehun have been very effective, and according to President Koroma, "These are good stories." Bonthe has only two confirmed cases since the outbreak, while Pujehun had only 28 cases so far and reported zero cases since 28 October.
©SHCU 2014