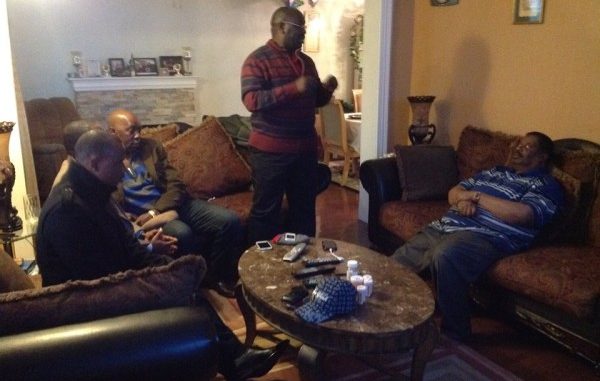 The Minister of Social Welfare, Children's and Gender Affairs, Alhaji Moijue Kai-Kai,  said in New Jersey on Sunday that President Ernest Koroma has taught the officials working with the All People's Congress ( APC ) Government that if something happens to one of them, it should concern all of them.
The Minister was speaking at the residence of the Minister Plenipotentiary and Coordinator of the Committee of 10 on United Nations Security Council Reform ( C-10 ) ,  Rev. Leeroy Wilfred Kabs-Kanu  at Somerset, New Jersey, where he had led a strong delegation from the Permanent Mission of Sierra Leone to the UN  to express sympathy to and console Rev. Kabs-Kanu for his recent heart surgery.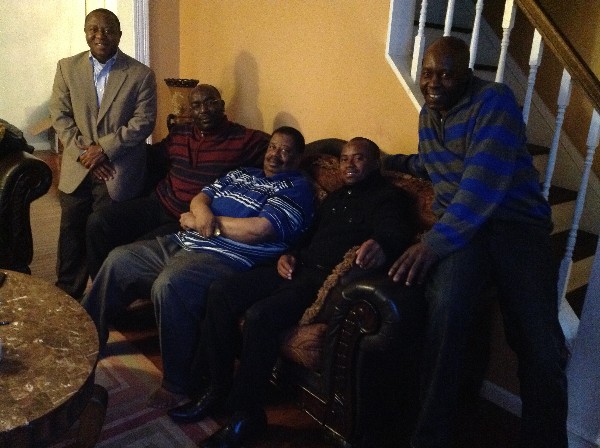 FROM RIGHT : MR. KAI-KAI, AMBASSADOR KAMARA, MR. KABS-KANU , MINISTER KAI-KAI AND MR. PAVI JALLOH
The delegation included the newly appointed Permanent Representative to the African Union ( AU ) and  present  Deputy Permanent Representative (Legal), Ambassador Osman Keh Kamara and the Head of Chancery , Mr. Alhusine Sesay, who along with the Deputy Permanent Representative ( Political ), Ambassador Amadu Koroma, previously visited Rev. Kabs-Kanu in January. Also in the delegation was a relative of Alhaji Kai-Kai  who lives in Maryland. Present during the visit was the President of the All People's Congress ( APC ) New Jersey Branch, Mr. Pavi Jalloh.
The Social Welfare Minister , in a statement of sympathy he delivered , said that he was happy to travel all the way from New York to come to New Jersey to console Rev. Kabs-Kanu  " Because one thing President Ernest Koroma has taught us is that if something happens to one of us it should concern all of us " .  The Minister said that it would not have been right for him to come to New York to attend a conference at the UN and not visit the Reverend after learning that he was ill. He added that it  was because of the standard President Koroma had set that  he purposed in his mind that regardless of how busy he was, he would make it a point of duty to travel to New Jersey to see Rev. Kabs-Kanu. The Minister thanked Head of Chancery Mr. Sesay for facilitating the visit and Ambassador Kamara for volunteering to be part of the delegation, though he had only arrived in the U.S. overnight from Sierra Leone.
"Secondly, why must I see you ?"  The Minister directly addressed Kabs-Kanu : "It is because if we are where we are today, you are one of those who helped us through your work in the media. You made it your goal that President Koroma's agenda should be known all over the world and nobody has done it better than you, starting from  the Agenda For Change to the Agenda For Prosperity . Thus, we have to be with you in your illness. President Koroma taught us to be grateful to one another and that if any one of us is in trouble, we should stand by him. So we are here today to see you to sympathize with you and wish you a speedy recovery . We cannot pay you for what you have done. Only God can pay you…….."
Alhaji Kai-Kai went on to urge every partisan of the APC  to be proud to belong to the APC.  He said that when the SLPP  talks about WUTETEH, "they are talking  about votes but When we in the APC  talk about Wutehteh, we are talking about development projects initiated by President Ernest Bai Koroma ." ( Editor's note : Wuteteh is a local term that stands for ABUNDANT HARVEST ,  BONANZA or GALORE ).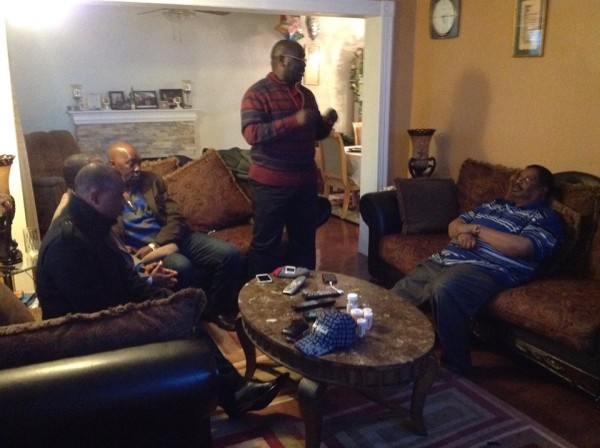 ALHAJI MOIJUEH KAI-KAI DELIVERING HIS STATEMENT OF SYMPATHY AND COMFORT TO REV. KABS-KANU
The minister said it was amazing how much President Koroma had developed Sierra Leone. He took his time to highlight some of the astounding achievements  the President  has made "which is why President Koroma's kind will be difficult to find in Sierra Leone ", he added.  "In my native Pujehun, where the APC left the coal tar many miles before Bandajuma in 1980 , there it remained until President Koroma  came to power and only President Koroma has continued it into Pujehun Town. Imagine, that is the SLPP  stronghold "
The minister said that is why President Koroma preaches that political parties should redefine what they mean by stronghold, "Because your stronghold is not where you claim to be your's but where you carry development projects." He emphasized that Dr. Koroma is the President who has developed the SLPP  strongholds . He lauded the Head of State profusely for it "and one person who has helped to make the whole world know that President Koroma is a blessing to Sierra Leone is this man sitting here, the Rev. Kabs-Kanu , which is why we are all here today by his side to sympathize with him. ".
He gave his hearers quite an earful of the progressive, productive, humanitarian and benevolent character of the Sierra Leonean President, Dr. Ernest Bai Koroma. People who listen to the whole statement will also see why President Koroma would have won any elections hands down in Sierra Leone if only he had not been leaving in 2017 when his term expires . But the President will be stepping down at the end of his tenure. ( WE WILL BRING YOU A SPECIAL REPORT ON WHAT THE MINISTER SAID ABOUT THE PRESIDENT'S DEVELOPMENT INITIATIVES ).
Thankfully, the whole session was videotaped  and after it would have been  edited , the recording will be played for all and sundry to hear. The Minister even explained why he left the SLPP  for the APC.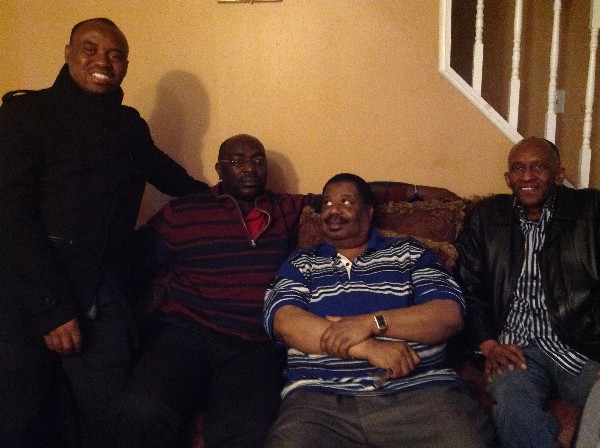 FAR RIGHT : HOC MR. SESAY
Thanking the Minister and his delegation for the visit, the APC-New Jersey President , Pavi Jalloh , also highlighted President Koroma's socio-economic and political developments in Sierra Leone . He emphasized  the transformation of the country, the openness and transparency and the opportunities the President has provided Sierra Leoneans.  He noted : "We in the APC have made it our duty to let the Rev.Kabs-Kanu know that we appreciate what he has been doing not only in promoting the agenda of President Koroma and the party but rebranding Sierra Leone . Sierra Leone is no longer about  blood diamonds . Now, when I google Sierra Leone, all the positive stories come up. "
Ambassador Kamara highly praised Minister Moijueh Kai-Kai for his gesture . He said he was so impressed when the minister said he was travelling to New Jersey to see the Minister Plenipotentiary that though he had arrived only the previous night and was still struggling with the jet lag he immediately offered to be part of the trip . "Other ministers have come, but they only called Mr. Kabs-Kanu. " The ambassador said that it was the First Lady, Madam Sia Nyama Koroma, who first told him about Minister Kai-Kai, whom he described as committed and energetic. He also praised Rev. Kabs-Kanu for his passion for his job which ensures that as soon as anything happens in Sierra Leone,  it is immediately published in his newspaper, COCORIOKO. He praised the minister plenipotentiary for keeping the world informed about the agenda of President Koroma. Minister Kai-Kai agreed with him and said that even while he was in Bo serving as Resident Minister, Kabs-Kanu had always telephoned him to seek interviews with him on events affecting the government.
The Rev. Kabs-Kanu thanked the delegation for their visit and words of sympathy and comfort. He said he underwent a very delicate and critical heart procedure but thanked God that everything went successful. He thanked  everybody for their support, especially President Ernest Koroma who was in Kabala when he called him to sympathize with him seconds after he heard of Kanu's impending surgery. He said he was having anxieties about the surgery but the President helped boost his faith in God by assuring him that all will be well and he told the President that he now had courage to face the surgery "because my President has lifted my spirit and helped me put my trust in God" .
Rev. Kabs-Kanu also thanked the minister for coming to see him  . He described Alhaji Kai-Kai as one of the pillars of the present APC, who has helped the party immensely to penetrate the South-East.
He thanked Ambassador Kamara for coming , though he was tired after his long flight and lauded him for standing by him at work. He said that the reason that President Koroma has promoted him is the ambassador's hard and efficient work. He wished him God's blessings and protection in his new assignment at Addis.
The minister plenipotentiary thanked the HOC , Mr. Sesay,  for the positive changes he has brought  since he assumed office at the Sierra Leone Mission in New York . Rev. Kabs-Kanu also lauded Mr. Pavi Jalloh for being with him constantly since the surgery. He also applauded the minister's brother, Mr. Kai-Kai for coming to see him and hoped they will remain in touch.
Rev. Kabs-Kanu's wife, Mrs. Tigidankay Kabs-Kanu and daughter Wilfreda , thanked the delegation for coming to sympathize with their husband and  father respectively and asked them to convey their  thanks and appreciation to President Ernest Koroma and members of the government who have stood by the Rev. Kabs-Kanu.