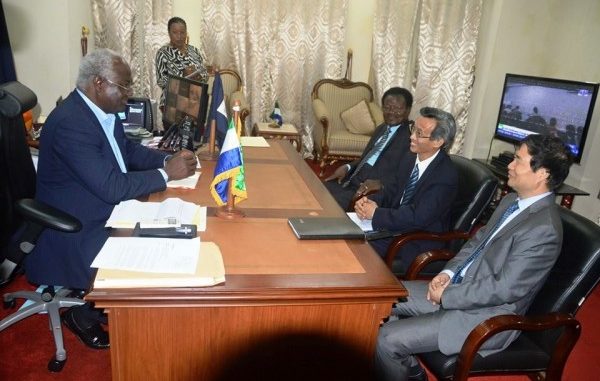 By State House Communications Unit –
President Ernest Bai Koroma Monday 20 February, 2015, hosted the Chinese Special Representative Ambassador Lin Songtian at his State Lodge in Freetown. The Chinese envoy is in the country to review the impact of China's aid to Sierra Leone, and also assess the post-Ebola recovery strategy with specific reference to industrialization and human development capacity.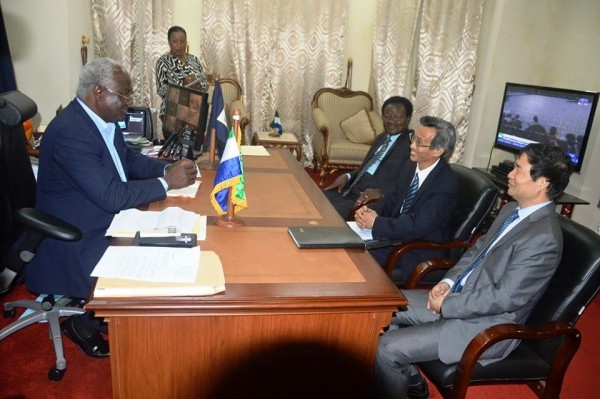 President Koroma said China's aid and response during the outbreak demonstrated the cordial relations between the two countries while describing the relationship as a brotherly one. Acknowledging China's supportive role in the fight against the Ebola virus, the president pointed out that China's support was timely and appropriate and to a significant extent triggered the attention of the international community. He underscored the fact that the country is still focused on continuing the fight against the receding virus, adding that the fact that China continues to be supportive sends signal that they are also focused on winning the fight.
President Koroma informed the Chinese Envoy that China's programmes are in sync with the government's post-Ebola recovery plan. He expressed the need to strengthen the health sector, establish a centre for disease control and prevention and rebuilding the economy.
Ambassador Lin Songtian making a statement said he is in the country to review the current situation particularly on the country's post-Ebola recovery programme as well as strengthening the public health system and building a system for disease control and prevention. Ambassador Lin accentuated the bilateral ties between the two countries and noted that they are very proud to supporting Sierra Leone. He expressed China's commitment to equipping Sierra Leone China Friendship Hospital at Jui, providing experts and building a robust public health system by training more local medical staff.
Ambassador Lin also assured of their commitment to support government's socio-economic programmes as encapsulated in the "Agenda for Prosperity" with special reference to the agricultural sector, education and human resource development. Expressing keen interest in the mining industry, he noted the significance of manufacturing and processing of steel in Sierra Leone to boost government's efforts in infrastructural development.