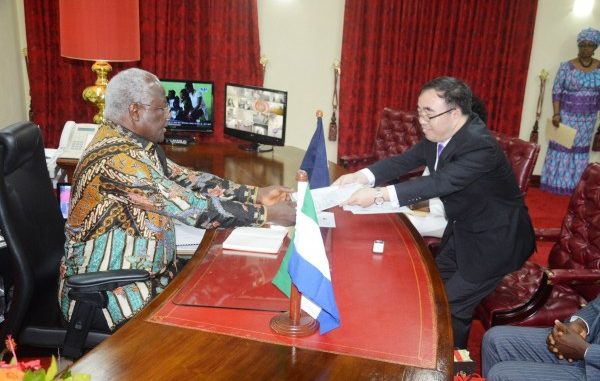 President Koroma hosts World Medicine Summit chief
By State House Communications Unit
President Ernest Bai Koroma said Thursday September 3 that effective coordination is critical in addressing global health problems, particularly at national and international levels by bringing onboard everybody to ensure that the right decisions are taken within the right technical and policy framework.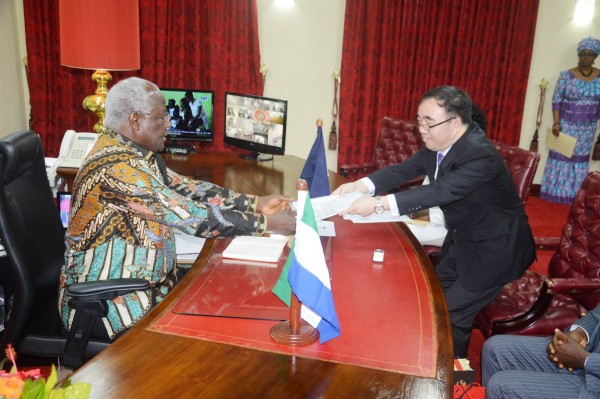 The president made this statement during a meeting with Dr Shuiping Jiang, Chief Executive Officer and Founder of the World Medicine Summit. Dr Jiang is in the country to inform President Koroma about his appointment as a Founding Honorary Council member of the summit and also extended an invitation to grace the forthcoming inaugural meeting of the council scheduled to coincide with the president's visit to China later this year.
President Koroma lauded the initiative for addressing global medical and health related issues through the World Medicine Summit as the world has become a global village.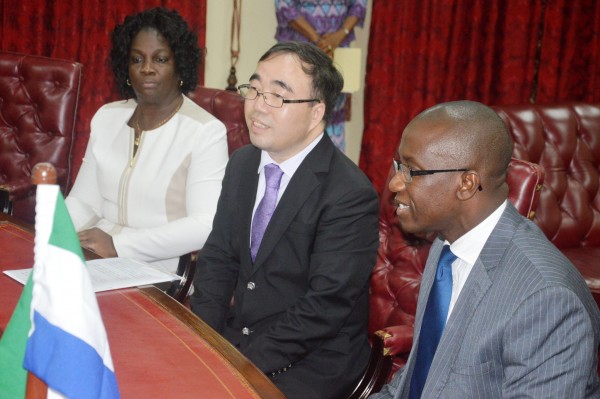 "We have a viral disease that has caused serious problems. We are going through Ebola…we have similar diseases in China, Korea and in the Middle-East, which require a global attention," he observed and quickly added; "Our experience in our fight against Ebola clearly demonstrated that effective collaboration was needed in addressing such issues."
He said that the world has a technical capacity to bring under control global health problems in terms of policy formulation and capacity, and reiterated the need for immediate response with a global platform to address such challenges.
President Koroma assured the World Medicine Summit CEO of his participation at the forthcoming inaugural meeting in China.
Dr Jiang expressed his admiration for the importance government attaches to public health issues and efforts at securing global security, and disclosed that the World Medicine Summit was first held on 7 – 9 June 2015 in Macau, with politicians, diplomats, Nobel laureates and academics as participants who methodically discussed emerging global health issues including Ebola.
He said Sierra Leone's Minister of Health and Sanitation Dr Abu Bakarr Fofanah was elected as founding co-chairman of the summit in recognition of his contribution during the conference, adding that the platform has been following the country throughout the outbreak and is impressed with the leadership manifested by President Koroma in the fight against the deadly Ebola virus disease (EVD).
— with Madina Rahman.