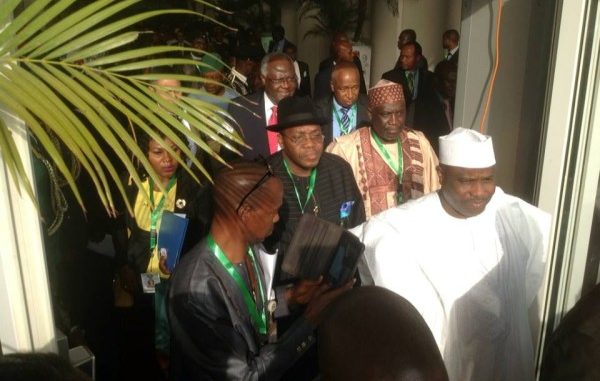 By State House Communications Unit  :
President Dr Ernest Bai Koroma has urged Nigeria to rise up to the occasion and take the responsibility of being the big brother in Africa, saying that Nigeria must look inwards. He made this statement during the International Conference on Human Security, Peace and Development held in Abuja, Nigeria on 27th February, 2014.
President Koroma congratulated the Federal Republic of Nigeria for the leadership it continues to play not just in the sub-region but also in the entire African Continent. He said that had it not been for Nigeria the peace, security and development Sierra Leone is enjoying today would not have been possible.
The President paid glowing tribute to the fallen heroes of Nigeria who laid their lives during the days of ECOMOG to ensure Sierra Leone achieves peace in the late 1990s and early 2000s. He also had words of consolation for the people and government of the Federal Republic of Nigeria for the murder of 59 students in Yobe State on Tuesday.