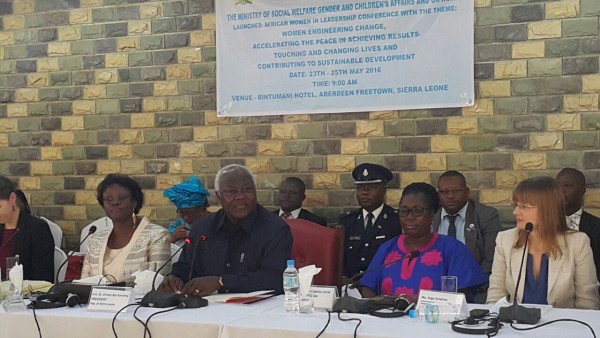 By State House Communication Unit
FREETOWN, Sierra Leone, May 23, 2016// –President Dr Ernest Bai Koroma opened the International Conference "Women Engineering Change, Accelerating the Peace in Achieving Results, Touching and Changing Lives and Contributing to Sustainable Development" organized by the Ministry of Social Welfare, Gender and Children Affairs in collaboration with UN Women, Plan International, Food and Agricultural Organization and World Food Programme to look into issues of women's empowerment and gender equality across the globe.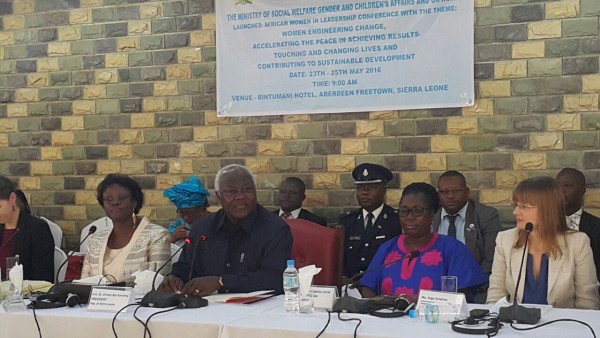 The 3-day event (from 23rd to 25th May) hosted at the Bintumani International Conference Center in Aberdeen, seeks to develop strategies for effectively addressing obstacles in securing and sustaining a critical mass of women in leadership and decision-making positions.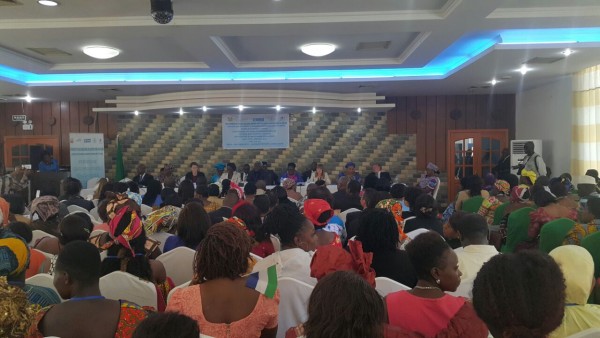 Delivering his keynote address, President Koroma observed that the profile of representation, including MDAs, bilateral and multilateral agencies, gave him hope that South-South Cooperation could be harnessed within the African continent to enhance knowledge and experience in handling women's issues. He said although there was growing awareness of the dividends in gender equality in decision-making, the pace of progress is quiet slow and even vary from country to country.
"It has been proven beyond all doubt that societies where women are empowered and effectively participate in decision-making, there is greater correlation with improved social indicators…" he said, urging that as a continent, "we need to mobilize our efforts using the Sustainable Development Goals as a pathway to attain gender parity by 2030."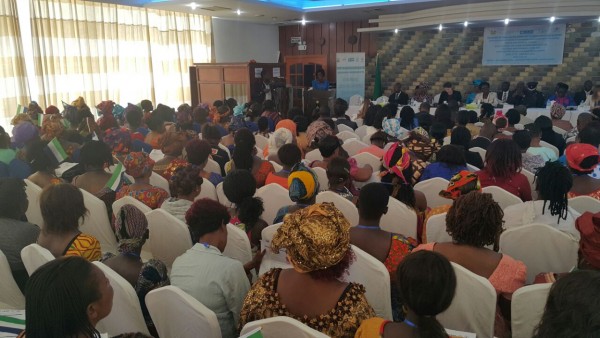 President Koroma reaffirmed government's commitment to gender equality and women's empowerment by ensuring the full implementation of both national and international obligations including the Convention on the Elimination of All Forms of Discrimination against Women, AU Heads of State Solemn Declaration on Gender Equality in Africa and the AU protocol to the African Charter on Human and Peoples' Rights on the Rights of Women in Africa among others.
To ensure full compliance, the president said, government has established the Sierra Leone International Benchmarks Secretariat with leadership from his office spearheaded by one of his advisers. The rationale was to fast track implementation of all International and regional frameworks including reporting obligations.
He also assured, under the Agenda for Prosperity, to continue establishing strong funding mechanisms to promote women's political participation, scholarship for deserving women and girls in education, promoting female entrepreurship for sustainable economic growth and ensuring the establishment of National Women's Commission as an Independent Body to primarily advocate for the advancement of women and also promised to enact the legislation on the 30% quota for women in politics. He promised to deliver all these before the end of his tenure in 2018. "In my government, I will make sure that violence against women be considered as violence against the state."
In her contribution, the president of Women's Forum, Ms. Maude Peacock, described the inclusion of women in leadership positions by President Koroma as unprecedented in the continent.
Hon. Dr Bernadette Lahai thanked President Koroma's administration for greatly considering women for decision-making positions, but however called for change of negative perception against women especially in Africa.
The Deputy Head of the Political Section of European Union Ms. Inga Kristina conveyed congratulatory message from the EU to Sierra Leone for considerably improving on women's empowerment and gender equality.
The Minister of Social Welfare, Gender and Children's Affairs Dr Sylvia Olayinka Blyden thanked President Koroma for appointing eleven (11) women in his cabinet; an action she described as unprecedented. She said Sierra Leone is a male dominated society where it is not honestly easy for a woman to become a president, but with the likes of President Koroma it will happen, she anticipated.