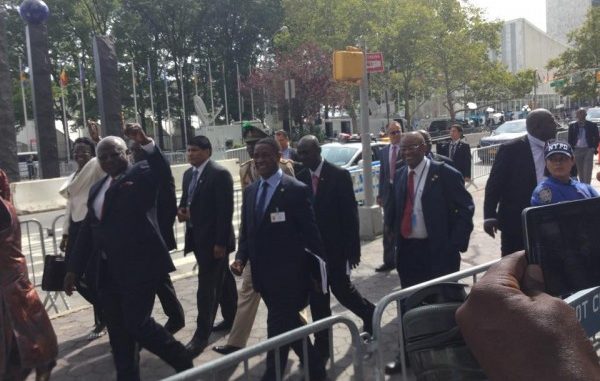 President Ernest Bai Koroma  yesterday popped in at the Sierra Leoneans For Peace  rally and received the  most thunderous  applause a Foreign leader has ever enjoyed at the Dag Hammarskjold Plaza , UN in New York ( The demonstration grounds where the morale and reputation of world leaders have been  damaged before , at times beyond repairs ) . For President Koroma, it was the opposite. His stature as a hero and a champion of his country's development endeavors were celebrated and enhanced here .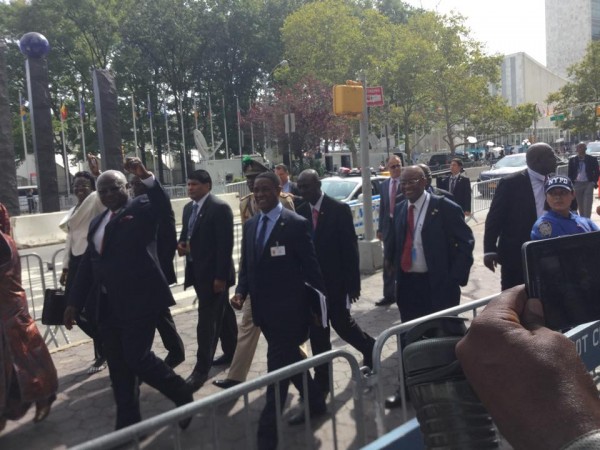 PRESIDENT KOROMA GIVES THE CHAMPION'S SALUTE TO THE CROWDS RALLYING ON HIS BEHALF : ON HIS RIGHT IS DR.SYLVIA BLYDEN AND ON HIS LEFT HON. ALPHA KANU , DR. MONTY JONES AND OTHER OFFICIALS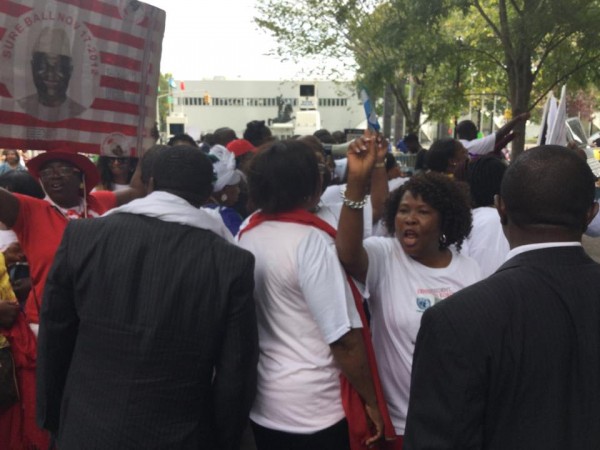 SIERRA LEONEANS RALLYING IN SUPPORT OF PRESIDENT KOROMA AT THE UN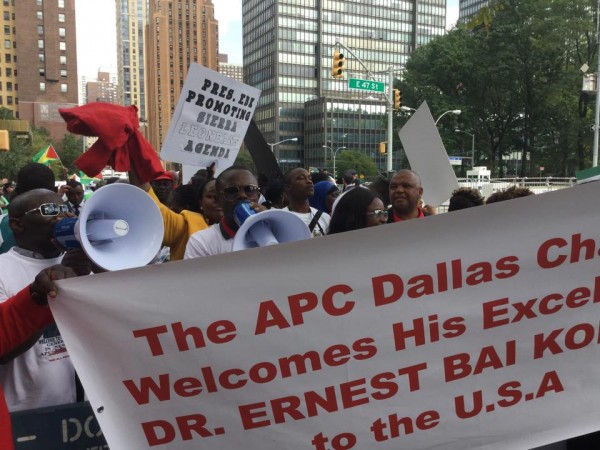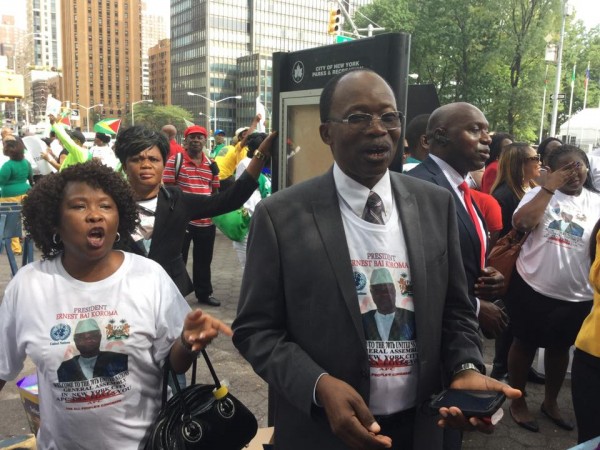 CHAIRMAN IBRAHIM KAMARA , THE CHIEF OF THE SIERRA LEONEANS FOR PEACE, AND ONE OF HIS ABLE DEPUTIES MRS. BEATRICE CONTEH : BEHIND MR. KAMARA IS DR. HORACE DOVE-EDWIN , POPULARLY KNOWN AS TIPEPS.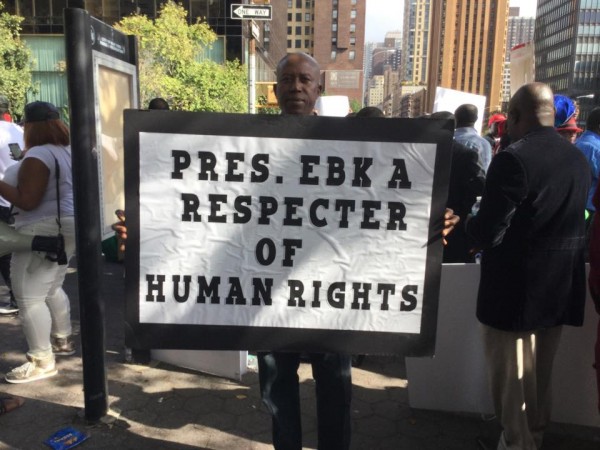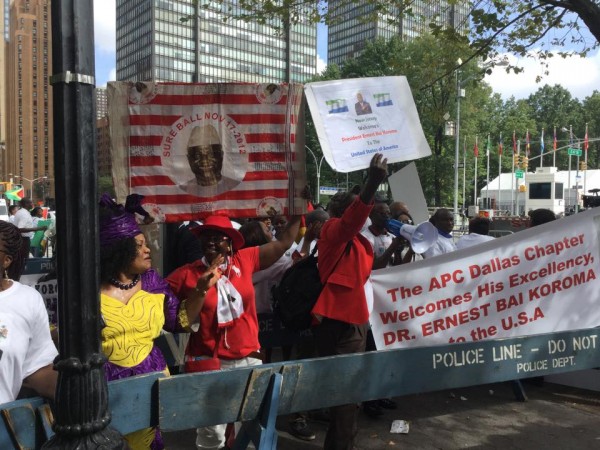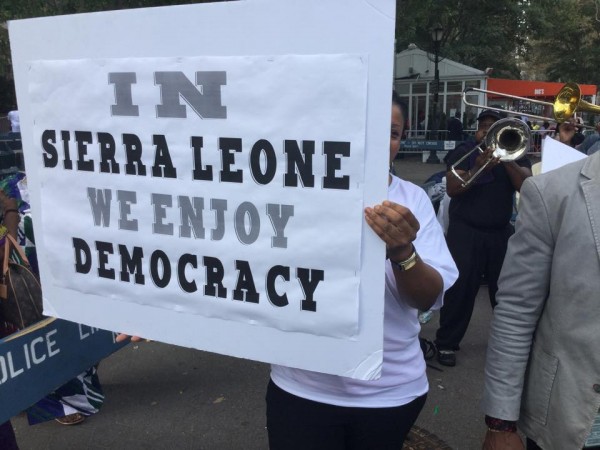 Hundreds of Sierra Leoneans who had gathered at the plaza  in a solidarity rally for President Koroma were thrilled that the President had decided to take a surprise walk  down to the plaza from his hotel to see the rally for himself .  Flanked by Dr. Sylvia Olayinka Blyden ,  Information and Communications Minister, Hon. Alpha Kanu ,  key officials of government and the Secret Service , Dr. Ernest himself was surprised at the reception he received from excited and jubilant Sierra Leoneans. The prolonged and earsplitting applause is captured on video below.
It was utter defeat ONCE AGAIN  for the so-called Concerned Sierra Leoneans group which had once again bragged that they were coming to bury the President's morale and reputation with a fiery demonstration, but it instead turned out to be an ineffective  psychodrama by  a motely gathering of about 8 or 10 noisy  individuals who made a boisterous appearance at the plaza before they were swallowed up by another group of demonstrators from the Gambia and Benin and drowned out by the booming drums and searing applause of the far larger and more organized and structured  Sierra Leoneans For Peace .
President Koroma, with his clenched fist raised in a victory salute, acknowledged the applause and walked through the length of the barriers facing the street. Not a contrary sound or clatter from any other group. It was cheers and applause for the President all the way.
The rally was staged by the Sierra Leoneans For Peace  and the All People's Congress ( APC-USA ) , with members traveling from many different states in the continental USA.  The aim of the rally was to celebrate the socio-economic and political developments of President Ernest Bai Koroma as well as his tremendous work to defeat the ebola scourge and also provide relief for victims of the recent flood in Sierra Leone.  Members carried placards and banners hailing the President's work, including his human rights records, gender empowerment and respect for fundamental human rights.