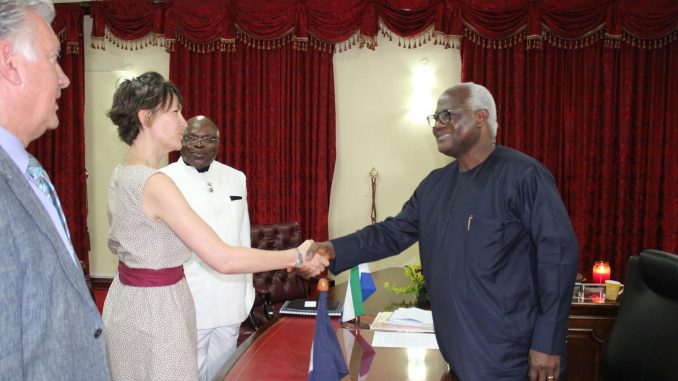 State House Communication Unit
President Dr Ernest Bai Koroma received on Wednesday 13 September the new General Manager of Brussels Airlines in Sierra Leone Estelle Van Eeckhout.
During the meeting at State House, President Koroma acknowledged the unique and excellent relationship between Brussels Airlines and Sierra Leone, and expressed hope that the new manager would maintain that standard. He said SN Brussels had been operating non-stop in Sierra Leone not only during the warring years but also throughout the unprecedented Ebola epidemic when others suspended flights to the country. He assured the incoming manager of government's continued support and wished her well in her new assignment.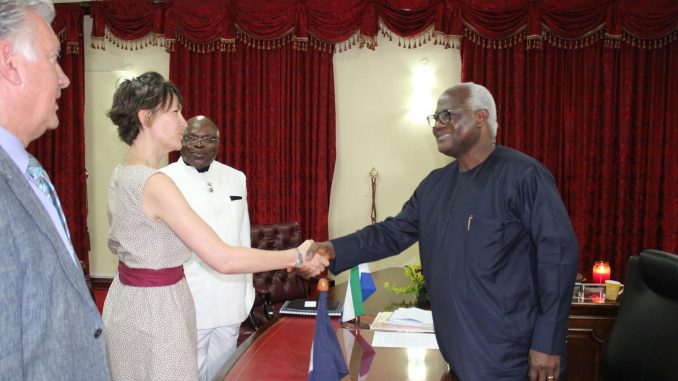 Madam Eeckhout was accompanied by Sierra Leone's Minister of Transport and Aviation Leonard Balogun Koroma as well as her predecessor Paul Delafaille who had been managing the affairs of Brussels Airlines in Sierra Leone all through the Ebola epidemic. In her brief introduction, the incoming manager noted that she wasn't a new person to Sierra Leone, saying that she had been in the country in 2015 as OBT Shipping Finance Director. She expressed her deepest condolences for the difficulties the country has gone through, and reiterated her personal attachment to Sierra Leone, saying that she was very proud to be designated to Brussels Airlines – Sierra Leone.