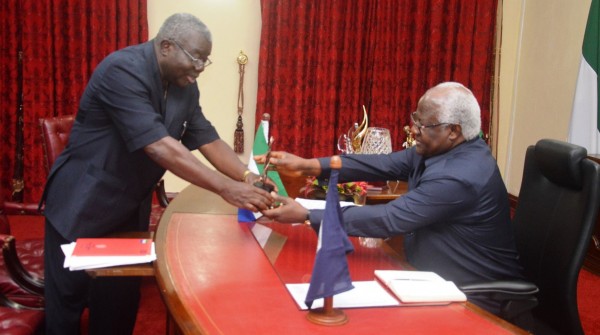 By State House Communication Unit
Freetown – July 14, 2016
President Dr Ernest Bai Koroma has today, at State House, Freetown, received an esteem international award from Project Restore Hope for his astute and tremendous effort in tackling the Ebola virus disease.
Project Restore Hope is an international organization working to bring hope and sustained health to nations through unified strategies with other international partners that result in transformed lives, stable infrastructure, social responsibility and capacity for development.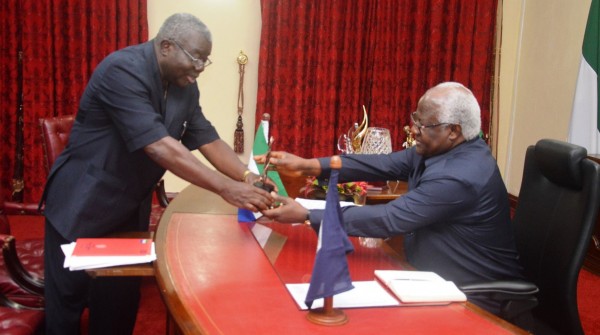 The award was handed over to President Koroma by Sierra Leone's Ambassador to the United States of America Bockari Kortu Stevens.
Receiving the prestigious award, President Koroma thanked Project Restore Hope for the support they provided during the unprecedented Ebola outbreak and for also recognizing the tremendous effort of the government and people of Sierra Leone in the fight against the Ebola epidemic.
"Our coordinated effort as a nation and the resilience of the people of Sierra Leone has landed us with this prestigious award," the president said and in his trademark humility, President Koroma added that he would dedicate the award to the people of Sierra Leone for their resilience and courage in defeating Ebola.
According to Ambassador Bockari Kortu Stevens, he had received the award on behalf of government and people of Sierra Leone from Project Restore Hope in June 14, 2016. He said Project Restore Hope has an office in Sierra Leone and operates in twenty-five African countries.
He further intimated that Project Restore Hope Sierra Leone had been awarded by Sierra Leone's government last December for its support during the Ebola outbreak.