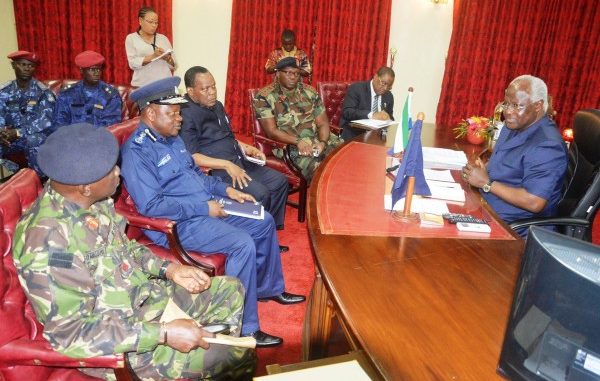 By State House Communications Unit :
President Ernest Bai Koroma Tuesday 13 January received cross-section of the members of the presidential guard force at State House. The presidential guard is aimed at bringing both the Police and the Army under one command to provide a conducive security environment for the presidency to function effectively. The Force will be responsible for providing security operations and management, training operations and weapon handling.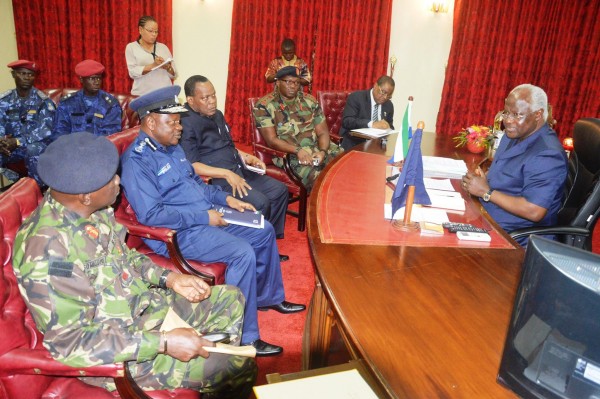 The president thanked the security sector for putting together a structure, adding that the object is to have a unified presidential guard force under one command that will see them as a force that is integrated not working in different cells. He expressed hope that now that the force has been integrated on paper and the leadership appointed, he hoped to see a change of mind-set and exhibition of high level of discipline that is expected of a Presidential Guard Force. "What is expected is discipline and decorum that will be seen all over," he emphasized.
Introducing the Head of the Presidential Guard, Inspector General of Police Francis Alieu Munu urged Assistant Inspector General (AIG) Suluku Conteh to live up to expectations. The Chief of Defence Staff of the Republic of Sierra Leone Armed Forces (RSLAF) Major General S.O. Williams introduced the Deputy Head of the Presidential Guard Colonel Ronnie Harleston, Commander of the Freetown Garrison 3rd Brigade responsible for the security of the entire Western Area.
Both Heads of the presidential guard registered their unflinching loyalty, trust and cooperation in the discharge of their functions. CDS Williams said that with a harmonized command structure of an internal security, they will be able to deliver the goods.
A list of appointees will later be delivered to the president for vetting.