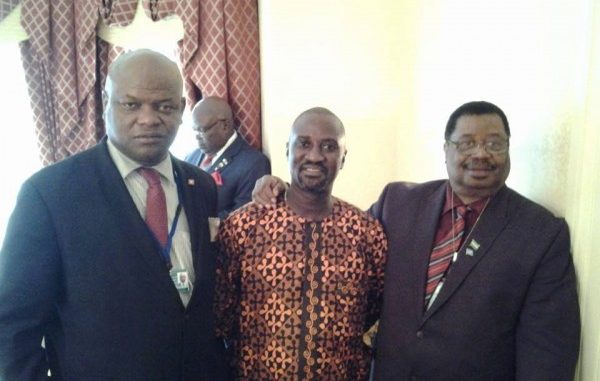 President Ernest Koroma yesterday described his media men as being among some of his  elite frontline warriors.
The President made the commendation while receiving Messrs Kabs Kanu and Pasco Temple at the Willard Intercontinental Hotel in Washington DC where he is living during his present visit to the U.S. The President commended the excellent work being done by his team.
The media team in turn responded that President Ernest Koroma richly deserves the coverage he is receiving from the press in general because he is the most productive and progressive Head of State our country has ever had since Independence in 1961. The many socio-economic and political developments  President Koroma has ushered in Sierra Leone make it imperative that the media give his achievements the coverage they deserve.
The media men, encouraged by President Koroma's endorsement of their performance,  promised to do more to help promote and propagate the President's achievements and his legacy, which they described as splendid .
The 'World's Best ' is in the U.S. together with the Presidents of Liberia and Guinea to meet U.S President Barak Obama and attend meetings of the World Bank and the IMF to  plan the three countries'  the post-ebola recovery .
The Presidential media corps will bring you all the news, highlights and photos of the President Koroma's U.S. trip and the post-ebola recovery events.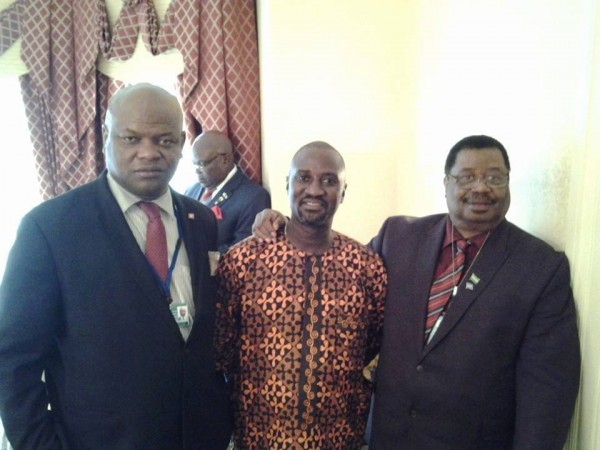 THREE MEMBERS OF THE PRESIDENTIAL MEDIA CORPS  AT THE WILLARD INTERCONTINENTAL HOTEL WHERE THE PRESIDENT IS PRESENTLY BEING HOSTED DURING HIS U.S TOUR : FROM LEFT : MESSRS PASCO TEMPLE ( PRESS ATTACHE, WASHINGTON DC ), JARRAH KAWUSU-KONTE ( STATE HOUSE COMMUNICATIONS CHIEF ) AND LEEROY WILFRED KABS-KANU( MINISTER PLENIPOTENTIARY AT SIERRA LEONE'S NEW YORK UN MISSION AND PUBLISHER AND C. E. O OF COCORIOKO NEWSPAPER).