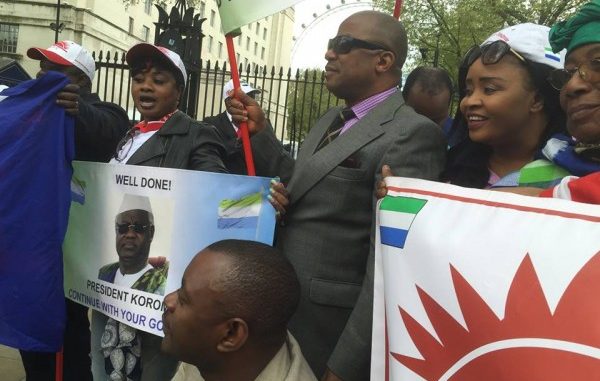 The Women of Peace and Sierra Leoneans supporting the Rule of Law  staged a Pro-Government demonstration on April 27–Sierra Leone's 54th Independence Anniversary day–  at Whitehall in London.
Whitehall is the centre of Her Majesty's Government and the street is lined with government ministries and departments.
The aim of the demonstration was to prove to the British public that President Ernest Bai Koroma was still very popular with the people of Sierra Leone and that the opposition Sierra Leone People's Party ( SLPP ) , who had staged a parallel demonstration , did not reflect the views of the generality of Sierra Leoneans.
This group , like their counterparts in the United States, called the Sierra Leoneans For Peace Standing with President Koroma , support the dismissal of the former Vice-President, Alhaji Sam Sumana and the policies of the ruling APC Government.
A remarkable outcome of the demonstration was that British Prime Minister David Cameron asked six women from the Pro-Ernest Koroma group to have an audience with him at 10 Downing Street . Members of the group had announced that they would be marching to say thanks to the British Government for its support to the Sierra Leone Government. It was reported that SLPP  supporters who were not invited to see the Prime Minister rained profanities at the British leader as soon as the gate was opened to let the APC  women inside.
The SLPP  group also shouted SHAME ON YOU at British officials because the British Government, through the British High Commission in Sierra Leone, had recognized the newly-appointed Vice-President , Mr. Victor Foh.