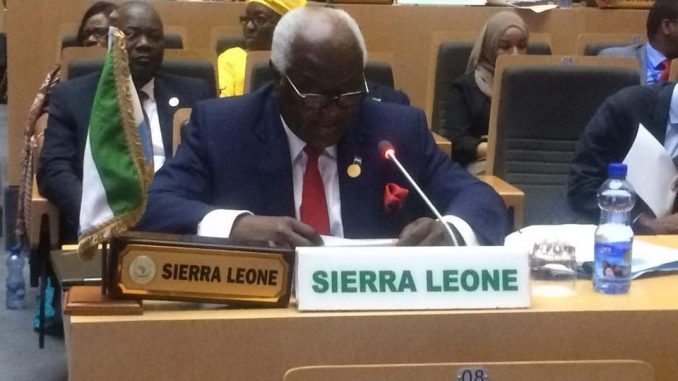 FAREWELL MESSAGE OF H.E. DR. ERNEST BAI KOROMA, PRESIDENT OF THE REPUBLIC OF SIERRA LEONE TO THE 30TH ORDINARY SESSION OF THE AFRICAN UNION ASSEMBLY OF HEADS OF STATE AND GOVERNMENT, ON 29 JANUARY 2018, IN ADDIS ABABA, ETHIOPIA.
The Chairperson of the Union: My Brother President Paul Kagame
Members of the Bureau of the Assembly
Excellencies, Colleague Heads of State and Government;
Former Heads of State and Government here present
Honorable Ministers
The Chairperson and Deputy Chairperson of the African Union Commission,
Commissioners
The Chief Executives of the Regional Economic Communities and Regional Mechanisms
Invited Guests,
Ladies and Gentlemen
As you are aware, I will be completing my two successful terms in office in the next few months. In compliance with my country's constitution, which is the most sacred law of our land, I will be handing over the mantle of leadership to the winner of the forthcoming general elections scheduled for 7 March this year. In this regard, I have diligently ensured that the planning and conduct of the elections is facilitated by our National Electoral Commission in line with our laws, and consistent with regional and international best practice.
Excellencies
Ladies and Gentlemen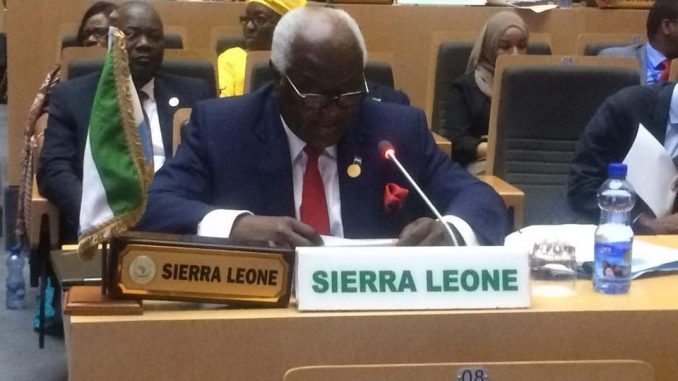 As I bid farewell to you colleagues Heads of State and Government, and all those present in this hall, I would like to reiterate that it has been a singular privilege for me to represent my people in this noble Union, which was established to foster African solidarity, and to promote and uphold the dignity of all peoples of African descent globally. In this regard, and on behalf of the government and people of Sierra Leone, I would like to express my profound appreciation for the steadfast solidarity with my country when we were faced with some unprecedented challenges, most notably, the outbreak of the Ebola virus and the recent massive flooding and landslide. With our collective resolve, we adequately responded to these challenges and restored hope to millions of my compatriots who were adversely affected. Your support during those difficult periods was a true testament and demonstration of African solidarity.
Excellencies
Ladies and Gentlemen
As you might all be aware, I took over the reins of government five years after the end of an 11-year civil war that destroyed most of the country's social, economic and physical infrastructure and resulted in a breakdown of civil and political authority. Thus, we had to carve a new social contract underpinned by the principles of equality, accountability, mutual respect, inclusiveness, and respect for human rights as well as women and youth empowerment. My government embarked on a national development path with a firm commitment to leave no citizen behind in the country's transformation into a peaceful, democratic and prosperous society. We firmed up the aspirations of Sierra Leoneans into transformative programs in Security, Energy, Infrastructure, Agriculture, Health, Trade, Mining, Youths Affairs, Gender and other pertinent issues. These efforts yielded positive results as Sierra Leone became one of the fastest growing economies in the world and was listed as one of the best places to do business in Africa.
In the same spirit of African solidarity, my Government pledged and scaled up our contribution to the maintenance of peace, security and stability on the continent. As a demonstration of our commitment, Sierra Leone is currently a member of the Peace and Security Council; our primary decision-making body on matters of peace and security. We thank Member States for the confidence reposed in us to serve on the nerve-center of our peace and security architecture. We had the unprecedented honor to serve as Chair of the PSC for two consecutive months thereby enabling us to provide critical leadership in our collective march to silence the guns in Africa by 2020. This is consistent with the determination we expressed in the OAU/AU 50th Anniversary Solemn Declaration that we adopted on 25th May 2013, here in Addis Ababa as well as with our aspiration to ensure a prosperous, peaceful and stable Africa driven by its people as espoused in Agenda 2063.
In addition to serving on the PSC, we continue to contribute to AU and UN peacekeeping efforts on the continent. Our deployment of troops and police to the African Union-United Nations Hybrid Mission in Darfur and the AU Mission in Somalia serves as a demonstration of our commitment to assist in the stabilization efforts in these two countries and the continent as a whole.
Excellencies
Ladies and Gentlemen
It has also been a privilege for me to lead, as Coordinator of the work of the African Union Committee of Ten Heads of State and Government that is charged with the mandate to canvass support for the African Common Position on United Nations Security Council (UNSC) reform based on the Ezulwini Consensus. Let me use this opportunity to thank my colleague Heads of State and Government of this committee and the entire Union, as well as the Commission, for the unwavering support throughout my time as Coordinator of this very important process. The Republic of Sierra Leone strongly reaffirms its commitment to lead this important African initiative.
You will all agree with me that whilst we continue to make tremendous progress in ensuring a united front in our efforts for Africa to take its rightful place on the global stage, we need to unanimously and unequivocally adhere to the Common African Position as enunciated in the Ezulwini Consensus and the Sirte Declaration. This will not only enable us to build the required momentum for Africa to be fully represented in all decision making organs of the UN, it will also foster meaningful reforms of the United Nations. In this regard, I implore all of us to continue supporting the processes of the C-10 so we can invigorate and sustain the Intergovernmental Negotiation process to ensure that the voices of the estimated 1.1 billion Africans and more than a quarter of the membership of the UN are adequately represented, and this historic injustice is addressed .
Excellencies
Ladies and Gentlemen
As I take leave of you, I am encouraged by the new institutional reforms of our Union led by my brother, President Paul Kagame of the Republic of Rwanda and Chair of the Union. The launching of the single African Air Transport market; the near conclusion of the Continental Free Trade Area and the Facilitation of the free movement of persons are critical milestones in our march towards a prosperous continent that is driven by its people. These developments reinforces our hopes and aspirations for a united and cohesive continent that will occupy its rightful place in the global community.
Undoubtedly, I will miss the strong sense of solidarity that I have enjoyed over the past ten years. I will also miss our high spirited meetings, the holding rooms, the family photos, and more importantly, the light moments that we shared.
In closing, I will like to humbly request my brothers and sisters of our Union to extend their continued support to the next President of my beloved country. I am convinced that Sierra Leone will remain committed to the attainment of our collective aspirations for a peaceful, stable and prosperous Africa driven by its people.
Long Live Africa!