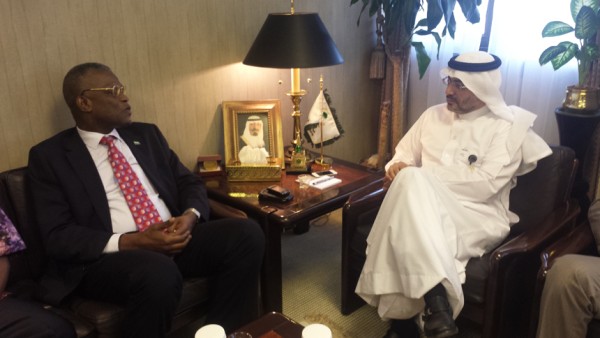 By M.B. Jalloh, Press Attaché, Saudi Arabia : 
Sierra Leone's new Ambassador to the Kingdom of Saudi Arabia, H.E Alhaji M.S. Kargbo on Wednesday, 4th June, 2014, paid a courtesy call on the Chief Executive Officer of the King Fahd Medical City in Riyadh.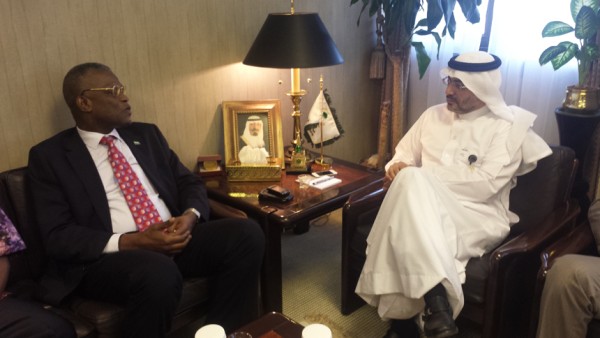 Giving a background about the hospital, Dr. Mahmoud Abdul Jabar Al-Yamani, said that the King Fahad Medical City provides specialized medical services for diagnostic, therapeutic and receives all transferred patients from hospitals associated with the Saudi Ministry of Health.
The visit, according to the Ambassador was aimed at strengthening the medical and health relations with the Kingdom of Saudi Arabia as part of growing cooperation between the two sister countries in various fields.
At the beginning of the meeting, the Ambassador acknowledged the warm and strong relationship that exist between Sierra Leone and Saudi Arabia, adding that, so much has transpired between the two countries as a result of their ties which spanned as far back as over three decades.
Saudi Arabia, Ambassador Kargbo, reiterated, has continued to be a strong supporter of Sierra Leone's developmental strides and capacity building effort as is evidenced in various bilateral cooperation programmes in Sierra Leone.
During the meeting, both parties discussed bilateral relations between the two countries in areas of mutual concern and means of coordination in the health sector. They also discussed ways to improve and sustain President Koroma's free health care initiative for pregnant women, lactating mothers and under five children.
This is not the first time Saudi Arabia is manifesting interest in the field of Health Services in Sierra Leone. Last year, a medical team of a Saudi based humanitarian organization; Physicians Across Continents (PAC) comprising 30 Paramedics visited Serra Leone and provided free medical treatment in Freetown and in some towns and villages outside the capital.
The Ambassador was accompanied by the Mission's Minister Counsellor, Mr. Umaru S. Dura and the Press Attaché. The meeting was facilitated by one of the former leaders of the Sierra Leone Nationals' Union, Unisa Kanu. Also present in the meeting were the Liaison Office of Embassy, Sorie Ibrahim Kanu and the Acting Secretary General of the Sierra Leone Nationals' Union, Abdul Karim Kabba.