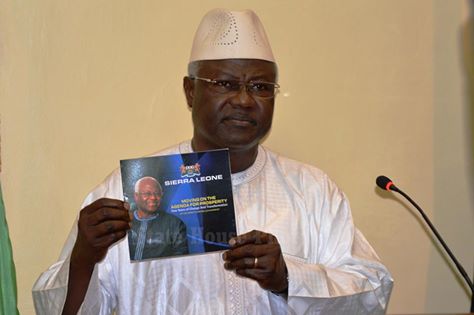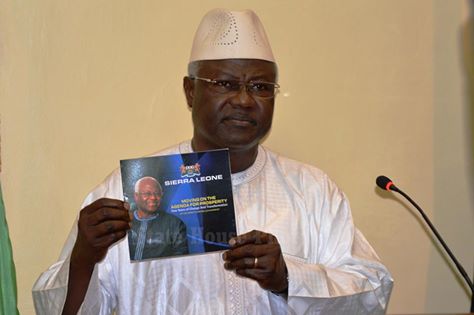 WITH EBOLA OVER, it is time for Sierra Leoneans to arise and join President Ernest Koroma as he continues his flagship Agenda For Prosperity program , which is Sierra Leone's road map for national development.
TODAY, we reproduce President Koroma's special message to Sierra Leoneans in the preface of the Agenda For Prosperity booklet :
———
Message from the President
Following the tremendous progress in implementing the Agenda for Change (2007 –2012), we embarked on the preparation of the Agenda for Prosperity (2013 – 2018).
Prior to this exercise, when Sierra Leone turned 50 in 2011, I constituted a Committee on Development and Transformation, charged with the responsibility to take stock of the progress we have made as an independent nation over the last 50 years and to chart the way forward for the next 50 years. The Committee organised the Sierra Leone Conference on Development and Transformation, which came up with a number of outcomes; key among them is the aspiration of Sierra Leone to become a middle income country by 2035. In keeping with the aspiration of our people, we commenced work on the Agenda for Prosperity as the first five-year road map towards this forward march.
The Agenda for Prosperity builds on the successes of the Agenda for Change and lays the foundation for our journey to achieving sustainable future for all Sierra Leoneans beginning with our goal of middle income country. We are mindful,however, that achieving this goal requires tackling several challenges: for example, whilst we have reduced poverty from 66.4 percent in 2003 to 52.9 percent in 2011, we need to do more, such as to address unemployment, particularly among the youth.
We need to better manage our natural resources for the good of all Sierra Leoneans, we need to add value to our primary products, we need to extend, expand and sustain the Free Health Care and Scaling-Up Nutrition initiatives, reform the education system to meet the emerging needs in the job market, we need to finish on-going projects in roads, energy and water supply. We need to build the much needed infrastructure, including the new mainland airport, railway, roads and ICT capabilities; provide a social safety net for the vulnerable population; promote good
governance; ensure that the public sector is capacitated to deliver; empower our women and ensure equal opportunities for both men and women; and above all, we need to maintain our zero tolerance to corruption, and provide the enabling environment for the private sector to thrive.
My Government is committed to accelerating the eradication of hunger and malnutrition, with a strengthened focus on women and children from conception to two years of age, to prevent the irreversible effects of stunting. We will establish a multi-sectorial nutrition coordination secretariat to address these issues.
It is against this backdrop that the Agenda for Prosperity has been prepared to complete residual projects in the Agenda for Change and to address these challenges. We hope to draw on lessons learnt and to merge innovations with the strong economic growth we have recorded in the last five years, but we must ensure that we are globally competitive and our economy is diversified to promote inclusive green growth that is beneficial to all Sierra Leoneans and to keep the growth spirit sustained.
xi
No doubt implementing the Agenda for Prosperity will require concerted efforts,collaboration and coordination among Ministries, Departments and Agencies (MDAs), especially implementing MDAs. Emphasis will be placed on monitoring of projects to ensure that results are achieved on timely manner. We will continue to attract foreign direct investment by forging strong partnerships with the private sector both local and international especially on large scale projects. Consistent with the principles of the New Deal for engagement in Fragile States, the Agenda for Prosperity is the country's one vision and one plan. Its implementation will be guided by strong commitments by Development Partners as well as the Government. In this regard, Government is developing a mutual accountability framework that will be jointly monitored and reported on. Our goal is to strengthen the partnership between Government and Development Partners as well as ensuring that the voice and opinion of each and every Sierra Leonean is heard in the implementation as was done through wider consultation in developing this national
plan.
As we embark on this epic journey to become a middle income country, let me remind fellow Sierra Leoneans that we have together – Government and every stakeholder – committed ourselves to change, because prosperity does not pour like rain, and will not come to us, but we must go in search of it with determination. We must sweat it out with our hands, with our brains and with our minds. Our Agenda for Prosperity marks an end of the chapter of business as usual, and the dawn for a new Sierra Leone that have set out to embrace the values of innovation, of cultural renewal in the workplace and respect for public goods; and the realisation that the end results of this new beginning is the extent to which we double our efforts, and
commit ourselves to the values of self-reliance and discipline.
I am very optimistic that with the support and collaboration of every Sierra Leonean and our partners, the implementation of the Agenda for Prosperity will be a huge success.
H.E. Dr. Ernest Bai Koroma
President of the Republic of Sierra Leone