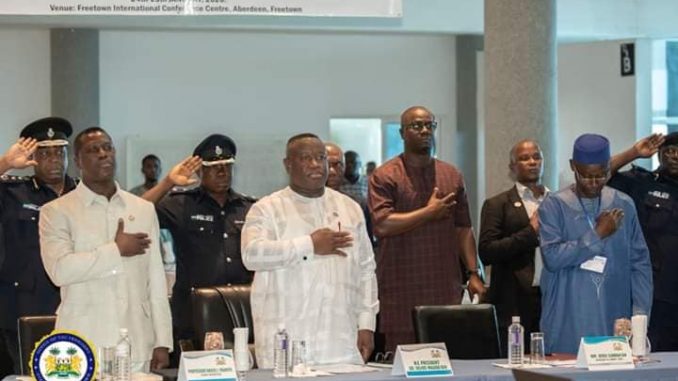 By Paunga Abenteous Marnoh-Sesay 
The photos below this post shows vividly the opinion I have formed about Mr. Maada Bio, that his attire is always brilliant than the content of his mind.
Last Friday January 25th 2020 Mr. Bio went on a retreat with his cabinet ministers, permanent secretaries and heads of departments and agencies. According to Mr. Maada Bio, his government has been lazy, inept and clueless, so the cabinet retreat was to urge the attendees to buckle-up since the public is gradually losing patience with his government.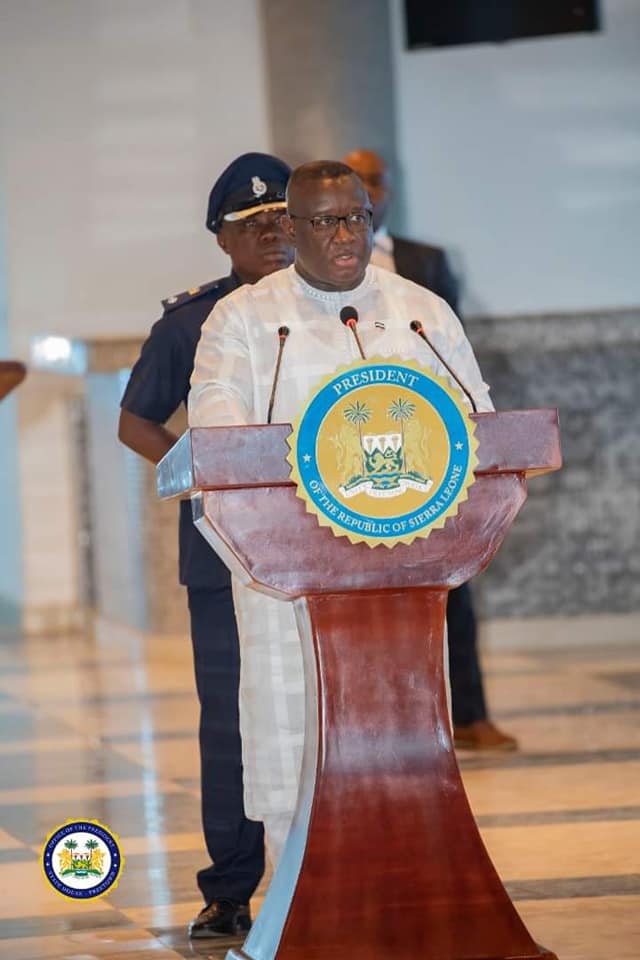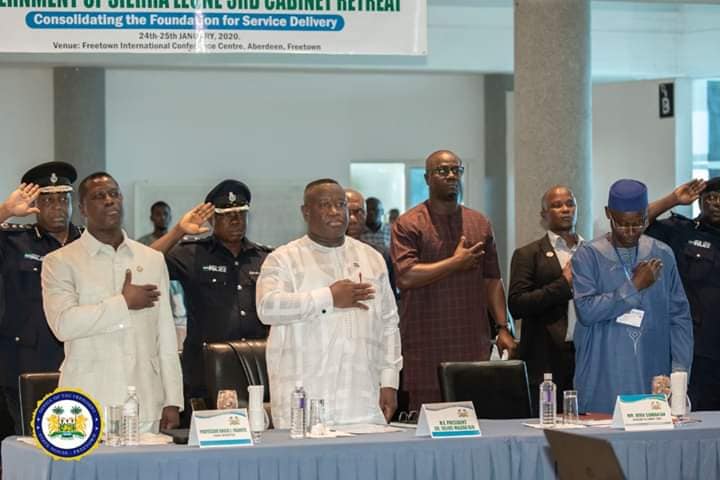 The retreat itself shows that Mr. Bio still doesn't have any idea of what is really wrong with Sierra Leone. MR.MAADA BIO JUST DOESN'T KNOW WHAT TO DO.
No wonder Mr. Maada Bio has been wasting our taxpayers monies to fly all over the world looking in the wrong places for investors. Mr. Bio's ignorance is unique. Mr. Bio's level of understanding is so shallow. Sierra Leone needs radical economic reforms and among the hundreds of economic and social reforms Sierra Leone badly needs, let me point one to Mr. Bio. (Let him grab some popcorn while I enlighten him)
Land is a major and perhaps the most important factor in production and productivity. But here is Mr. Maada Bio's Sierra Leone where non-natives and foreigners cannot own land outside of Freetown. That means since 99% of the natives have no money to invest in commercial housing, the prospect of a boom in commercial housing is zero. So Mr. Maada Bio classlessly and also stupidly travels to Dubai seeking investment among people that put money into real estate development. They attend his meetings, his Paopa boys slam the photos all over social media, and the next morning the investors are back to their normal routine in buying real property in Londin, Los Angeles, Manila-Phillipines, Bankok-Thailand and other places, instead of Bo, Moyamba, Makeni and any other place. And up to last Friday when Mr. Maada Bio took his cabinet to that retreat, it has still not clicked his mind why nobody is investing in Sierra Leone.
So when houses for commercial purposes are not been built in Sierra Leone, Mr. Maada Bio still doesn't get it why no investment has come to Sierra Leone for the manufacturing doors, windows, kitchen sinks and cabinets, carpets in the rooms, flooring materials, roofing materials, cleaning detergents and hundreds of other materials needed in housing construction.
It further should explain to Mr. Maada Bio why he couldn't attract a pence from the United Kingdom during his last attendance at the UK-Africa summit. Because real estate business is dead in Sierra Leone, it means UK firms cannit sell construction equipment to Sierra Leone. It means the absence of those hundreds of thousands of jobs in the manufacturing of construction materials that Sierrra Leoneans could have otherwise had, means the paychecks wouldn't be available within the economy. So how would millions of jobless Sierra Leoneans afford to pay for a £80 dress made by Marks & Soenser in the UK? £80 is equivalent to about one million leones. An average teacher takes home less than one million leones (£80) for the month. Without the paychecks in the construction industry, it means millions of young Sierrra Leonean males cannot afford an anti-dandruff shampoo made in the UK that sells for £5 which equivalent to twenty-five thousand leones, 1/6th of what a youngman earns per month as a newly employed ministry of agriculture worker. And about 75% of the population donnot have any formal employment, they earn no incomes and therefore can absolutely not afford a £5 shampoo made somewhere in Scotland or Wales.
This is why we are removing Mr. Maada Bio anytime this 2020. The guy is a mess. How can we keep a guy like Maada Bio in the presidency, giving him the opportunity to wear more expensive clothing that are brilliant than his thinking, at taxpayers expense?
Or are we mentally sick as nation?