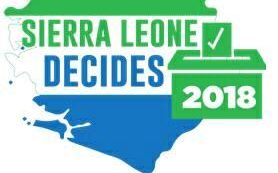 By Ranger
One of BBC's ace journalists, Sierra Leonean born Hassan Arouni, who is also the station's Radio Editor, who will moderate the much publicized and looked-forward to February 15, 2018 Presidential debate organized by AYV Media Empire and partners.
A highly acclaimed international media personality who is very well informed on the politics of Sierra Leone is here to work closely with civil society organizations and other stakeholders to ask pertinent political questions to which respective aspiring presidential candidates are expected to give answers today, Thursday, at the Bintumani Conference Center, Aberdeen in Freetown beginning at 7pm.
In London, at the AYV International studio, in addition to a live broadcast of the presidential debate, the audience will be joined by politically-neutral panellists who will discuss a range of issues of concern to Sierra Leoneans abroad, as well as interact with a live studio audience. They will also be taking questions from the studio audience which will be directed to the presidential candidates.
The presidential debate seeks to assist the electorate make a better-informed choice among candidates contending for office in 7 March 2018 election, thereby bolstering the country's democratic progression.
Additionally, the debate provides a platform for people, at home and abroad, to hear how the issues they are concerned about are addressed by the presidential candidates, as well as enable elected officials to be held accountable to their campaign promises.
The arrival and presentations are in this order: 1. Citizens' Democratic Party (CDP) – Musa Tarawally; All People's Congress (APC) – Dr. Samura Kamara; Sierra Leone People's Party (SLPP) – Rtd. Brig. Julius Maada Bio; Alliance Democratic Party (ADP) – Mohamed Kamarainba Mansaray; National Grand Coalition (NGC) -Dr. Kandeh Kolleh Yumkella and Coalition for Change (C4C) – Alhaji Chief Sam Sumana.
The debate would be the first of its kind in Sierra Leone. AYV has installed state-of-the-art transmitters and other equipment across the country to ensure that the presidential debate is conveyed live nationally, internationally and spontaneously by all television and radio stations across Sierra Leone in collaboration with SLAJ, PPRC, SLBC, Star, IRN, CSO's and other partners.
Regrettably, certain sceptics are heaping unsubstantiated criticism against AVY for coming up with the initiative to organize a Presidential Debate. However, from what we have so far ascertained is that the vast majority of Sierra Leoneans are in favor of the debate, saying they are eagerly looking forward to it, underscoring how it will help in making informed choices.