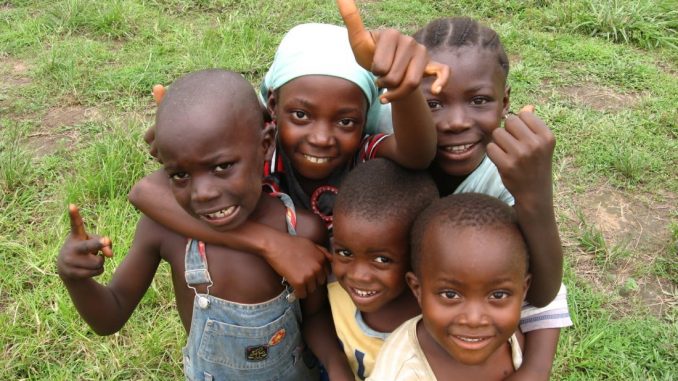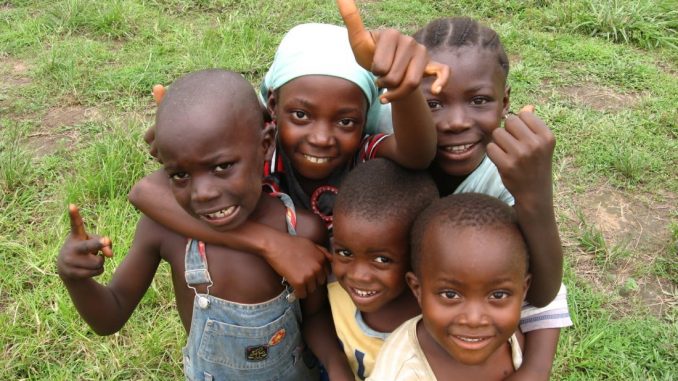 Sierra Leone children
PRESS RELEASE
 5 July 2017
 New exhibition sees children from Hull and Sierra Leone work together to bridge 2778 nautical miles
A new travelling exhibition by primary school aged pupils from Hull and sister city Freetown in Sierra Leone is set to launch on Wednesday 5 July at Sirius Academy West in Hull.
The exhibition, called 2778 Nautical Miles, is named after the distance between Hull and Freetown and is a call and response piece including poetry, recorded sound and photography created in both cities. Drawing on the tradition of the call-and-response song, pupils' creative writing and sound recordings, made on location in homes, markets, ports, and at their city's monuments to slavery and freedom, question and answer each other.
You'll hear bats swirl around the cotton tree and ducks being fed opposite the Wilberforce monument as you experience the pupils' journey through their day in this immersive exhibition of surround-sound recordings, photography and writing. The result is a poetic and acoustic bridge connecting pupils' homes and illuminating cultural differences.
The project was devised and curated by Sea Swim in partnership with Global Learning, the International Pupil Council and Hull UK City of Culture 2017.
John Wedgwood Clarke, poet and co-artistic director at Sea Swim, said: "We wanted the children to listen to the city, but beyond that, we were there to support them artists and curators. We looked for things we might have in common with Freetown, the port, markets and monuments, and explore the differences and similarities through poetry, interviews sound-recordings, editing and curating. They loved exploring parts of the city that hadn't visited before and using the facilities of the University of Hull."
Lara Goodband, also co-artistic director at Sea Swim, then took the children to Ferens Art Gallery in Hull to learn about how to curate an exhibition of their own, including how to display their work and how to write interpretation cards to explain their work to people viewing it.
The exhibition will visit Sirius Academy West, Winifred Holtby and the Marvell College in Hull and will also be on display at the British Council building in Freetown.
Martin Green, Director of Hull 2017, said: "This exhibition highlights the power of art and culture to reach over the seas and connect people. These young people have not only had the opportunity to engage in cultural activities and learn new skills, but have learned what life is like for children in a country very different from our own and seen what makes our lives different and what makes us the same."
Photographs of the children in Hull and Sierra Leone and available here. Images from Hull should be credited to Lara Goodband and images from Sierra Leone should be credited to Barmmy Boy.
ENDS
For press information, please contact: Matt Walton at Hull 2017, matthew.walton@hull2017.co.uk / (01482) 304398 / 07711 439326
NOTES TO EDITORS
About the International Pupil Council
The International Pupil Council (IPC) was formed to unite the pupils of Hull and Freetown partnered schools.
The Hull IPC is made up of two pupil representatives from schools in Hull who have a partner school in Freetown, there is a matching IPC in Freetown led by Mr Francis Mason, CEO of Conforti Organisation.
The IPC meets twice a term in different schools to discuss current events in both countries and to plan joint activities and projects. It is an opportunity for the pupils to celebrate the twinning and to lead activities in their own schools.
The two groups have worked together, for example, to look at the issues around World Water Day bringing a greater understanding of the needs of others in Hull, Freetown and around the world. They are currently working on projects around Quality Education, Story Telling, Imagination and Creativity.
The Hull and Freetown IPC pupils have been instrumently in the planning, recording and curating of the 2778 Nautical Miles project gaining many new skills and experiences. Special thanks to Lansana Mansaray, aka Barmmy Boy, for his support with the recording sessions in Freetown.
About Hull UK City of Culture
Hull UK City of Culture 2017 is a 365 day programme of cultural events and creativity inspired by the city and told to the world. Hull secured the title of UK City of Culture 2017 in November 2013. It is only the second city to hold the title and the first in England.
Divided into four seasons, starting with Made in Hull, this nationally significant event draws on the distinctive spirit of the city and the artists, writers, directors, musicians, revolutionaries and thinkers that have made such a significant contribution to the development of art and ideas.
Hull 2017's second season, Roots and Routes, runs from April to June and explore Hull's unique place as a gateway to Europe and one of the world's busiest ports. Its maritime history and global connections inspire the stories of the city; this season of work will also celebrate Hull's international links, including Rotterdam, Reykjavik and Freetown.
Freedom runs from July to September. Building on the legacy of Hull-born anti-slavery campaigner William Wilberforce MP, Freedom will explore the concept of freedom in all its many forms. The final season, Tell the World will run from October to December.
The Culture Company was set up to deliver the Hull 2017 programme and is an independent organisation with charitable status. It has raised £32 million, with over 70 partners supporting the project, including public bodies, trusts and foundations and local and national businesses.
Key contributions are coming from: Host City – Hull City Council; Principal Partners – Arts Council England, BBC, Big Lottery Fund, East Riding of Yorkshire Council, Heritage Lottery Fund, KCOM, KWL, Spirit of 2012, Yorkshire Water and the University of Hull; Major Partners –Associated British Ports, Arco, BP, the British Council, British Film Institute, Green Port Hull, Hull Clinical Commissioning Group, MKM Building Supplies, P&O Ferries, Paul Hamlyn Foundation, Sewell Group, Siemens, Smith & Nephew and Wykeland Group. The National Lottery has contributed more than £10m of this funding, making it the largest single funding body for Hull 2017.
68 per cent of the funding is dedicated to public facing activities, including the widest range of cultural events in every corner of the city, with a further 11 per cent for legacy and contingency. More than £5 million is being invested in volunteering, learning and community engagement. £1.6 million is being invested to ensure a legacy after 2017. This includes capacity building, such as supporting existing events so they can grow, staging curtain-raiser events, developing future programming for after 2017 and building a new platform to support a unified ticketing system for the city.
Hull 2017's International Partners are: Aarhus, Denmark, which is European Capital of Culture 2017; Reykjavik, Iceland; Rotterdam, The Netherlands; and Freetown, Sierra Leone (twinned with Hull). These relationships are reflected in a number of events throughout the year.
For information go to www.hull2017.co.uk
Follow us on Twitter @2017Hull Instagram @2017hull Facebook HullCityofCulture