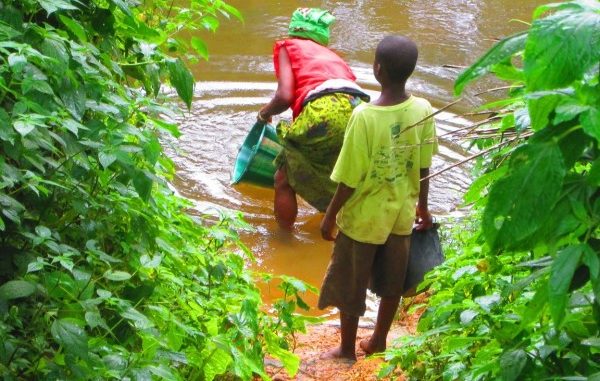 By Ahmed Sahid Nasralla (De Monk)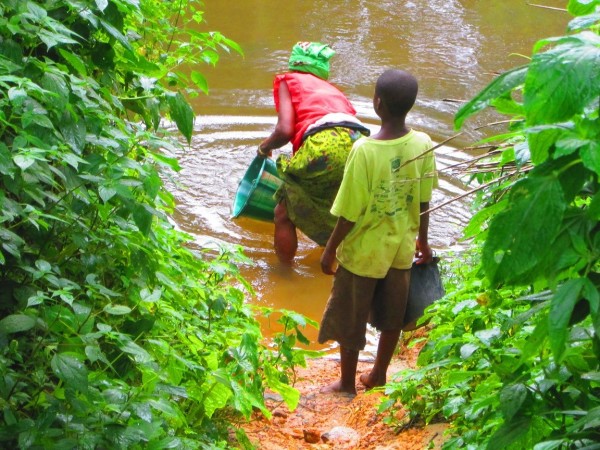 A stream in Wayeihun village in Nomo Chiefdom, Kenema District, is the community's main source of water supply (Photo by: James Mattia)
Ebola has come and gone leaving in its trail devastation of unimaginable proportions. More than 14,124 Sierra Leoneans were infected and 3956 were killed, including nurses and doctors. The economy was not spared, as businesses – small and large – suffered hugely, with some even closed down. Hundreds of survivors, widows and orphan children are still struggling to regain their normal livelihoods.
As the country tries to rebound from the outbreak, the lessons learnt mean that health institutions and communities should now be equipped with the necessary knowledge and experience to prevent and control similar outbreaks and other health epidemics to lessen the impact on society. Yet, remote communities in the provincial areas are still vulnerable, more so communities along the Gola Forests catchment areas in Kenema and Kailahun districts, Eastern Sierra Leone, which are practically inaccessible because of their rough terrain and hence lack access to essential services like health and clean water supply.
Critically, the hygiene and sanitation situation in these remote communities are poor and pose a risk for the quick spread of water-borne diseases such as cholera and diarrhea. These communities depend on streams as their main source of domestic water supply. In addition, the streams are where they pass out excreta and urine and at the same time launder their clothes and bathe. In Wayeihun in Nomo chiefdom, for example, the stream that the community depends on for water supply flows through a cemetery, a waste disposal heap and an open defecation site. In short, the stream is the main source of trouble for these communities.
In addition, the eating habit of these villagers is a cause for concern as they rely mainly on bush meat, including rats, for their protein intake. These animals may be carriers of 'zoonotic diseases', meaning diseases that can be transmitted from animals to humans when eaten or touched – such as Ebola.
To protect these communities from infectious diseases we need to change their old ways of life through awareness raising, suggests Thomas Juana, Field Officer for SEND Sierra Leone- an organization based in Kenema and Kailahun implementing a project on the prevention of zoonotic originated health epidemics in Sierra Leone in collaboration with Conservation Society Sierra Leone, with funding from Welthungerhilfe (WHH) and the Federal Ministry for Economic Cooperation and Development in Germany.
"Behavioral change is our goal," said Juana. "For example, instead of going to the stream to empty their bowels we tell them to go some reasonable distance from their communities, dig holes and cover them after doing the act. We also tell them to boil their drinking water and keep it in a clean container."
SEND recently organized a three days training for 50 participants from these Gola Forest communities. The participants – about 50% of which are women – are given the role as Multipliers and were selected 10 each from five chiefdoms, representing 114 communities in the Koya, Gaura, Tonkia and Nomo chiefdoms in Kenema district and Malema chiefdom in Kaliahun district. The participants comprised Health workers, TBAs, Teachers, Community health workers, Lead mothers, Village chiefs, Mammy queens, Youth leaders, Religious leaders, Community sanitary officers and Village development committee workers.
The three days training focused mainly on environmental hygiene, and how families and communities could prevent and protect themselves from disease outbreaks such as Ebola, Lassa fever and Cholera. It also covered nutrition aspects, encouraging villagers to eat some of the good food they grow rather than sell all and don't use the money to buy the right food for themselves. Furthermore, the participants were introduced to the Gender Model Family concept which basically promotes shared responsibility, love and peace in the family. Through this concept, communities will be able to understand and practice basic health and nutrition habits.
The multipliers are expected to use the knowledge gained from the training to support awareness-raising in their communities on the prevention and control of infectious diseases
"As multipliers we expect them to go back to their communities and summon all stakeholders to a meeting and share the knowledge gained from the training to protect their communities by doing the right things," said Juana.
Juana said they were selected based on their commitment to the development of their communities, their influence in their communities, their understanding of the terrain of their communities, their communication skills and their ability to be pro-active.
The training is timely: 11 nurses in the Kenema Government Hospital are currently serving 21 days of quarantine after having come in contact with a pregnant woman infected with Lassa Fever. The Kenema hospital is the only hospital in the entire Sierra Leone that has the laboratory that can confirm a Lassa Fever case. The disease is transmitted through a certain female rat which people in the Eastern region are accustomed to eating.
"Our people here live with these rats in their homes and farms," said Lansana Kanneh, Surveillance Supervisor in the Lassa Fever Unit in the Kenema Government Hospital.
"Generally we tell our people not to eat rats; rats should not be their source of meat, and they should clean their environment regularly to drive rats away."
With support from WHH, Juana said similar trainings will be organized around health centers at chiefdom level to equip them with the same knowledge.  Apart from the trainings around the health centres, there will also be direct trainings in each of the 114 villages target for this project. A monthly radio program that educates the general public about infectious diseases such as Lassa fever, Ebola, and Cholera is also ongoing.
The project works closely together with the health center personnel and district health management teams (DHMT) to also strengthen their capacity for community outreach and awareness-raising for the prevention of and rapid response to any future health epidemic.
"We give them health messages and certain sanitation rules to ensure their communities are kept clean. We employ the messiah method of information delivery- we tell them, we stay with them, they understand you better because they know you and you are with them. The multipliers will go back and pass on these health messages to other stakeholders who will in turn pass on to others," said Juana.