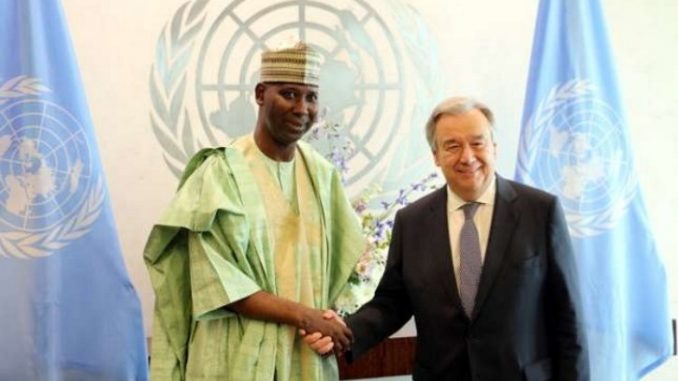 PROFILE OF THE NEW PRESIDENT OF THE U.N .GENERAL ASSEMBLY TIJJANI Muhammad-Bande
Born in 1957.
He received a B.Sc (Political Science) from Ahmadu Bello University, Nigeria (1979); MA (Political Science), Boston University, USA (1981); and Ph.D (Political Science), University of Toronto, Canada (1987)," it stated.
Between 2000 and 2004, he served as Director-General of Le Centre Africain de Formation et de Recherche Administratives pour le Dèveloppement (CAFRAD), Africa's premier intergovernmental centre for governance reform, in Morocco.
He held the position of Director-General at the National Institute for Policy and Strategic Studies in Nigeria from 2010 to 2016.
As Nigeria's Permanent Representative to the United Nations, he worked with colleagues from all regions of the world to achieve common objectives. He served as the Vice-President of the General Assembly during the 71st session and remains active in several fora, including as Chair of the United Nations Special Committee on Peacekeeping Operations (C34), Member, Advisory Board of the United Nations Counter-Terrorism Centre and Chair of the ECOWAS Group (2018-2019).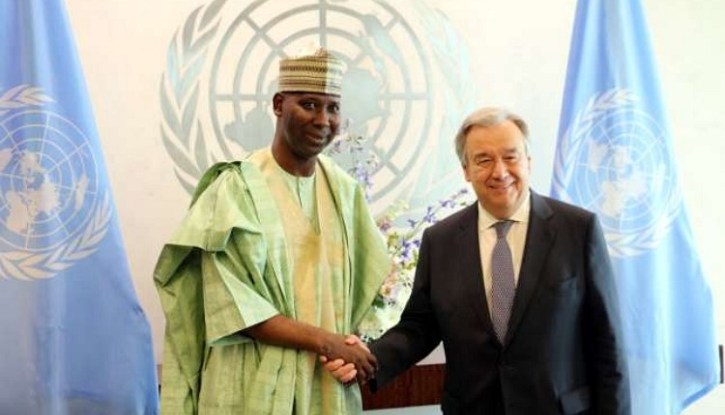 The new President  is seen here with the UN Secretary General António Guterres
Professor Muhammad-Bande has also been an assessor for the National Merit Award (Nigeria) and for professorial positions in universities. He has won merit awards and honours from institutions and Governments, including the United States and China. Most notably, he is a recipient of Nigeria's Officer of the Order of the Federal Republic (OFR), one of Nigeria's highest national honours.
When he assumes the role, the professor will become the second Nigerian to be president of the UN General Assembly. The first was Joseph Nanven Garba, diplomat and former foreign minister, who was UNGA president between 1989 and 1990.