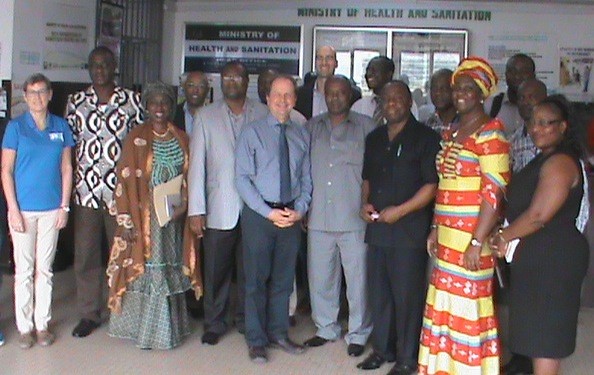 Freetown, Dec. 16, 015 (MOHS) – Project Hope founded in 1958 has paid a courtesy call on the Ministry of Health and Sanitation to explore areas of assistance within its Post Ebola priority plan in the area of public health and maternal and child health.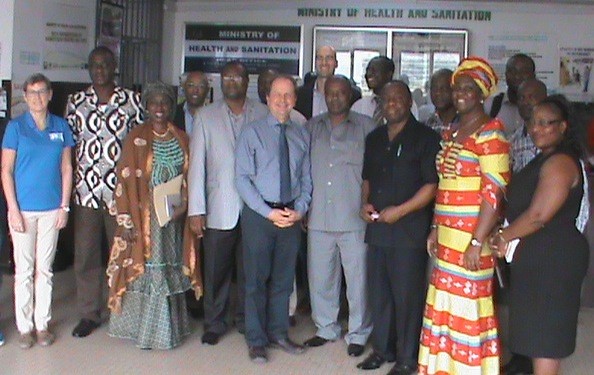 Project Hope in group photo with MOHS Sr. officials: (R-L) – Second, Deputy Minister Madam Madina Rahman, Deputy Minister 11, Foday Sawi Lahai, Chief Medical Officer, Dr. Brima Kargbo and Project Hope President and Chief Executive Officer, Dr. Thomas Kenyon
Addressing Senior Officials of the Ministry, The President and Chief Executive of Project Hope, Dr. Thomas Kenyon underscored the importance of the dialogue with the ministry, expressing the need for a better collaboration within the organization's existing Memorandum of Understanding for the benefit of the two Institutions.
He told the meeting that details of the Ministry's priority area would be worked out according to programmes time line and targets and reiterated his organization's commitment to ensure that some of the challenges and health needs are met.
Deputy Minister of Health and Sanitation I, Foday Sawi Lahai, described the area of interest as timely as the ministry faces challenges with limited resources to address human resource capacity for effective and efficient quality health care delivery services in rural puerperal health units across the country. He enumerated the low number of trained staff, motivation for health workers in remote areas, accommodation and capacity for accurate and timely data collection and processing as part of the challenges for quality health delivery services in rural communities.
Deputy Minister II, Madam Madina Rahman reiterated the need for a conducive working environment for staff and In- Service Training across the country. Noting also the importance of having the baseline for the promotion of maternal and child health.
The Chief Medical Officer, Dr, Brima Kargbo spoke on key priority areas which included maternal and child health, community engagement and ownership, surveillance and information communication based surveillance and duplication of efforts in service delivery among other concerns.
Other speakers include the Director of Primary Health Care, Dr, Joseph Kandeh, the Director of Planning, Information, Policy and Health System strengthening, Dr, Samuel Kargbo
JAK/MOHS/SLENA