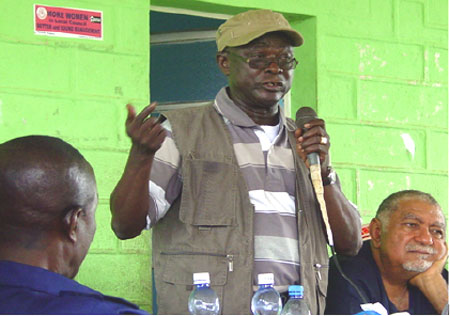 By KABS KANU :
The ruling All People's Congress (APC ) suffered another shocking bereavement today when the Resident Minister ( Eastern Region ), Hon. William Juana Smith, passed away.  Mr. Smith died at the Choitram's Hospital, Freetown. He was 70 years old.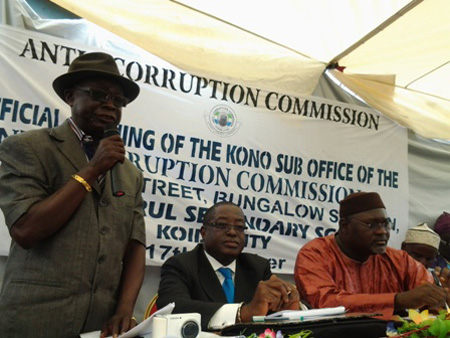 THE LATE MINISTER JUANA SMITH IS SEEN HERE ADDRESSING AN ANTI-CORRUPTION COMMISSION OUTREACH IN KONO LAST YEAR
Mr. Juana Smith was one of the faithful veterans of the APC vanguard ,  a solid pillar of support , who had been playing a commanding role in ensuring that the APC  continued its infiltration of the opposition stronghold  and also garner significant votes in the East during the 2007 and 2012 Presidential, Legislative and Local  Council Elections. He was a community organizer and mover and he helped win droves of converts to the APC  cause.
Mr. Smith was an embodiment of tribal and regional integration.
He was a ferocious fighter who made a last ditch stand against the then ruling Sierra Leone People's Party ( SLPP ) when the party resorted to violence and other  strong-arm tactics to rig the votes in Kenema and Kailahun during the 2007 elections.
He  and  another APC stalwart , Mr. Vonjo Lamin, called COCORIOKO  and asked the paper to alert to the international world that SLPP  thugs had attacked the then APC Presidential candidate ( Now Head of State ) , Dr. Ernest Bai Koroma and his then ally, the Leader of the People's Movement For Democratic Change ( PMDC ) , Mr. Charles Margai and stopped them  from entering Segwema to campaign.
The APC  has lost an indefatigable pillar whose vacuum will be difficult to fill .
We will bring you more details later.
© 2014, COCORIOKO. All rights reserved. – Discuss this and other related articles on the Salone Forum