By COCORIOKO Reporters
A truck heavily loaded with goods flipped over at the entrance of Rogbere Bridge this morning, strewing deadly wreckage, load and bodies on the banks of the river. Three people are reported dead in the latest accident at one of the most dangerous bridges in Sierra Leone.
The bridge, which serves as a gateway to the North , has been the scene of many fatal accidents over the years.
According to reports, a truck heading to the North entered the narrow bridge before the driver realized that another truck had done the same and was approaching from the other end. Because the truck was overloaded,  with the goods disproportionately packed on the roof, it lost balance and tipped on its side when the driver harshly applied brakes. Overloading, apart from the major causes —overspeeding and careless driving–is another factor in the prevalence of accidents in Sierra Leone.
The driver was among those killed in today's accident. We bring you photos from Claudius Beckley.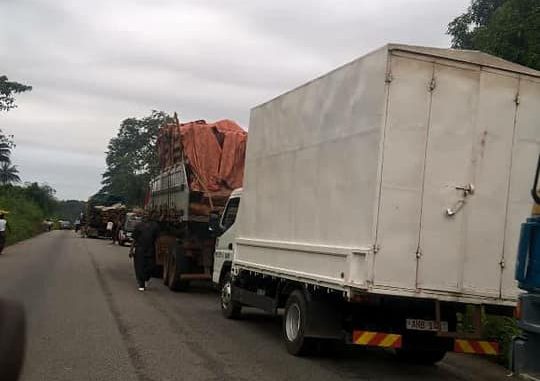 TRAFFIC WAITING FOR THE BRIDGE TO BE CLEARED